Description
Weißwasser – Kromlau / – Krauschwitz – Bad Muskau
On narrow gauge railway track from park to park ...
Count Arnim had initially founded the forest railway as a horse railway. From 1896, it expanded greatly to a wide network of trains running on 600 mm gauge tracks between Weisswasser and Muskau. Over many years, steam locomotives were hauling freight trains to paper mills, coal mines, glass factories and saw mills. After the railway was not needed any more, it was rebuilt and opened for tourist traffic. It now connects the town of Weißwasser, the quaint Kromlau park and Bad Muskau with its famous Fürst-Pückler-Park. At the weekends from May to the beginning of October, passenger trains run from Weißwasser to Bad Muskau (seven kilometres away) or through a unique forest and park landscape to Kromlau. A steam locomotive is employed at every first weekend of the month.

So enjoy these unique impressions during a train ride on our forest railway. Also hikers and cyclists will find numerous paths in the area around the railway and the enchanting parks. In the last years, a museum train station was established and opened in Weißwasser, displaying a varied selection of vehicles and factual witnesses dating from the interesting past of the railway. The new visitor centre of the Forest Railway and the Tourism Region of the Muskauer Faltenbogen is located in Weißwasser, directly at Teichstraße station, the starting station of the railway.
Timetable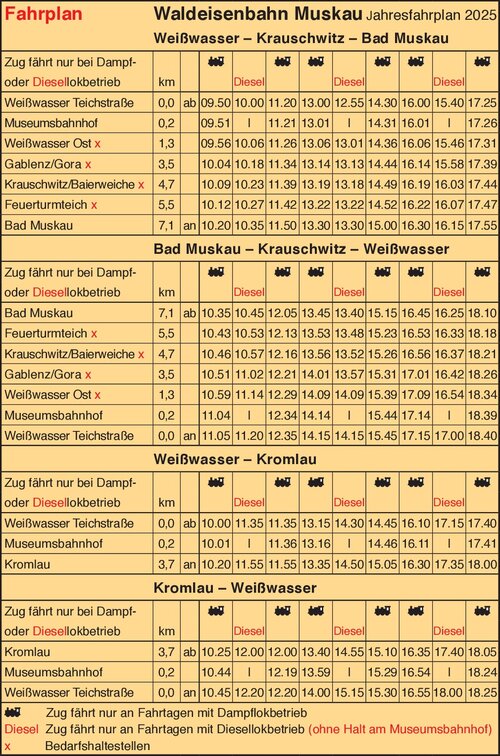 Route
Bahnstrecke Waldeisenbahn Muskau
Lage
Die Waldeisenbahn Muskau beginnt Ihre Fahrt in Weißwasser im Nordosten von Sachsen und teilt sich bereits kurz danach in zwei Strecken auf. Auf der einen fährt sie bis nach Bad Muskau und den bekannten Muskauer Park direkt an der Grenze zu Polen. Die zweite Strecke führt durch dichte Wälder direkt bis zum Rhododendron Park Kromlau.
Anfahrt mit Bus & Bahn
Zu erreichen ist die Waldeisenbahn Muskau von Görlitz, Zittau oder Cottbus aus mit den Zügen der ODEG (OE65), die stündlich am Bahnhof Weißwasser halten. Nach rund 700 m Fußweg entlang der Straße des Friedens wird der Ausgangsbahnhof der Waldeisenbahn an der Teichstraße erreicht. Auskünfte zu den Fahrzeiten der Züge und Busse erhalten Sie online beim Verkehrsverbund Oberlausitz-Niederschlesien (ZVON).
Anfahrt mit dem Auto
Per Auto kommen Sie zur Waldeisenbahn Muskau über die A4 Abfahrt Bautzen West und dann auf der 156 direkt bis Weißwasser.
Streckenverlauf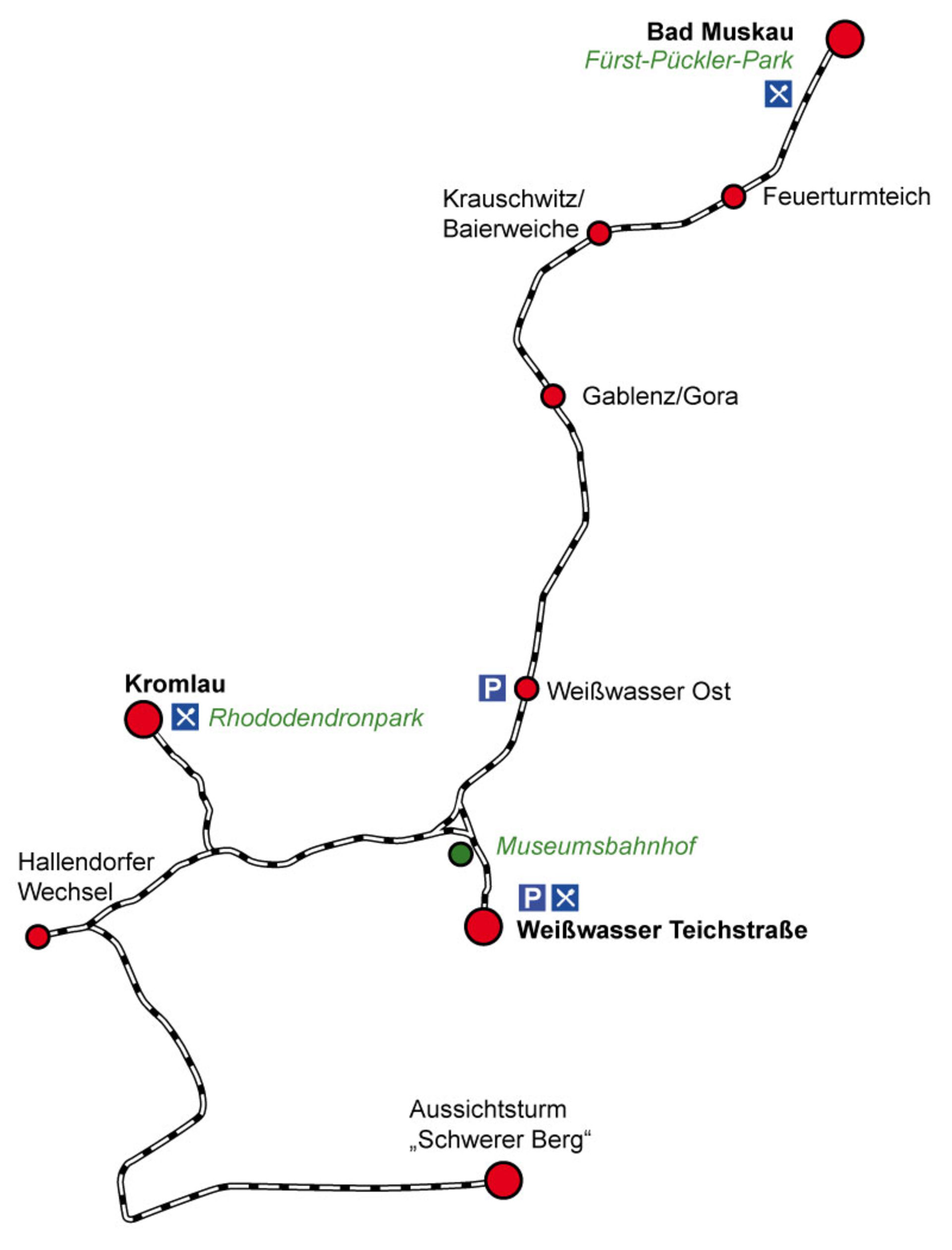 Fahrzeuge
Fahrzeuge Waldeisenbahn Muskau
Dampflokomotiven
99.331
Bauart Dn2 t
1905-1918, 75 PS
Hersteller Firma Borsig, Berlin-Tegel
99 3312 "DIANA" 1912 Fabriknummer 8472
99.331
Bauart Dn2 t
Heeresfeldbahnlokomotiven, Brigadelok 1914-1918, 75 PS
99 3317 1918 Fabriknummer 10306
Hersteller Firma Borsig, Berlin-Tegel
Lok Nr. 5 Werksbahndampflok 1925 Fabriknummer 11918, nicht betriebsfähig
Hersteller Firma Jung, Kirchen an der Sieg
Hilax Werksbahndampflok 1938 Fabriknummer 8293, nicht betriebsfähig
Hersteller Firma Chrazanow, Polen
Las "Erna" Werksbahndampflok 1958 Fabriknummer 3816, nicht betriebsfähig
Diesellokomotiven
Hersteller Firma Jung, Kirchen an der Sieg
Loktyp ZL 233
Kö 0404 1939 Fabriknummer 9232

Fares:
Auszug aus der Tariftabelle.
Kromlau
Bad Muskau
Erwachsene einfach
4,50 €
6,50 €
Erwachsene hin / zurück
6,50 €
9,50 €
Ermäßigte einfach
3,50 €
4,50 €
Ermäßigte
hin / zurück
4,50 €
6,00 €
Familienkarte
16,00 €
23,00 €
Park-zu-Park-Ticket
Erwachsene
einfach
9,50 €
Erwachsene hin / zurück
15,00 €
Ermäßigte
6,50 €
Ermäßigte
hin / zurück
9,50 €
Familie
hin / zurück
36,00 €
Tonbahn-Ticket
Erwachsene
einfach
9,50 €
Erwachsene hin / zurück
15,00 €
Ermäßigte
6,50 €
Ermäßigte
hin / zurück
9,50 €
Familie
hin / zurück
36,00 €