Description
Zittau – Bertsdorf – Kurort Oybin / Kurort Jonsdorf
Puffing into the mountains ...
As early as in 1890, iron horses of the Zittau narrow gauge railway started carrying excursionists and vacationers into Germany's smallest low mountain range - the romantic Zittau Mountains. The "Zittau-Oybin-Jonsdorfer-Eisenbahngesellschaft" (ZOJE) was the first operator of this railway. In the vernacular the abbreviation means "Train without any hurry." Now and then, countless excursionists have been travelling into the mountains on these trains at a leisurely pace. Since the opening of the railway, numerous hotels and restaurants have sprung up around the route. They are still great places to enjoy Upper Lusatia's hospitality all year round.

The railway starts at Zittau station, near the quaint historic town centre, which is a gem in Upper Lusatia. The narrow gauge trains then go round this venerable town before continuing the route along Olbersdorf lake, a popular recreation area in Upper Lusatia. The next stop, after 8 kilometres, is Bertdorf station. The "Interessenverband der Zittauer Schmalspurbahnen" support society and the Saxon-Upper Lusatian Railway Company (Sächsisch-Oberlausitzer Eisenbahngesellschaft) commit to preserving the station building in its historic appearance. From here, you can choose between going to either Oybin or Jonsdorf health resort, or you may decide to stay overnight at the sophisticated Bahnhof Bertsdorf hotel. If you continue your journey to Oybin, the train will stop just below Oybin mountain, with ruins of a castle and monastery located on the top. But you should not miss out on a trip to Jonsdorf either. The charming health resort, with its many rustic Umgebindehäuser (timber-framed houses), is an ideal starting point for sportive activities, relaxing moments or interesting discoveries.

More than just rail travel

We ensure you a journey full of diversified experiences on a steam train of the Zittau narrow gauge railway. No matter where you get off the train, in the Zittau Mountains - the 100th German nature reserve - you will find countless opportunities to explore nature, enjoy Upper Lusatia's hospitality and take a break from everyday life. The operator, the Saxon-Upper Lusatian Railway Company, offers a varied program of theme tours and special excursions where you can ideally combine a steam train ride with sights and highlights of the Zittau Mountains nature reserve.

During the castle and monastery excursion to Oybin, a 'maid' dressed in medieval clothing will accompany you to show you the history of the castle and monastery in a fascinating atmosphere after you walked up the Oybin mountain together. The Zittau "Stadtwächter-Züge" (town guard trains) will take you into the history of the Old Town of Zittau. On board a gourmet train, you can savour seasonal culinary delights while the evening Zittau Mountain scenery is passing the train window. And on a "VHS-Zug" (adult education centre train) hauled by the Zittauer Triebwagen (railcar), you will learn a lot about the railway's history. Those who are especially interested in the history of vehicles, transport and technology will enjoy a tour on one of the "Zittauer Phänomenzüge" (Phänomen trains). The range of theme tours is completed by several music train tours offered on the second Saturday each month during the summer half-year. You will be listening to Dixie or brass band music on a panorama open-top train carriage. And for those who would like to get to know the Zittau narrow gauge railway in more detail, there are several interesting options and insights such as a signalbox visit in Bertsdorf, a driver's cab ride at Jonsdorf station or an honorary engine driver course.
Impressions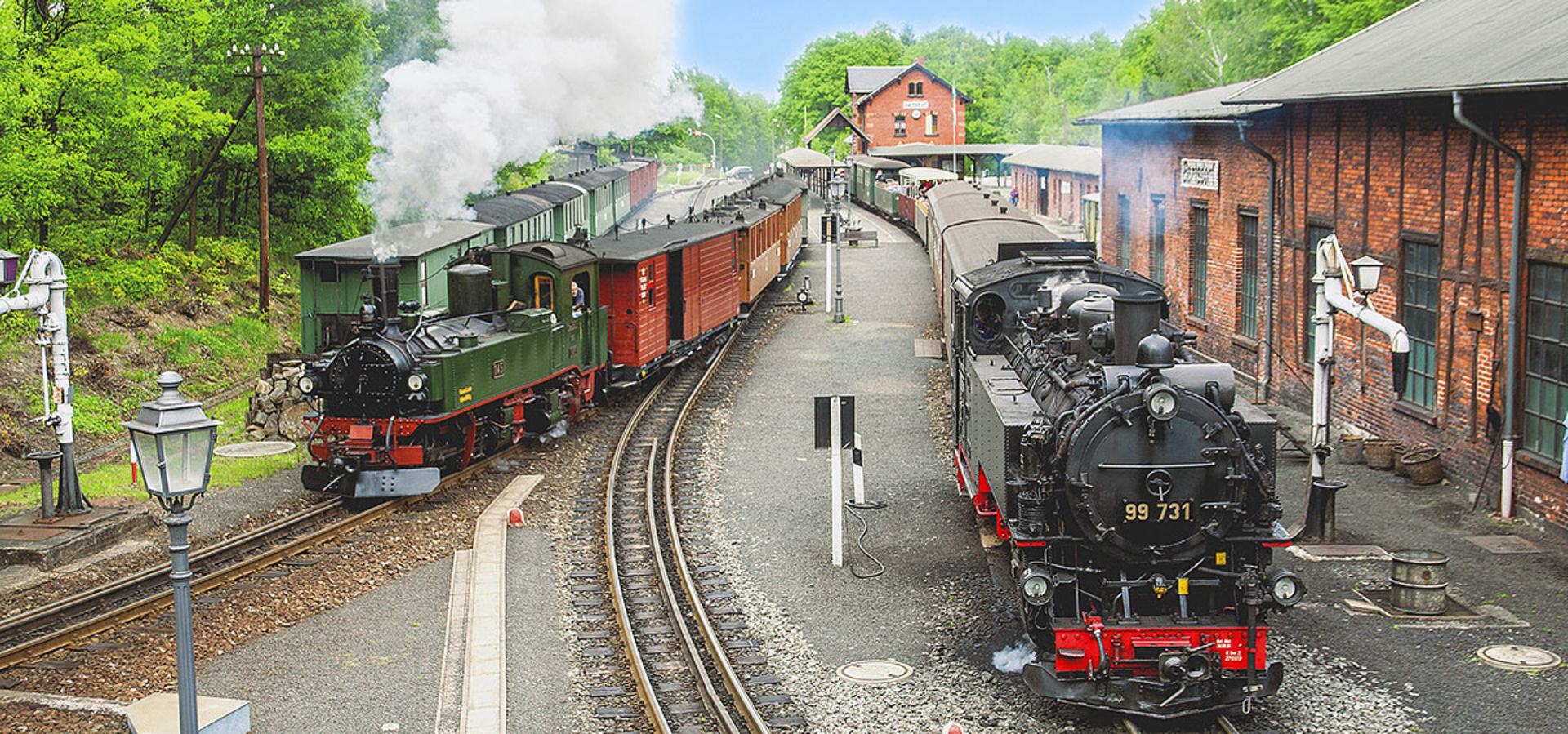 Route
Railroad Zittauer Schmalspurbahn
Location
The Zittau Narrow Gauge Railway is located in the east part of Germany close to the border triangle of Poland, the Czech Republic and Germany.

Arrival by bus and train

You can reach the railway line easily accessible by train from Dresden and Görlitz, Zittau railway station in each connection consists of the narrow gauge trains.

Arrival by Car

To arrive by car, the B178 is recommended.

Railroad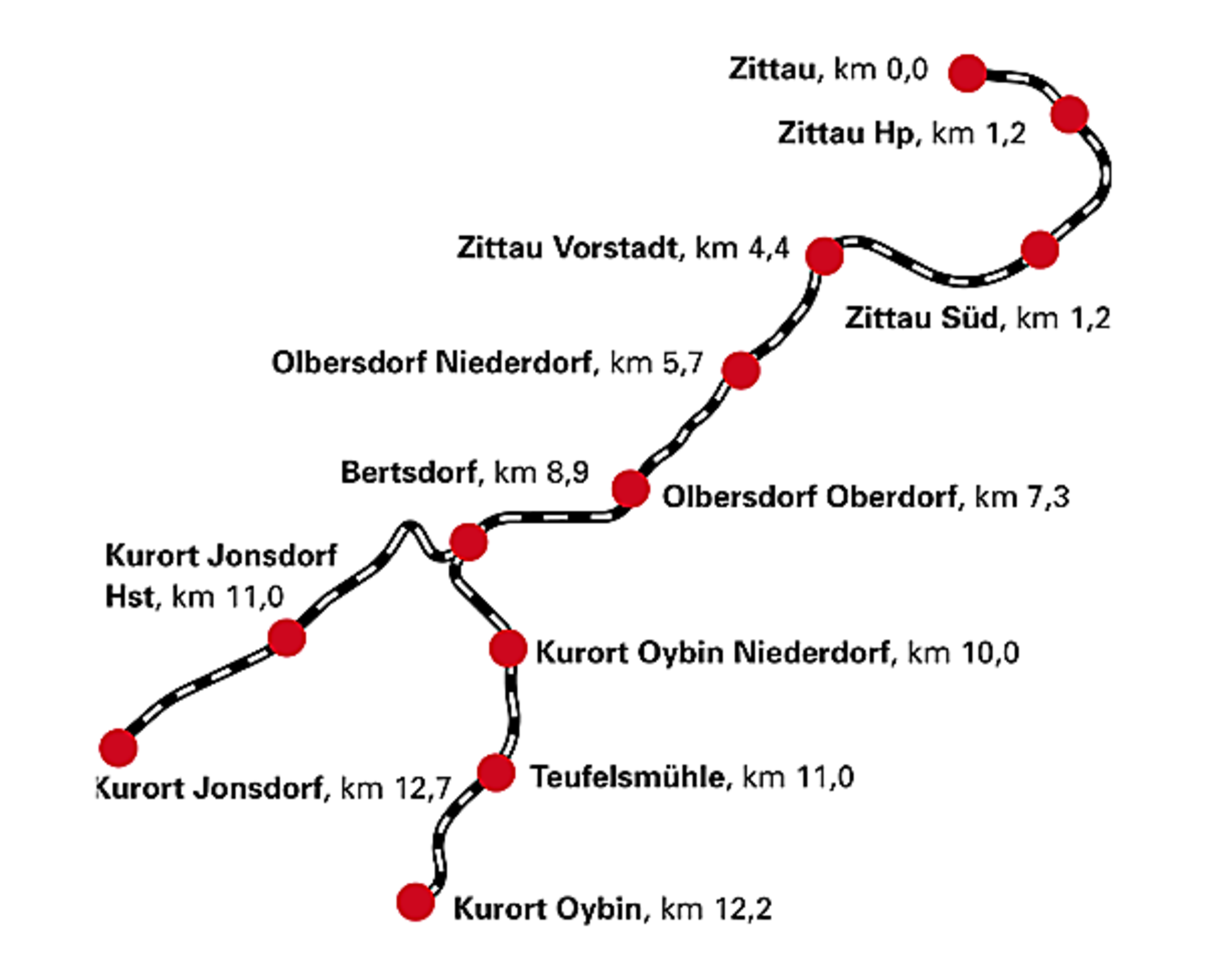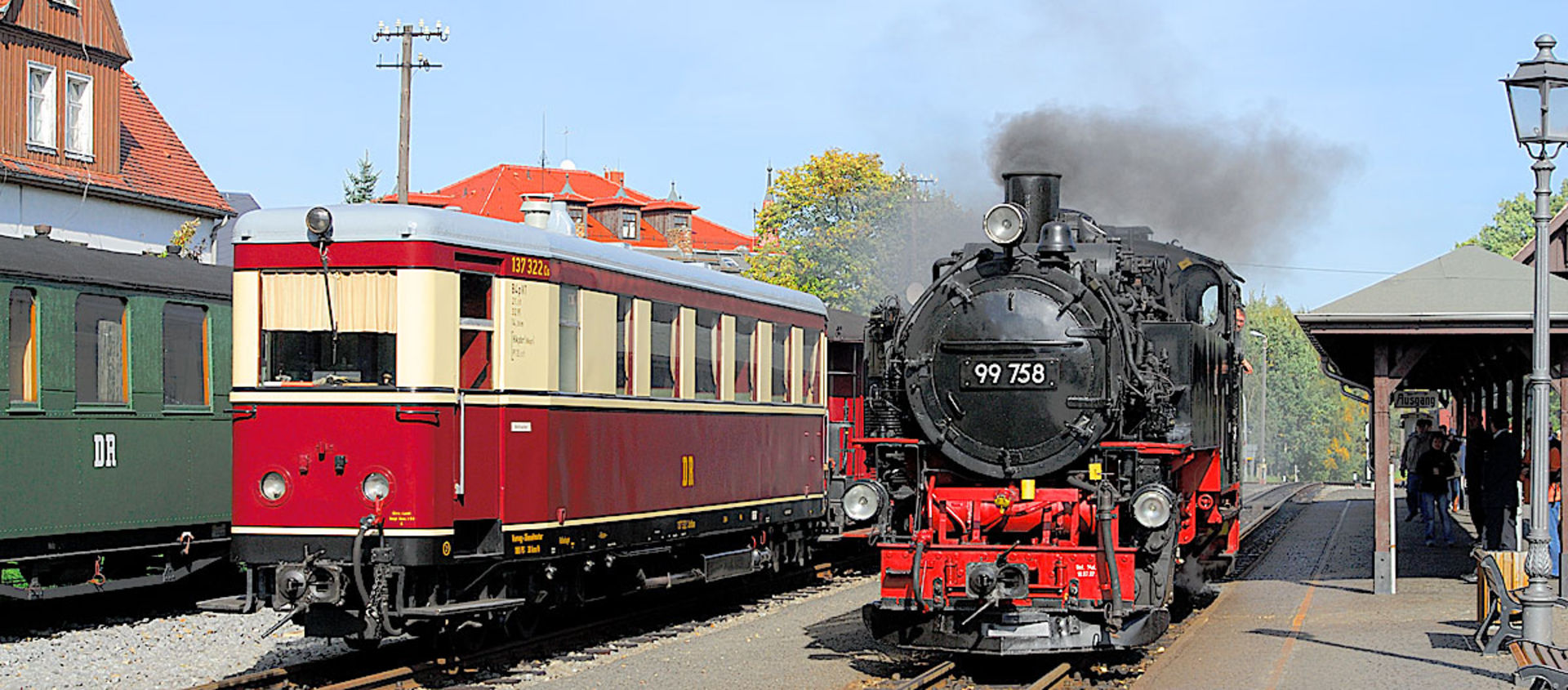 Fahrzeuge
Fahrzeuge Zittauer Schmalspurbahn
Dampflokomotiven
Die meistgebaute Lokomotivgattung der sächsischen Schmalspurbahnen ist die sächsische IV K (sprich: viere K). Zwischen 1892 und 1921 verließen nicht weniger als 96 Exemplare dieser Bauart die Lokomotivfabrik vorm. Richard Hartmann in Chemnitz. Einst waren sie daher auf allen 750mm-spurigen Schmalspurbahnen in Sachsen von Carlsfeld bis Zittau und darüber hinaus beispielsweise auf der Insel Rügen anzutreffen. Die Naßdampfloks mit dem charakteristischen 4-Zylinder-Verbundtriebwerk erreichen eine Leistung von rund 210 PS. Weitere technische Daten sind die Fahrzeuglänge von 9.000 mm und die Dienstmasse von max. 29,3 t. Insgesamt sind 22 Exemplare dieser Lokomotivtype erhalten geblieben. Zum Bestand des Interessenverbandes Zittauer Schmalspurbahn zählt eine Lok dieses Typs.
145 (99 555) Baujahr 1908, SMF Chemnitz/3208
Seit über 30 Jahren bewältigen die Einheits- und Neubaudampfloks der ehemaligen Deutschen Reichsbahn Gesellschaft beziehungsweise Deutschen Reichsbahn nahezu allein den Verkehr auf den verbliebenen sächsischen Schmalspurbahnen. Zur Bewältigung des gestiegenen Frachtaufkommens wurden zwischen 1928 und 1933 insgesamt 32 dieser schmalspurigen Einheitsloks beschafft. Da sich die Konstruktion bewährte und nach dem Krieg auch bei den Schmalspurbahnen Lokomotivmangel herrschte, baute die Deutsche Reichsbahn in den Jahren 1952 bis 1956 nochmals 24 Lokomotiven nach, die äußerlich den Einheitsloks sehr ähnlich sind. Mit einer Leistung von rund 600 PS gehören beide Typen zu den stärksten deutschen Schmalspurloks.
99 731 Baujahr 1928, SMF Chemnitz/4678, in Aufarbeitung
99 735 Baujahr 1928, SMF Chemnitz/4682, abgestellt
99 749 Baujahr 1929, Schwartzkopff/9538
99 750 Baujahr 1929, Schwartzkopff/9539, ausgestellt im Trixi-Park
99 757 Baujahr 1933, Schwartzkopff/10147, abgestellt
99 758 Baujahr 1933, Schwartzkopff/10148
99 760 Baujahr 1933, Schwartzkopff/10151
99 787 Baujahr 1955, LKM Babelsberg/132028, abgestellt
Weiterhin ist als nicht betriebsfähiges Ausstellungsexponat eine Dampflok vorhanden, die langjährig in Zittau den Rangierdienst auf dem Bahnhof verrichtete und ursprünglich von der Trusebahn in Thüringen stammt.
99 4532 Baujahr 1924, Orenstein & Koppel, Ausstellungslok in Bertsdorf
Diesellokomotiven und Triebwagen
VT 137 322 Baujahr 1938, WUMAG Bautzen/22005
199 013 Baujahr 1980, FAUR Bukarest, Rangierlok
199 018 ex CFR Baujahr 1973, FAUR Bukarest, Typ L45H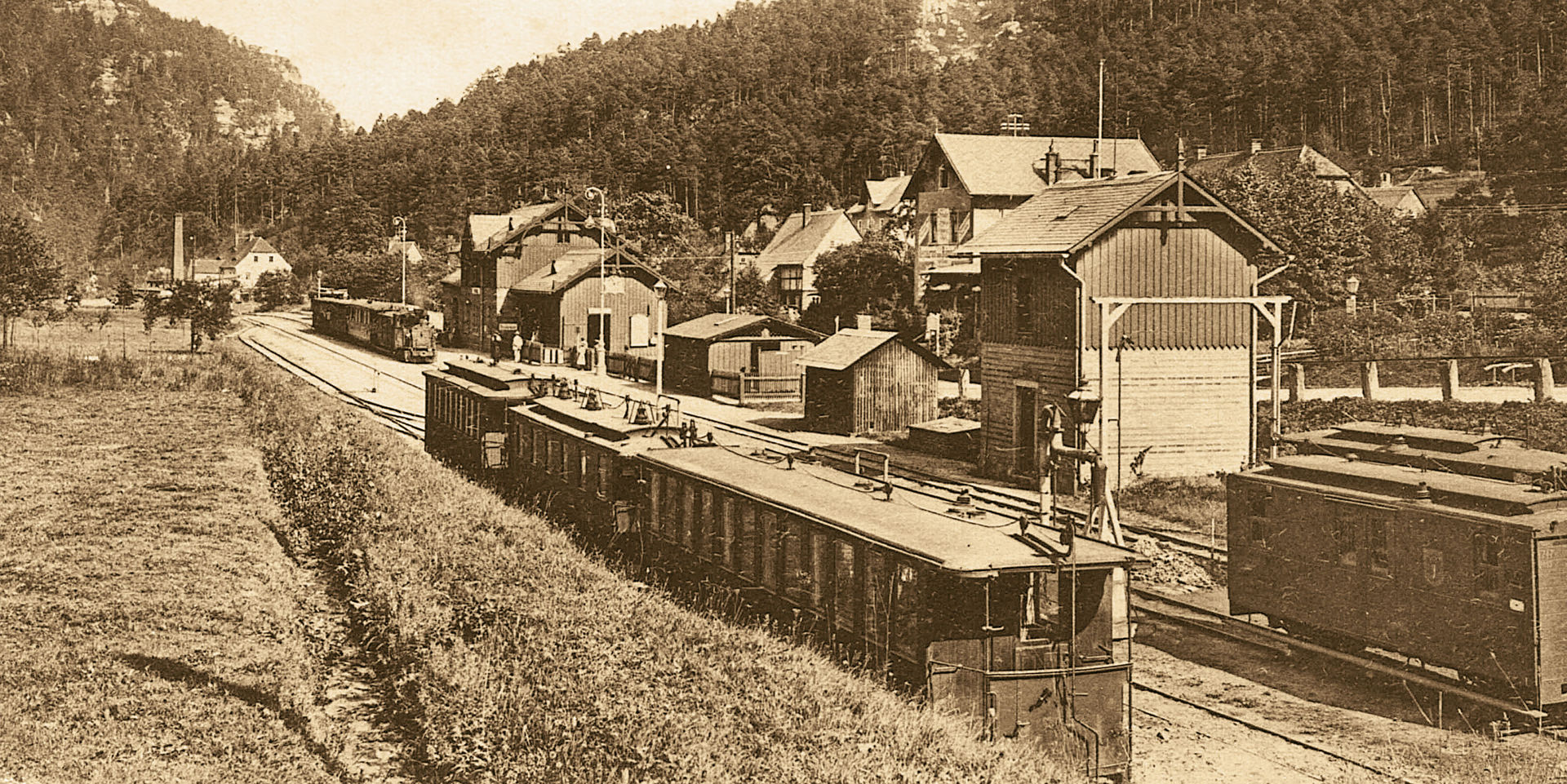 Historie
Historie der Zittauer Schmalspurbahn
Der Gebirgsverein Oybin setzte sich immer wieder für die Anbindung des Zittauer Gebirges an das entstehende Eisenbahnnetz in Sachsen ein. Das Königreich Sachsen sahen aber dafür keine Notwendigkeit. So wurde am 27. Juli 1888 eine für die damalige Zeit einmalige Ausnahme erlaubt - der Bau und die Betreibung der ersten privaten Schmalspurbahn durch die "Zittau-Oybin-Jonsdorfer-Eisenbahn-Gesellschaft". Am 26. Juni 1889 erfolgte der erste Spatenstich und bereits am 25. November 1890 wurde die Bahn mit einem Festzug feierlich eröffnet wird. Von Anfang an wurde der Zug Ohne Jede Eile - wie die Bahn im Volksmund heißt - überaus gut angenommen.
Die Z.O.J.E. war bald überfordert und so übernahm die K.Sächs.Sts.E. B. neben dem Betrieb am 1. Juli 1906 die "Zittau-Oybin-Jonsdorfer-Eisenbahn-Gesellschaft". Bis 1909 steigerten sich die Fahrgastzahlen auf 523 000 Gäste - die Schmalspurbahn war an der Leistungsgrenze angelangt. Eine für Sachsen einmalige Lösung war der zweigleisige Ausbau einer schmalspurigen Bahn, der am 15. April 1913 zwischen Zittau und Oybin vollendet wurde. 1920 ging die K.Sächs.Sts.E.B. wie alle anderen deutschen Länderbahnen in der Deutschen Reichsbahn auf. Die Beliebtheit der Zittauer Bahn wuchs dessen ungeachtet weiter bis auf Spitzenwerte von 18 000 Fahrgästen am Tag. Der Zweite Weltkrieg ging auch an der Schmalspurbahn nicht spurlos vorbei und so wurde aus Materialmangel von 1944-45 das zweite Gleis wieder abgebaut. Am 21. Mai 1945 begann wieder der Betrieb. Auch der Ausflugsverkehr ins nahe Zittauer Gebirge setzte wieder ein und die Region entwickelte sich bis 1990 zu einem gefragten Urlaubsgebiet.
Im Jahr 1990 sollte die Bahn zugunsten der Erweiterung des Braunkohletagebaus bei Olbersdorf eingestellt werden, was infolge der politischen Veränderungen in Deutschland verhindert werden konnte. Die erneut geplante Einstellung des Bahnbetriebes im Jahre 1998 durch die Deutsche Bahn wurde durch einen neuen Betreiber, die Sächsisch-Oberlausitzer Eisenbahngesellschaft (SOEG) verhindert. Seit 1996 erfreut sich die Bahn wieder steigender Beliebtheit, was sich an den ständig steigenden Fahrgastzahlen wiederspiegelt. Es fahren immer noch die Lokomotiven aus den Jahren 1928. Wir wünschen uns, dass die kleine Bahn ins kleinste Mittelgebirge Deutschlands noch lange täglich schnaufend zwischen Zittau, Oybin und Jonsdorf unterwegs ist.
Prices:
Auszug aus der Tariftabelle.
| | | |
| --- | --- | --- |
| bis 9 Stationen | Einfach | Hin-/Rück |
| Erwachsene | 10,00 € | 16,00 € |
| Ermäßigt | 5,00 € | 8,00 € |
Einzelfahrten
| | |
| --- | --- |
| 1oer Karte Erwachsene | 26,00 € |
| 1oer Karte Kind | 18,00 € |
weitere Tarife
Tagesk. ZVON
Erwachsene
17,00 €
Tagesk. ZVON
Ermäßigt
11,00 €
1oer Karte Erwachsene
26,00 €
1oer Karte Kind
18,00 €
Wochenkarte Erwachsene
25,00 €
Wochenkarte Ermäßigt
18,00 €
Monatskarte Erwachsene
61,50 €
Monatskarte Ermäßigt
46,00 €