Description
Hoyerswerda / OT Knappenrode
Lusatian mining museum Knappenrode ...
After you have put on a yellow protective helmet and checked your shoes, the tour can start, leading you through an impressive historic factory. Every year, thousands of big and small "coal miners" visit the Energy Factory Knappenrode. Its linchpin is the almost 100-year-old briquette factory. Since 1994, the Lusatian Mining Museum with an exhibition area of over 25 hectares, can be explored in the factory building. Here you can watch machines in operation to understand which levers have to be moved to generate energy. Enjoy a visit to the Energy Factory Knappenrode with the whole family! You can take a guided tour, visit our permanent and special exhibitions, watch presentations of mining vehicles and machines or even ride a hand-lever draisine.

Route
Museumsstandort Energiefabrik Knappenrode
Lage
Die Energiefabrik Knappenrode befindet im Ortsteil Knappenrode der Stadt Hoyerswerda.
Anfahrt mit Bus & Bahn
Anreisen können Sie mit der RegionalBahn RE 10/11/18 der Linie Leipzig - Falkenberg - Ruhland - Hoyerswerda (Kursbuch Seite 228). Der "Schichtbus" von Hoyerswerda und Bautzen (Linie 103) fährt mehrmals täglich die Energiefabrik Knappenrode an.
Anfahrt mit dem Auto
Von der Bundesstraße B96 in Maukendorf nach Knappenrode abbiegen. Auf der Hayuptstraße über Lessing- und Ernst-Thälmann-Straße der Ausschilderung zum Museum folgen.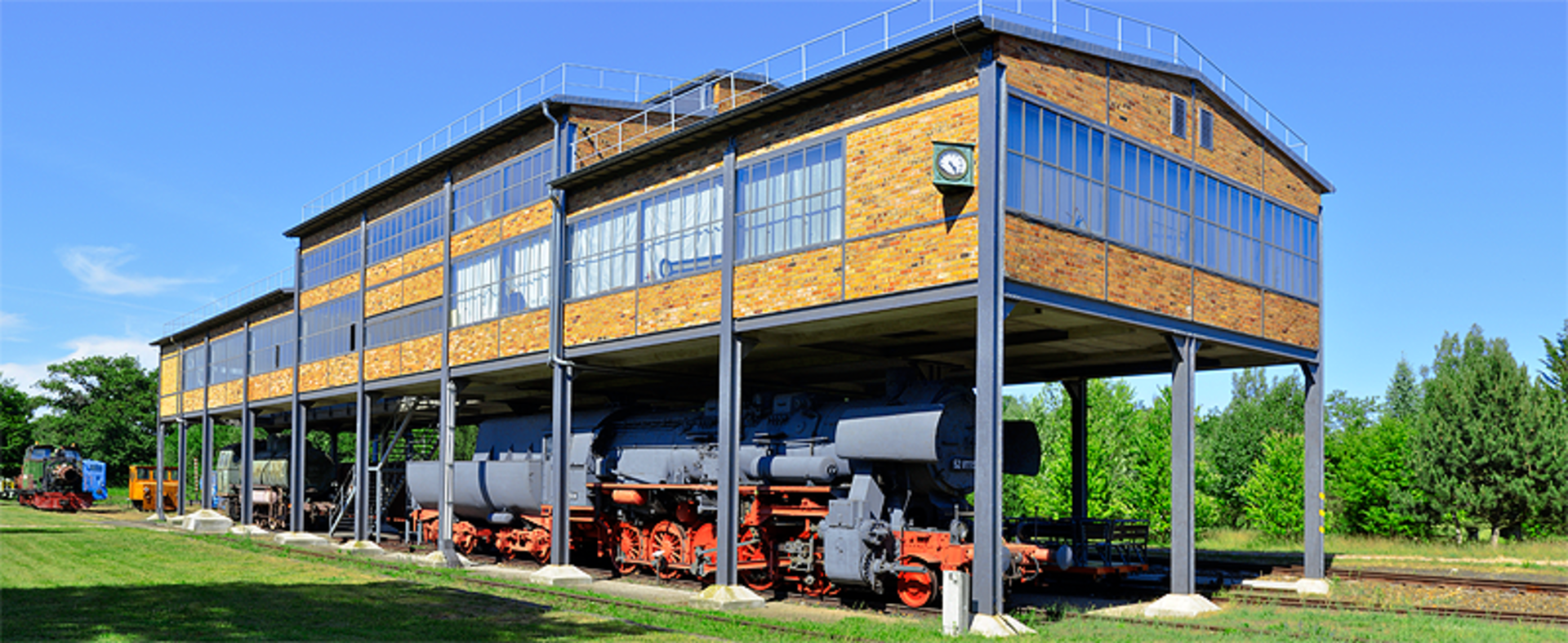 Fahrzeuge
Auf historischen Gleisen
Draisinenfahrten Fahrspaß mit Muskelkraft - Handhebeldraisine rollt auf 900-mm-Spur
Wir bieten einen Sommerspaß der besonderen Art mit der Fahrt auf der Draisine in der Energiefabrik Knappenrode. Anfang April bis Ende Oktober rollt die Handhebel-Draisine auf der 900-mm-Spur der einstigen Grubenbahn auf einer auf dem Rundkurs von etwa 2,6 Kilometer. Begleitet werden Sie von einem Draisinenführer, der neben Fahrtipps auch die eine oder andere Bergbaugeschichte zum Besten gibt.
Dieser geführte Rundkurs ist nur nach Anmeldung möglich, dauert ca. eine Stunde und kostet für bis zu fünf Personen 20 € zzgl. Museumseintritt.
Eine 'Schnupperfahrt' ist jederzeit von Anfang April bis Ende Oktober auf Anfrage im Informations- und Besucherzentrum möglich. Diese Kurzfahrt dauert etwa 20 Minuten und kostet pro Person 2 €. Kinder unter sechs Jahren fahren in Begleitung von Erwachsenen kostenfrei. Aus sicherheitstechnischen Gründen fährt die Draisine nur mit Draisinenführer und nicht bei Regenwetter und nassen Gleisen.
Bagger, Grubenloks und Modellbahnen
Der alte Umschlagbahnhof ist Sammelpunkt für historische Eisenbahntechnik des Lausitzer Bergbaus. Liebhaber finden hier Exotisches wie Gewöhnliches: Dampfspeicherloks, die sogenannten Feuerlosen, Diesel- und Elektroloks. Zum Bestand zählen auch zahlreiche Sonderfahrzeuge und Spezialanfertigungen wie die namhafte Atom-Lok aus dem Tagebau Berzdorf oder der zum Schneepflug umgerüstete Tender.
Die originalgetreue Rekonstruktion der legendären Lokomotive aus der Baureihe 52 (Baujahr 1943) hat der Modellbahnclub Hoyerswerda e. V. übernommen. Für das aufwändige Wiederbeleben weiterer Loks sucht das Bergbaumuseum noch Paten.
Dampflok 52 8115 - 9
Güterzuglok für den Einsatz im schweren Güterzug- und Personenzugdienst
Baureihe 52 als Einheitslokomotive bzw. Kriegslokomotiven ab 1942 in mehr als 7.000 Einheiten gebaut
Bauart 1´E h2, Gattung G 56.15
Baujahre 1942–ca. 1950, mehr als 7000 Stück unter anderem gebaut bei Lokomotivfabrik Floridsdorf Wien (1.053), Henschel & Sohn Kassel (1.050), Berliner Maschinenbau (L. Schwartzkopff) Wildau bei Berlin (647), Krauss-Maffei München-Allach (613), Borsig-Lokomotiv-Werke Hennigsdorf bei Berlin (542) und F. Schichau (505)
Dampflok
52 3568
Hersteller Krauss-Maffei als Kriegslok 52 3568, Baujahr 1943, Betriebsnummer 16705
Ab 1960 entstanden bei der Deutschen Reichsbahn im RAW Stendal aus den Kriegslokomotiven der Baureihe 52 die Rekoloks der Baureihe 52.80.
Güterzug Rekolokomotive der Deutschen Reichsbahn , 1960-1967, ca. 200 Stück, RAW Stendal, ca. 1470 KW
Umbau im Raw Stendal vom 27.07.1964 - 19.10.1964 zur
52 8115 - 9
admission Prices:
Auszug aus der Tariftabelle
| | |
| --- | --- |
| Erwachsene | 5,00 € |
| Schüler, Auszubild., Studenten, Schwerbehinderte | 2,50 € |
| Familienkarte (max. 2 Erwachs. mit Kindern) | 10,00 € |
| Kinder bis 6 Jahre | frei |
Draisinenfahrten
April bis Oktober, 11.00 - 16.00 Uhr, Rundfahrt ca. 1 h, nur nach Voranmeldung, nicht bei Regenwetter und nassen Gleisen
Rundfahrt große Draisine
45,00 €
bis 10 Personen
Rundfahrt kleine Handhebeldraisine
30,00 €
bis 7 Personen
Schnupperfahrt [ca. 20 min]
3,00 €
Personen
Zweckverbandkarte
Berechtigt zum Eintritt in alle Museen des Zweckverbandes, gültig ein Jahr ab dem ersten Besuch
| | |
| --- | --- |
| Erwachsene | 12,00 € |
| Ermäßigte [Schüler, Auszubildende, Studenten, Freiwillige Wehr- und Bundesfreiwilligendienst, Schwerbehinderte] | 10,00 € |