Description
Cranzahl – Neudorf – Kurort Oberwiesenthal
On a steam train to the highest town in Germany ...
The steam trains of the Fichtelberg Railway cover the scenic 17.4-km (10.8-mile) stretch between Cranzahl and the ski resort of Oberwiesenthal, the highest town in Germany. Trains run on a normal schedule with a travel time of approximately one hour. Fist the route leads through Sehmatal valley to the first interchange station in Neudorf. This charming village in the Ore Mountains is known as the "Suppenland" (soup land) according to legend and for its Christmas incense cones. You can explore these traditions at the Neudorf "Suppenmuseum" (soup museum) or the demonstration workshop, "Zum Weihrichkarzl". The following stop, Vierenstraße, with its restaurant of the same name, is a great starting point for a relaxing hiking tour or a skiing trip into the Ore Mountains.

Those who like activity holidays will greatly enjoy a hike on the "Bimmelbahn-Erlebnispfad". This well-signposted hiking trail leads mostly parallel to the railway and offers many gorgeous views of the steam railway and Fichtelberg mountain. Information boards and various viewing points complement the tour. From Hammerunterwiesenthal station, the route follows along the Czech border uphill to the two highest mountains in the Ore Mountains: the 1,214 m (3,985 ft) high Fichtelberg and 1,244 m (4,080 ft) high Keilberg mountains. Before reaching the station in Oberwiesenthal, situated at the foot of the Fichtelberg mountain, the train leads over an impressive 110 m (360.9 ft) long steel viaduct crossing the Hüttenbach creek. The ski resort of Oberwiesenthal is famous for its many winter sports facilities, even far beyond the Saxon borders. But the mountain town is also worth visiting year round. Besides its perfect conditions for high-performance sport, especially downhill skiing, Oberwiesenthal is also a great place for leisure sports. There is something for everyone, from hiking to skiing, tobogganing to monsterscooter tours. And a Moonlight journey or an evening ride to the "Suppenland" on the Fichtelbergbahn railway are the perfect finish to your active day program. There are, however, more historic vehicles in Oberwiesenthal. Germany's first suspension railway still carries visitors up to the Fichtelberg plateau. And you might even hear the sound of a posthorn. Yes, there is a daily a mail coach in Oberwiesenthal from May to October.
Impressions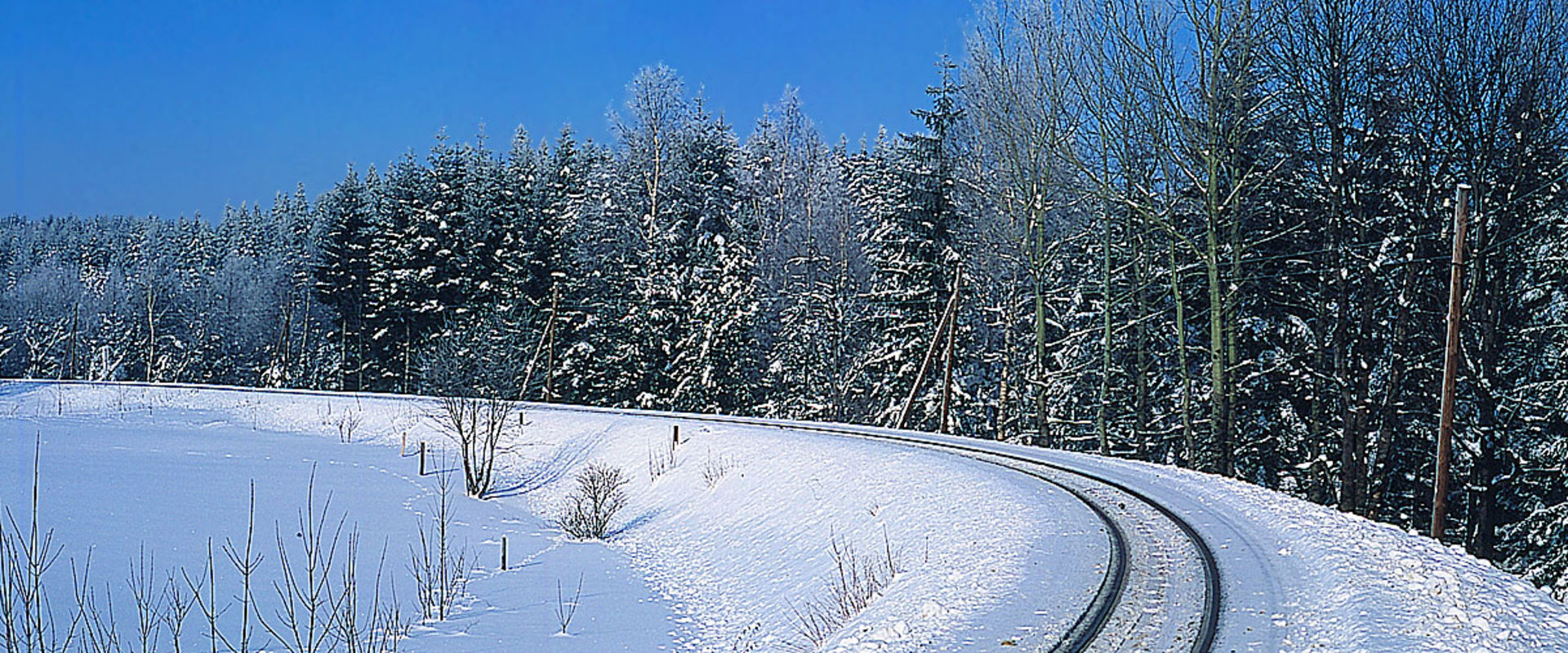 Route
Railroad Fichtelbergbahn
Location
The Fichtelbergbahn located south of Annaberg-Buchholz in the immediate vicinity of the border with the Czech Republic. The railway runs from the train station 654 meters to the resort Cranzahl Oberwiesenthal 852 meters altitude railway station.
Arrival by bus and train
To achieve the narrow-gauge railway from the comfort of Chemnitz with the regional railways of Erzgebirgsbahn (KBS517) that offer Cranzahl connection to the trains of Fichtelbergbahn. Information on the timetables of trains and buses is available online at the Central Saxony Transport Association (VMS).
Arrival by Car
Access by car using the B95, which runs from precipitation to Oberwiesenthal largely parallel to the railway line is recommended.
Railroad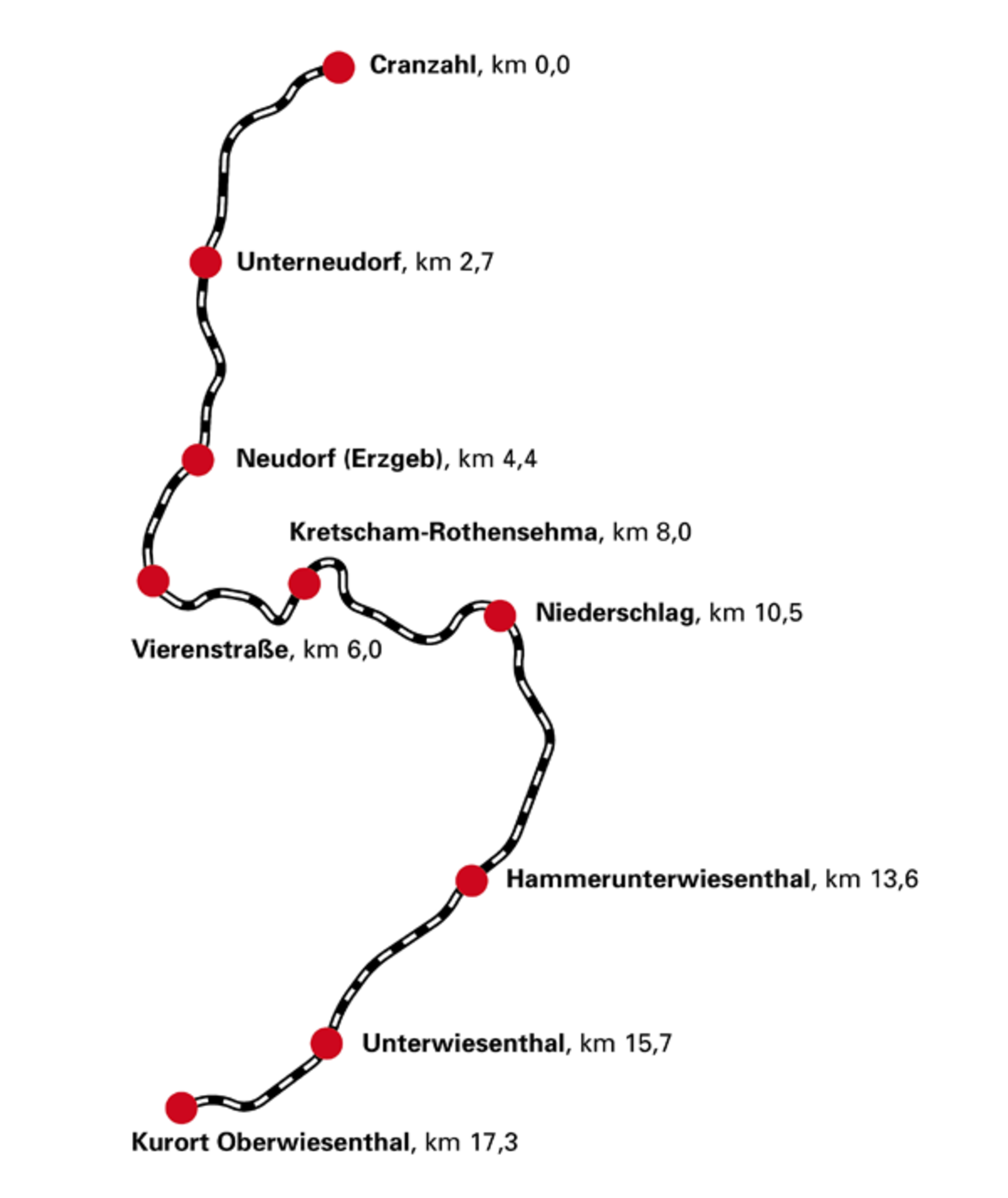 Fahrzeuge
Fahrzeuge Fichtelbergbahn
Dampflokomotiven
Seit über 30 Jahren bewältigen die Einheits- und Neubaudampfloks der ehemaligen Deutschen Reichsbahn Gesellschaft beziehungsweise Deutschen Reichsbahn nahezu allein den Verkehr auf den verbliebenen sächsischen Schmalspurbahnen. Aufgrund des gestiegenen Frachtaufkommens wurden zwischen 1928 und 1933 insgesamt 32 dieser schmalspurigen Einheitsloks beschafft. Da sich die Konstruktion bewährte und nach dem Krieg auch bei den Schmalspurbahnen Lokomotivmangel herrschte, baute die Deutsche Reichsbahn in den Jahren 1952 bis 1956 nochmals 24 Lokomotiven nach, die äußerlich den Einheitsloks sehr ähnlich sind. Mit einer Leistung von rund 600 PS gehören beide Typen zu den stärksten deutschen Schmalspurloks. Zum Bestand der Fichtelbergbahn gehören insgesamt neun Exemplare beider Typen.
99 1741-0 Baujahr 1929, SMF Chemnitz/4691
99 1759-2 Baujahr 1933, Schwartzkopff/10150, Dauerleihgabe Oberrittersgrün
99 1772-5 Baujahr 1952, LKM Babelsberg/32011
99 1773-3 Baujahr 1952, LKM Babelsberg/32012
99 1776-6 Baujahr 1953, LKM Babelsberg/32015, nicht einsatzfähig
99 1785-7 Baujahr 1954, LKM Babelsberg/132026
99 1786-5 Baujahr 1954, LKM Babelsberg/132027, nicht einsatzfähig
99 1793-1 Baujahr 1956, LKM Babelsberg/132034
99 1794-9 Baujahr 1956, LKM Babelsberg/132035, nicht einsatzfähig

Diesellokomotiven
Von 1964 bis 1987 bauten die FAUR-Werke "23. August" in Bukarest (frühere Malaxa-Werke) über 330 Stück der als L35H/L45H bezeichneten 4-achsigen Schmalspurloks für verschiedene Spurweiten zwischen 740 und 1067mm. Diese Lokomotiven fanden neben dem Herstellungsland Rumänien auch in anderen osteuropäischen Ländern Verwendung. Bis 2008 erwarb die Sächsische Dampfeisenbahngesellschaft gebraucht insgesamt drei dieser 450 PS starken Lokomotiven, wovon ein Exemplar auf der Fichtelbergbahn stationiert ist.
L45H-083 Baujahr 1985, FAUR Bukarest/24972, Reserve-/Bauzuglok
Wagen
4 Personenwagen 2. Klasse KB Modernisiert, Farbgebung "DR"
18 Personenwagen 2. Klasse KB Modernisiert
2 Personenwagen 2. Klasse KB Modernisiert, Buffetwagen
2 Personenwagen 2. Klasse KB Altbau, Dauerleihgabe
Preßnitztalbahn
1 Personenwagen 2. Klasse KB Altbau, Dauerleihgabe FHWE
1 Personenwagen 2. Klasse / Bahndienstwagen KB/Bdw Altbau, nicht
einsatzfähig, Mannschaftswagen
4 Personenwagen 2. Klasse KB Modernisiert, nicht einsatzfähig
3 Packwagen KD Modernisiert
3 Packwagen KD Modernisiert, nicht einsatzfähig
1 Bahndienstwagen Bdw Schneepflug E.W. der K. Sächs.Sts.E.B. 1916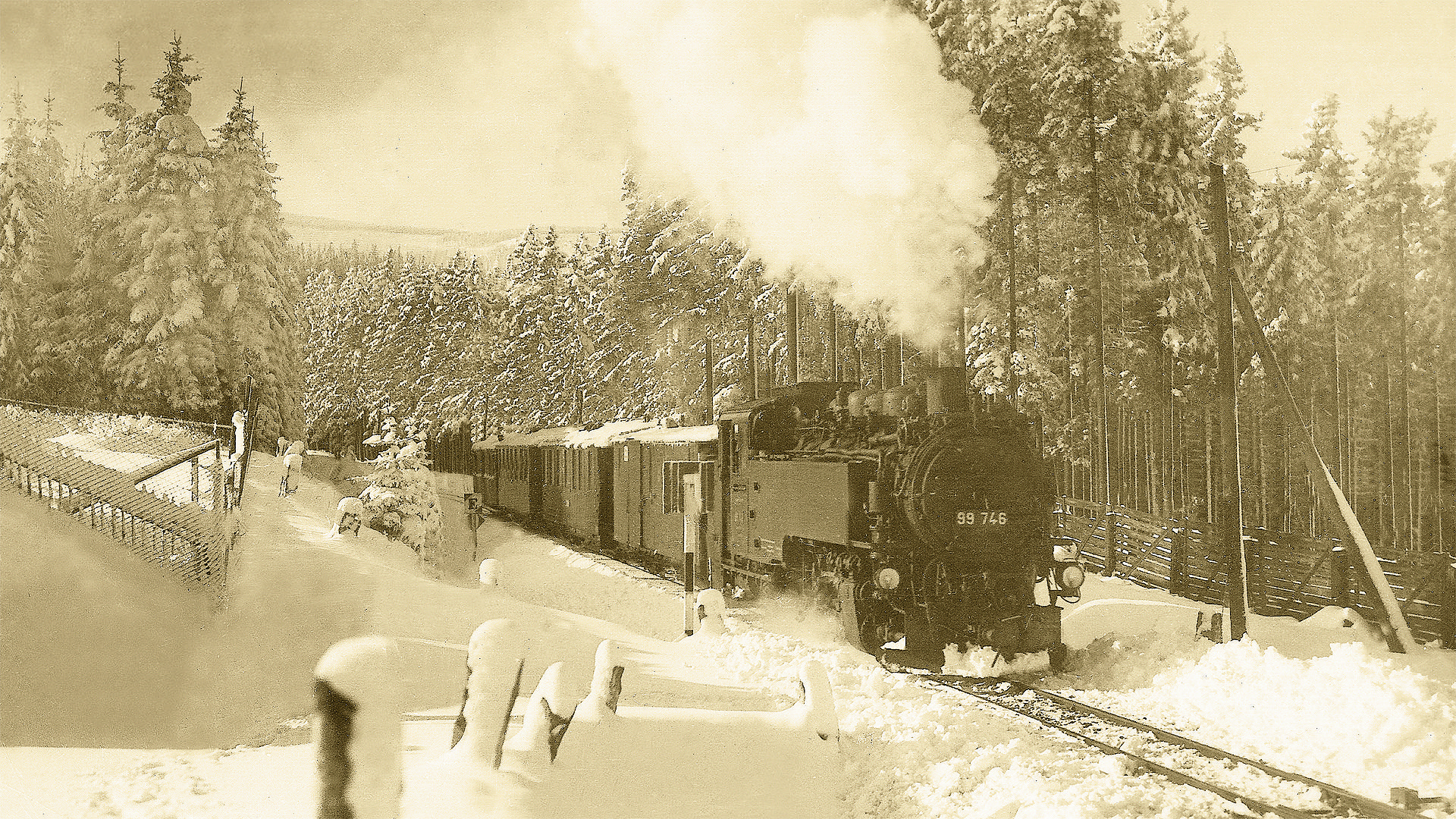 Historie
Historie Fichtelbergbahn
Der Anschluss der "Wiesenthal-Orte" im Fichtelberggebiet an das sächsische Eisenbahnnetz begann mit ersten Skizzen zu einer Schmalspurbahn bereits 1893. Die Regierung Sachsens beschloss in ihren beiden Kammern am 1. März 1894 den Bau der Bahn von Cranzahl nach Oberwiesenthal. Baubeginn war im April 1896 und trotz der schwierigen topografischen Lage konnte die Fichtelbergbahn am 19. Juli 1897 feierlich eingeweiht werden. Nicht zuletzt auf Grund des Bahnbaues nahm der Fremdenverkehr in der Region bis zum Ersten Weltkrieg stetig zu. Wobei besonders im Winter erste Wintersportzüge zum Einsatz kamen. Schon 1910 musste die Bahn erweitert werden, da sie den Anforderungen an das Verkehrsaufkommen nicht mehr entsprach. Die Fichtelbergbahn war zum wichtigsten Bestandteil des Fremdenverkehrs in der Region geworden. Der Wintersport ist nach wie vor Magnet für Touristen und inzwischen kommen auch Weltmeister und Olympiasieger aus Oberwiesenthal.