Description
Neudorf (Sehmatal)
Demonstration workshop "Weihrichkarzl" (Erzgebirge incense cones) ...
Come by and join in!
Find out everything about Erzgebirge incense cones, locally known as "Weihrichkarzl", in the demonstration workshop at our lovingly restored three-sided "Zum Weihrichkarzl" farmyard. In a stylish environment, visitors are offered hands-on experience of the tradition and history of the Ore Mountains. Knead and mould your own incense cones by hand like our grandparents used to do. Dirty hands are, of course, included. We promise you and your family will have an unforgettable, fun experience.
There is, however, still more that visitors can experience in our three-sided farmyard:
for example, "Handblechdrücken" (metal stamping by hand), a craft that had almost died out, and was rediscovered by Huss. This manufacturing technology can be found in several of Jürgen Huss's products such as the traditional German-style candlestick insert or the iron skillet lid of the "Tisch-Hussl", a cylindrical iron table stove.
The Saxon Class I K Steam Locomotive
Entrepreneur Jürgen Huss was so inspired by the I K revival project that he supported it right away. Consequently, the Association for the Advancement of Saxon Narrow Gauge Railways (VSSB) – the initiator of the project of rebuilding a narrow gauge railway locomotive – presented a founder's share in bronze to Jürgen Huss. A high-quality Huss I K No. 54 model steam locomotive (in 1:32 scale) built from sheet metal was developed. It is a very pretty decorative and functional object. Whether it is used for burning incense cones or aromatic natural resins and oils, or for keeping a teapot warm, the lovely steam locomotive is decorative all year round.
Steam engine fragrance
The Fichtelberg Railway (Fichtelbergbahn) runs daily from Cranzahl through the village of Neudorf to the ski resort of Oberwiesenthal in the Ore Mountains. Heavy clouds of steam with their typical smell come out of the chimneys of the engines, a technological spectacle that Jürgen Huss can watch and smell every day. He thus had the idea of creating an all-new incense cone fragrance: the original steam engine fragrance made for his miniature steam locomotive.
Impressions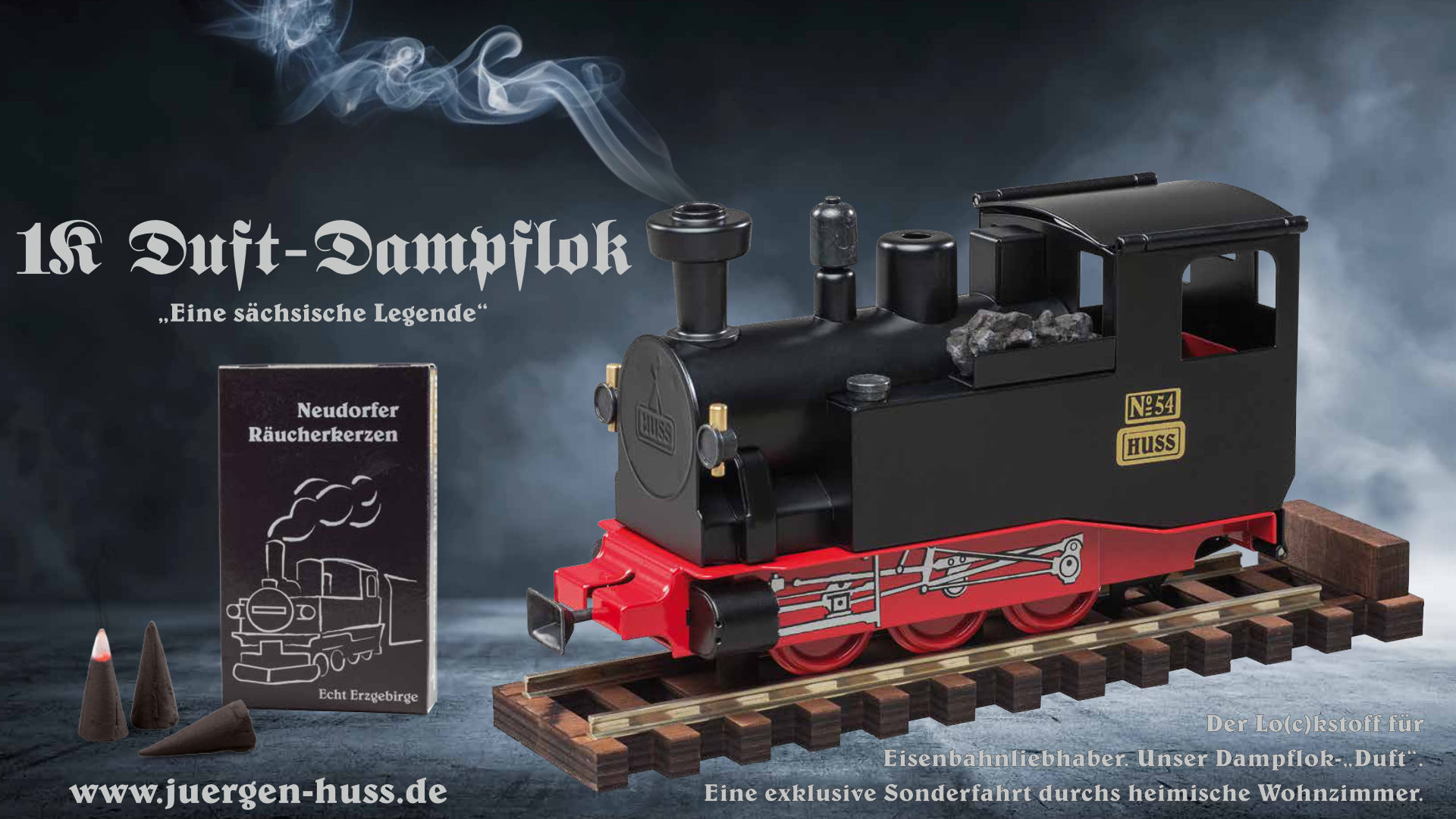 The other products of HUSS
Jürgen Huss created numerous trendy variants of different incense and scented oil burners from sheet metal. Small stoves, pyramids, teapots, pots, pans, or the "Weihrichkarzlmaa" (incense burning man) are a joy to many people.
Following is a small selection of Huss decorative items:
Fragrance workshop
Bodufm (boiler)
Leimufm (cylindrical iron stove for heating glue)
Downspout filter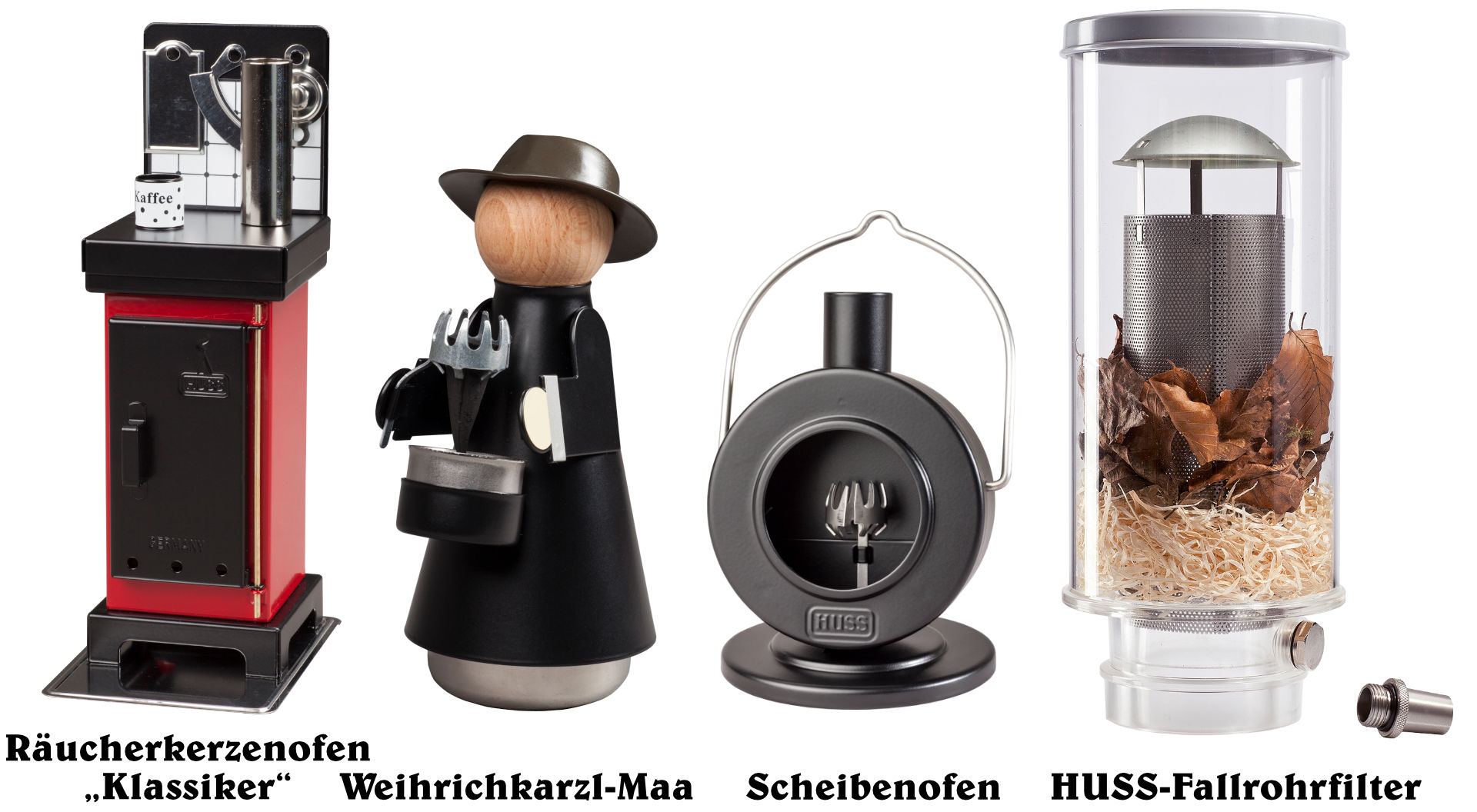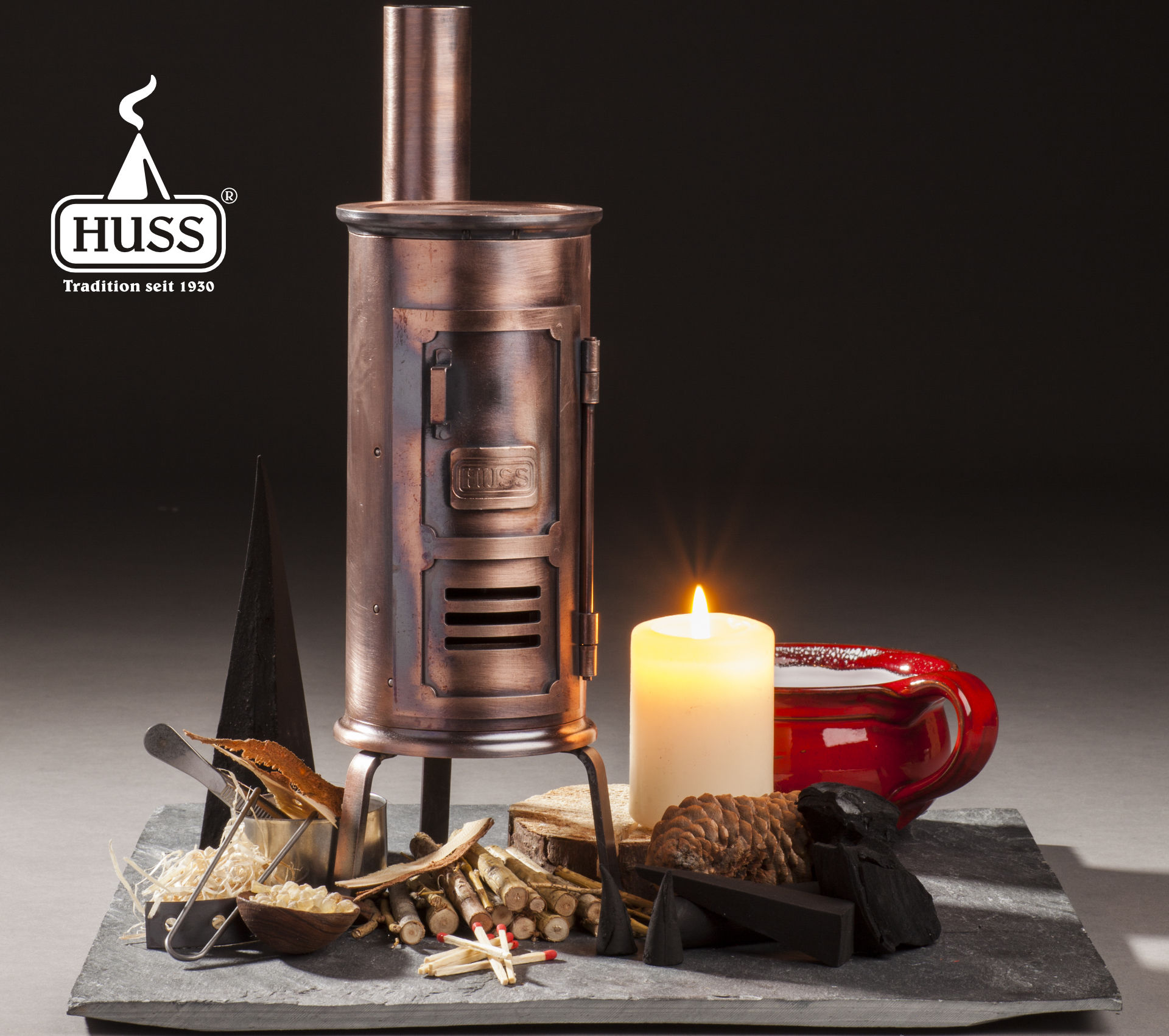 Groups
Group travel to the Huss workshop
A visit to the demonstration workshop is a special experience for families, people taking a short or day trip, and tour groups alike. Moreover, the workshop is the ideal location for excursions of clubs, field trips organised by educational institutions or as a highlight for company parties.
Come and experience a piece of the tradition of the Ore Mountains! For all booking inquiries, please contact us by phone or email. You will find the contact information on our website, www.juergen-huss.de.
Reiseangebote:
Tagesangebote (Termin frei wählbar)