Description
Erdmannsdorf (valley station) to Augustusburg (top station)
Ride the cable railway to Augustusburg Castle!
When talking about the Prince-Electors of Saxony, everyone is thinking of August the Strong. Few people know Augustus, Duke of Saxony, also called Father Augustus. He was born in Freiberg in 1526 and belonged to the House of Wettin, which had a great impact on Saxony. He left a memorial to himself, among others, with the construction of Augustusburg Castle on the Schellenberg mountain. Today, the castle is famous far beyond Saxony. It houses a motorcycle and coach museum, a museum of hunting and ornithology, as well as a youth hostel. The difference in altitude between the Zschopautal valley and the Schellenberg mountain is more than 200 m (656 ft). The opening of the Zschopautal Railway and growing tourism made a better connection between the town of Augustusburg and the nearby train station necessary. Consequently, the Augustusburg Cable Railway with a track gauge of 1,000 mm (3 ft 3 3⁄8 in) and a track length of 1,237 m (4,058 ft) was opened in 1911.
We absolutely recommend you visit Augustusburg Castle. You can get there by taking the Erzgebirgsbahn railway through the romantic Zschopautal valley to Erdmannsdorf stop. The valley station of the cable railway is directly opposite; and from the top station in Augustusburg, you will reach the castle after a few minues on foot.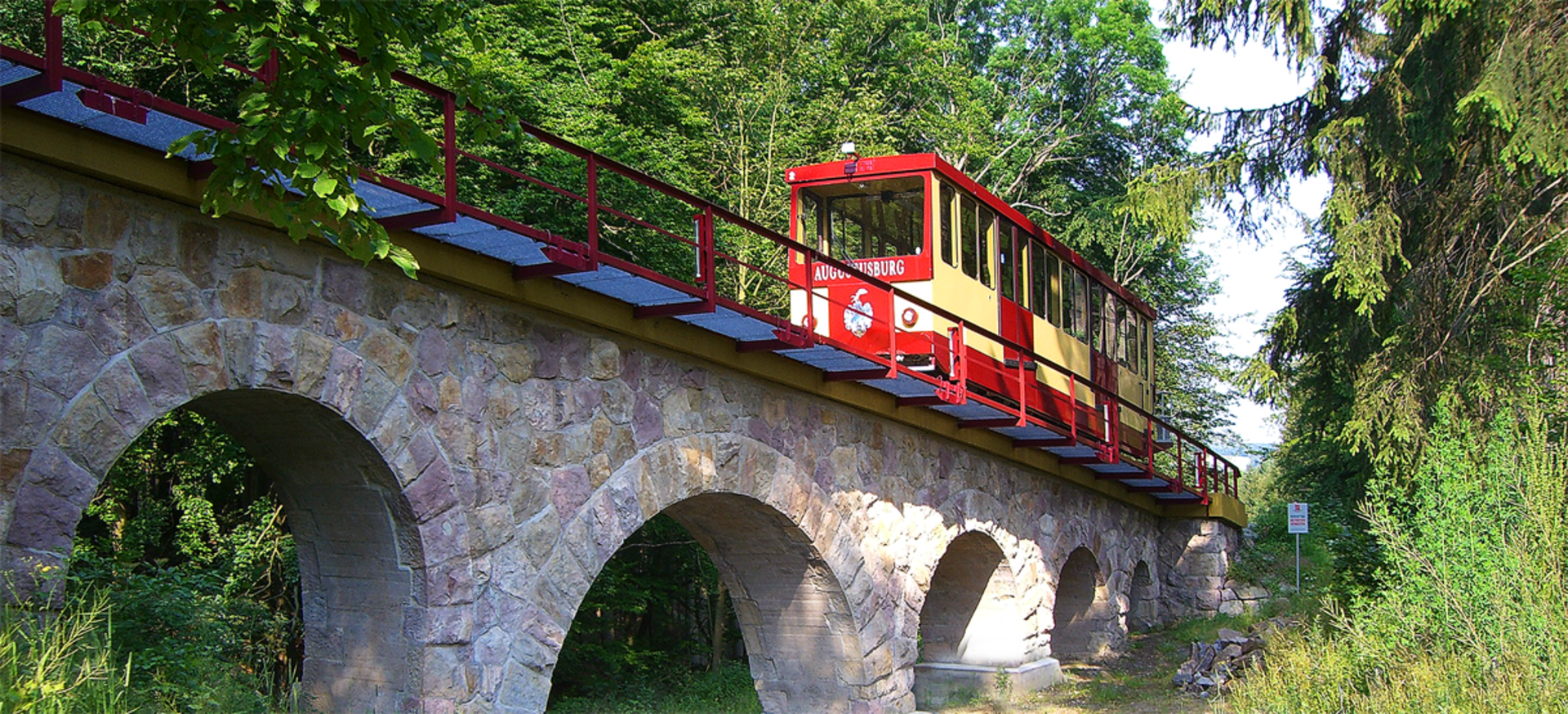 Route
Railway line Augustusburg cable car
Location
The cable car is located east of Chemnitz and rises from Erdmannsdorf in the Zschopautal to Augustusburg.
Getting there by bus & train
The cable car can be easily reached by the Erzgebirgsbahn (KBS517) from Chemnitz via Flöha to the Erdmannsdorf-Augustusburg station. The stop is located just opposite the valley station of the cable car.
How to get there by car
From the A4 motorway exit Chemnitz-Mitte, head towards Chemnitz Zentrum and then follow the signs for Augustusburg via the S 236 to Erdmannsdorf.
Railway line technical dates
Length 1,239.8 m
Difference in altitude 168.06 m
Slope on average 13.50%
Slope maxima 20.14%
Track gauge 1,000 mm
Number of vehicles 2
Seats 36
Standing places 39
Own mass 9 t
Travel speed 3 m/s
Journey time 8 minutes