Description
Erdmannsdorf (valley station) to Augustusburg (top station)
Ride the cable railway to Augustusburg Castle!
When talking about the Prince-Electors of Saxony, everyone is thinking of August the Strong. Few people know Augustus, Duke of Saxony, also called Father Augustus. He was born in Freiberg in 1526 and belonged to the House of Wettin, which had a great impact on Saxony. He left a memorial to himself, among others, with the construction of Augustusburg Castle on the Schellenberg mountain. Today, the castle is famous far beyond Saxony. It houses a motorcycle and coach museum, a museum of hunting and ornithology, as well as a youth hostel. The difference in altitude between the Zschopautal valley and the Schellenberg mountain is more than 200 m (656 ft). The opening of the Zschopautal Railway and growing tourism made a better connection between the town of Augustusburg and the nearby train station necessary. Consequently, the Augustusburg Cable Railway with a track gauge of 1,000 mm (3 ft 3 3⁄8 in) and a track length of 1,237 m (4,058 ft) was opened in 1911.
We absolutely recommend you visit Augustusburg Castle. You can get there by taking the Erzgebirgsbahn railway through the romantic Zschopautal valley to Erdmannsdorf stop. The valley station of the cable railway is directly opposite; and from the top station in Augustusburg, you will reach the castle after a few minues on foot.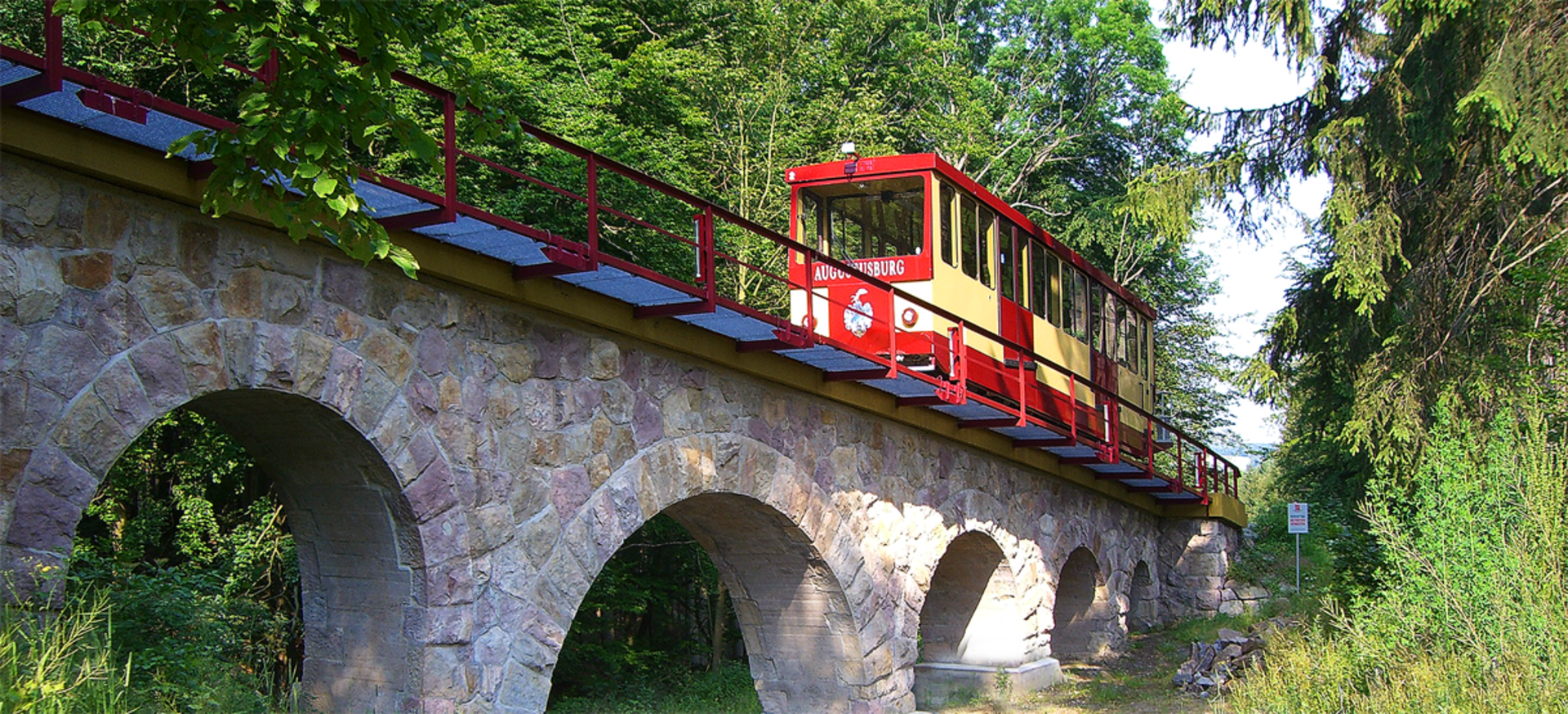 Route
Bahnstrecke Drahtseilbahn Augustusburg
Lage
Die Drahtseilbahn befindet sich östlich von Chemnitz und steigt von Erdmannsdorf im Zschopautal nach Augustusburg auf.
Anfahrt mit Bus & Bahn
Die Drahtseilbahn ist bequem mit der Erzgebirgsbahn (KBS517) von Chemnitz aus über Flöha bis zum Haltepunkt Erdmannsdorf-Augustusburg erreichbar. Der Haltepunkt befindet sich genau gegenüber der Talstation der Drahtseilbahn.
Anfahrt mit dem Auto
Von der Autobahn A4 Abfahrt Chemnitz-Mitte fahren Sie Richtung Chemnitz Zentrum und folgen dann der Ausschilderung in Richtung Augustusburg über die S 236 bis Erdmannsdorf.
Bahnstrecke Technische Daten
Streckenlänge 1.239,8 m
Höhenunterschied 168,06 m
Neigung im Durchschnitt 13,50%
Neigung maxima 20,14%
Spurweite 1.000 mm
Anzahl der Fahrzeuge 2
Sitzplätze 36
Stehplätze 39
Eigenmasse 9 t
Fahrgeschwindigkeit 3 m/s
Fahrzeit 8 Minuten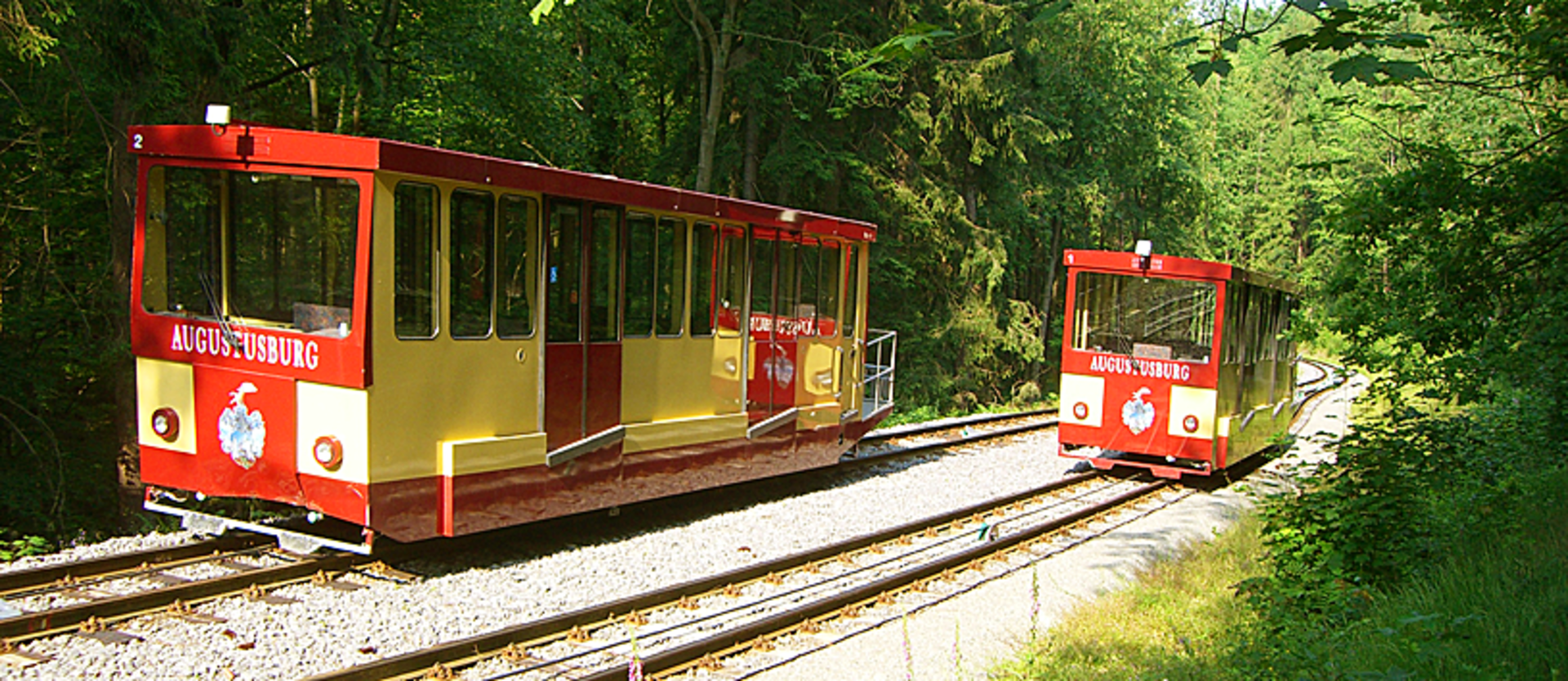 Fahrzeiten:
Die
Drahtseilbahn Augustusburg
fährt
| | |
| --- | --- |
| Montag | 13.20 - 17.40 Uhr |
| Dienstag bis Freitag | 09.20 - 17.40 Uhr |
| Samstag, Sonn- und Feiertag | 09.00 - 18.00 Uhr |
Wir fahren alle 20 Minuten bergauf und gleichzeitig bergab.
Beachten Sie auch die Sonderfahrzeiten bei Veranstaltungen im Schloss Augustusburg oder im Freizeitzentrum Rost's Wiesen.
Fahrpreise:
Einfache Fahrt
| | |
| --- | --- |
| Normal | 4,00 € |
| Kinder | 1,20 € |
| Ermäßigt | 3,00 € |
Berg- und Talfahrt
| | |
| --- | --- |
| Normal | 5,00 € |
| Kinder | 2,40 € |
| Ermäßigt | 4,00 € |
20-Fahrten-Karte
Kinder
- allein reisende Kinder
Kinder und Enkelkinder im Alter von 6 bis 14 Jahren fahren in Begleitung der Eltern bzw. Großeltern unentgeltlich
Zeitkarten zum VMS-Tarif (außer Wochenkarten) werden entsprechend ihrer räumlichen und zeitlichen Gültigkeit anerkannt
Mitnahmeregelungen für VMS-Zeitkarten gelten am Wochenende nicht
Fahrradmitnahme ist unter Beachtung der vorhandenen Kapazitäten kostenfrei
Hunde benötigen einen Kinderfahrschein
Ermäßigt
- bei Vorlage einer gültigen VMS- oder Bahnfahrkarte, eines gültigen Studentenausweises oder eines Schwerbehindertenausweises ohne Wertmarke
ErzgebirgsCard
Je ErzgebirgsCard ist eine Berg- und Talfahrt mit der Drahtseilbahn Augustusburg frei.
Mit der ErzgebirgsCard gibt es bei 100 Freizeiteinrichtungen freien Eintritt, auch die Nutzung der öffentlichen Verkehrsmittel im VMS-Verbundgebiet ist inbegriffen.