Description
Jöhstadt – Schmalzgrube – Steinbach
Made alive a second time ...
One of Saxony's romantic narrow gauge railways once ran from Wolkenstein to Jöhstadt. But on Friday, 13th January 1984, the last passenger trains ran up to Jöhstadt, and service to Niederschmiedeberg was discontinued on 31 December 1986. The Preßnitztalbahn railway was thus dismantled, with only a small museum in Großrückerswalde honouring its past. No one believed in a revival of the railway as one of the most famous German museum railways back then. In 1990, Günter Baumann, the former mayor of Jöhstadt and now member of the German Bundestag (CDU), left the engine shed in Jöhstadt to some railway enthusiasts who wanted to start rebuilding it.

Although they were sneered at as weirdos, they have proved the contrary. The members of the IG Preßnitztalbahn, founded in 1988 as a chapter of the Culture Association of the GDR in Großrückerswalde, made "The wonder of Jöhstadt" come true. In 1992, the first tracks were laid – from a heating house station over a switch at the current coaling facility and back into the other station. That is how it all started on less than 100 m of tracks. Thousands of visitors came to watch the spectacle, even if no one could take a ride on the railway yet. But shortly afterwards, the first trains were puffing with one engine on each side of the train up to the rack of the railway, in about the hight of the present vehicle hall. That was the beginning of the museum railway operation.

Successful museum railway operation since 1993 ...

It took many stages to complete the railway line. After the station in Schlössel was accessible, the new section up to Loreleifelsen was opened and later Schmalzgrube station was reopened. During an awesome railway festival week in August 2000, the railway reached its final, restored station in Steinbach and the water house was put to its original use. Since the Preßnitztalbahn railway started its public service on 28 May 1993, almost half a million passengers have travelled on the trains of the museum railway. Thanks to the gradual extension of the line, trains have been running between Steinbach and Jöhstadtseit since 2000, carrying about 35,000 passengers a year. For timetable information, please visit the association's website.

Service is provided year round on this route. The association's three own IV K steam engines, the VI K 99 715 (of joint owners) in operation on this line, the 99 4511, which was bought and restored by the IG Preßnitztalbahn, as well as several guest locomotives provide a great variety of operation possibilities. Often even multiple trains are operated on one track. The VSSB e.V. (association for the promotion of Saxon narrow gauge railways) transferred the I K No. 54 to the town of Jöhstadt for operating it. Hence this precious locomotive has been hauling a small train in the direction of the mountains. In the future, it will encounter all Saxon narrow gauge railways. As the vehicle for advertising the STEAM RAILWAY ROUTE, the locomotive promotes the narrow gauge railway not only on the tracks, but also on a heavy goods vehicle of the PRESS GmbH company at celebrations and festivas or fairs. A highlight of the association's activities was, without a doubt, its 20th anniversary. The amazingly high number of 14 IV K steam engines arrived in Jöhstadt for this railway festival, which took place in the Schwarzwasser and Preßnitz valleys over several days. The locomotives starred as congratulants of a very special kind. Several train enthusiasts said this extraordinary event got under their skin, and many guests or tourists were affected by this special atmosphere. The festival was a perfect opportunity for advertising the Preßnitztalbahn railway in conjunction with the whole region, complementing each other perfectly. If you have not yet been in Jöhstadt, we warmly recommend that you take a journey on a special train or attend a themed event, giving you the chance to get to know the museum railway with its vehicles and systems.
Timetable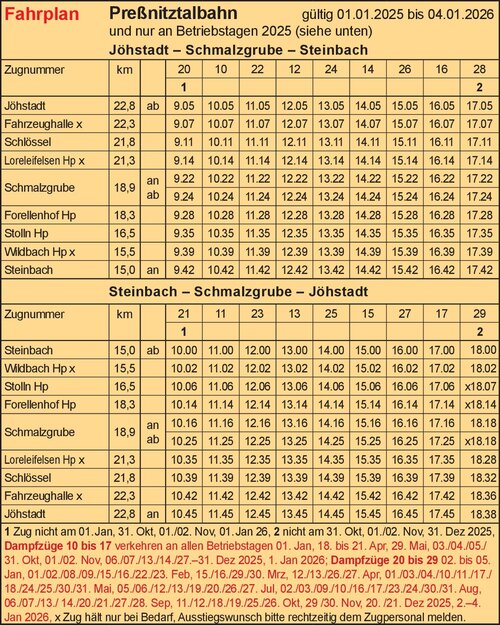 Impressions

Route
Railroad Preßnitztalbahn
Location
The Railway Museum is located in the Preßnitz and Schwarzwassertal, located in the central Erzgebirge between Annaberg-Buchholz and Marienberg.
Arrival by Car
You can get there by car via the B101 to Selva, continue on State Road 220 about Streckewalde and Niederschmiedeberg to Steinbach.

Railroad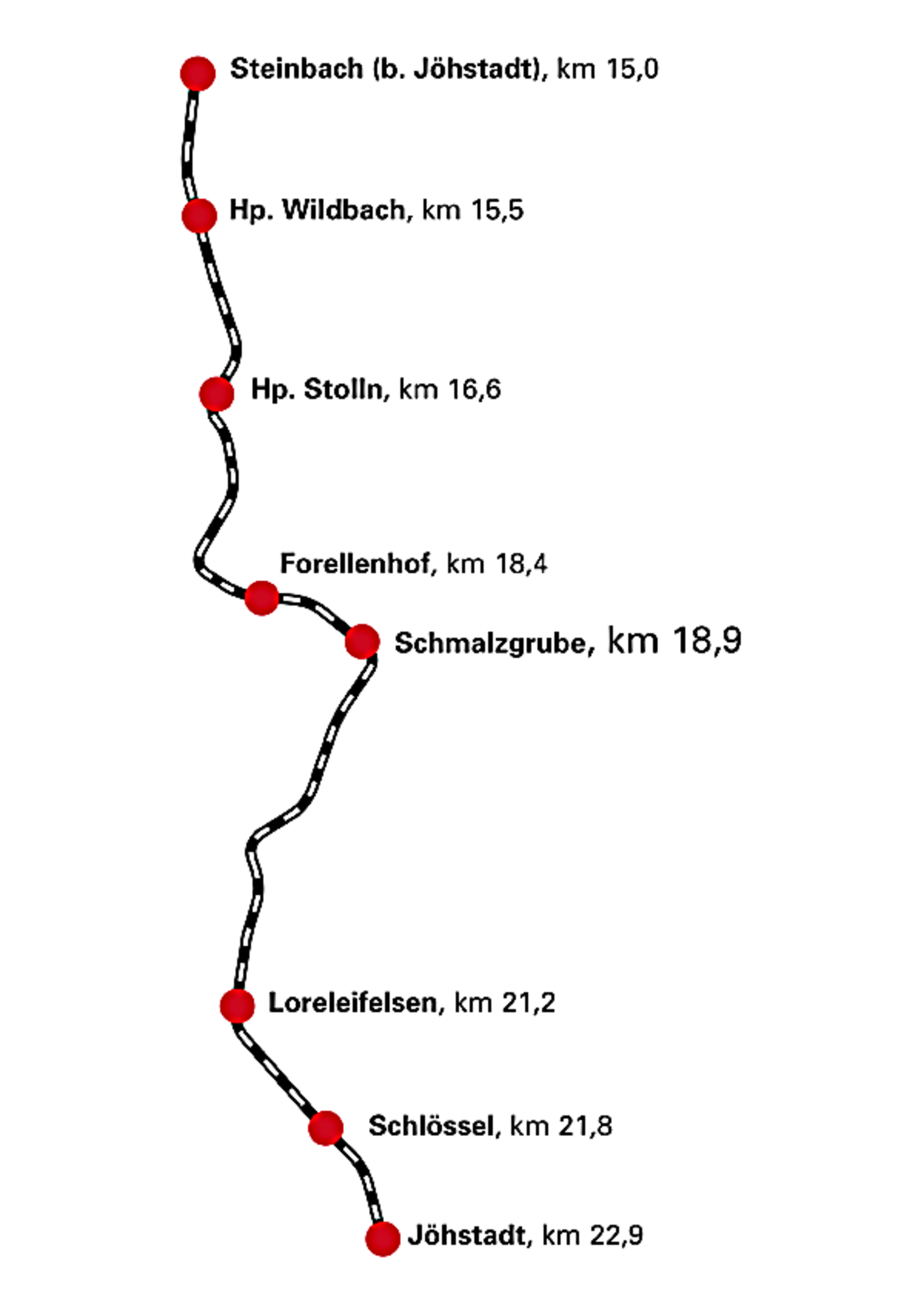 Fahrzeuge
Fahrzeuge Preßnitztalbahn
Dampflokomotiven
Sächsische IV K
Die meistgebaute Lokomotivgattung der sächsischen Schmalspurbahnen ist die sächsische IV K (sprich: viere K). Zwischen 1892 und 1921 verließen nicht weniger als 96 Exemplare dieser Bauart die Lokomotivfabrik vorm. Richard Hartmann in Chemnitz. Einst waren sie daher auf allen 750mm-spurigen Schmalspurbahnen in Sachsen von Carlsfeld bis Zittau und darüber hinaus beispielsweise auf der Insel Rügen anzutreffen. Die Naßdampfloks mit dem charakteristischen 4-Zylinder-Verbundtriebwerk erreichen eine Leistung von rund 210 PS. In den 1960ern fand bei einem Teil der noch vorhandenen Loks eine "Rekonstruktion" statt, bei der unter Verwendung alter Teile eine weitgehend neue Lok entstand. Weitere technische Daten sind die Fahrzeuglänge von 9.000 mm und die Dienstmasse von max. 29,3 t. Insgesamt sind 22 Exemplare dieser Lokomotivtype erhalten geblieben, zum Bestand der Preßnitztalbahn gehören davon vier Loks.
99 1542-2 Baujahr 1899/1963, SMF/2384
99 1568-7 Baujahr 1910/1964, SMF/3450
99 1590-1 Baujahr 1913/1967, SMF/3670
99 1594-8 Baujahr 1913/1962, SMF/3714
Sächsische VI K / Nachbau für Deutsche Reichseisenbahnen und Deutsche-Reichsbahn-Gesellschaft
Baureihe 99.64–65, sowie 99.67-71
Bauart E h2
VI K - Schmalspurbahnlokomotive, 1918-1927,
Hersteller Sächsische Maschinenfabrik vorm. Richard Hartmann, Chemnitz

99 1715-4 Baujahr 1927 Fabriknummer 4627
Darüber hinaus gehört eine Dampflok mit dem Spitznamen "Meppel" zum Bestand der Preßnitztalbahn.
Hersteller DR, Ausbesserungswerk Görlitz

99 4511-4 Baujahr 1966
Hersteller Dampflokwerk Meiningen
Sächs. I K Nr. 54 Neubau zum Jubiläum "125 Jahre Schmalspurbahnen in Sachsen"
Diesellokomotiven
Typ Ns4, Schmalspurdiesellokomotive des Typenprogramms des VEB Lokomotivbau Karl Marx Babelsberg, 1954 - 1957, ca 90 PS
VEB Lokomotivbau "Karl Marx" Babelsberg
199 007-6 1957 Fabriknummer 250029
Typ V10c, Schmalspurdiesellokomotive des Typenprogramms des VEB Lokomotivbau Karl Marx Babelsberg, 1957 - 1975, über 500 gebaute Fahrzeuge, Spurweiten von 600 bis 762 mm
VEB Lokomotivbau "Karl Marx" Babelsberg
199 008-4 1962 Fabriknummer 250 310
199 009-2 1964 Fabriknummer 250 337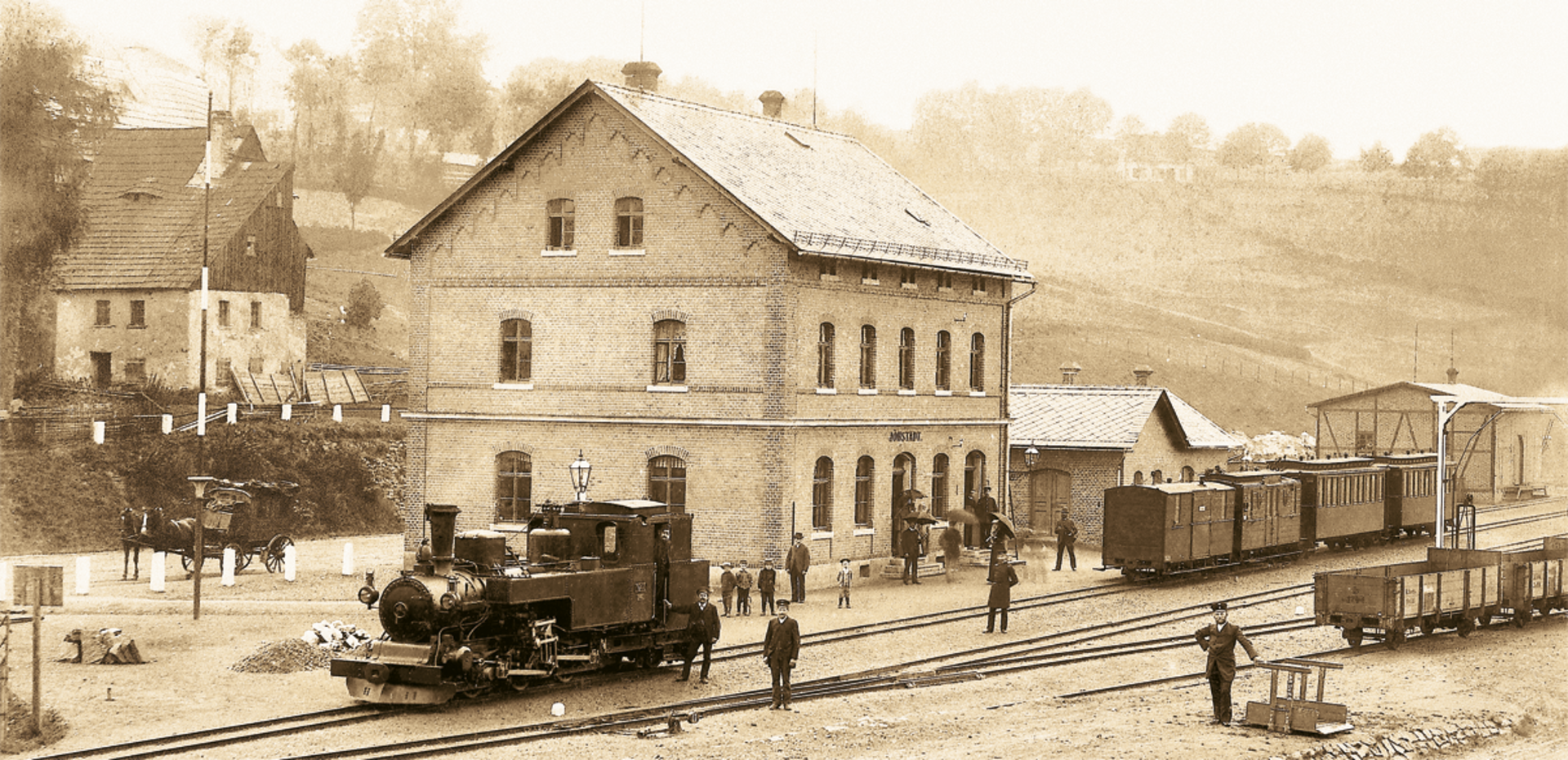 Historie
Historie der Preßnitztalbahn
Im Mai 1892 ging die Schmalspurbahn von Wolkenstein nach Jöhstadt in Betrieb, womit die Gemeinden im Preßnitz- und Schwarzwassertal endlich einen Anschluss an das Eisenbahnnetz erhielten. In den folgenden Jahren nahm die Industrie entlang der Bahn einen bisher ungekannten Aufschwung, im Laufe der Zeit entstanden 21 Werksanschlüsse, die für ein hohes Güterverkehrsaufkommen sorgten. Typisch für das Preßnitztal waren die gemischten Güter/Personenzüge (GmP), die auf ihrer Fahrt verschiedene Gleisanschlüsse mit Güterwagen versorgten, auf diese Weise kamen sehr lange Reisezeiten zustande.
Im Jahr 1986 kam mit der Stillegung das endgültige Aus für den bis zuletzt sehr umfangreichen Güterverkehr zum Kühlschrankwerk unweit des Bahnhofes Niederschmiedeberg, der letzte Personenzug war schon zwei Jahre zuvor abgefahren. Der sich anschließende Streckenabbau bedeutete jedoch nicht das Ende der Preßnitztalbahn, denn bereits 1990 wurde der Verein zur Bahn mit dem klaren Ziel gegründet, zumindest einen Teilabschnitt der alte Bahnlinie als Museumsbahn wiederherzustellen. Vom erfolgreichen Ergebnis dieses Vorhabens können Sie sich selbst gern bei einem Besuch vor Ort üerzeugen...
Fares:
Auszug aus der Tariftabelle.
halbe Strecke
Erwachsene
5,00 €
Kinder (6 - 14 J.)
3,00 €
Kinder bis 5 J.
frei
über halbe Strecke
Erwachsene
7,00 €
Kinder (6 - 14 J.)
5,00 €
Kinder bis 5 J.
frei
halbe Strecke - Hin- und Rückf.
Erwachsene
7,00 €
Kinder (6 - 14 J.)
5,00 €
Kinder bis 5 J.
frei
über halbe Strecke -
Hin- und Rück
Erwachsene
12,00 €
Kinder (6 - 14 J.)
6,00 €
Kinder bis 5 J.
frei
Familienkarte,
2 Erw. bis 5 Kinder 6-14 J., Hin- und Rückfahrt
25,00 €
Tageskarte je Erwachsener
20,00 €
Tageskarte je Kinder
6 - 14 Jahre
10,00 €