Description
Kurort Oberwiesenthal - Fichtelberg
Welcome to Germany's oldest aerial cableway! ...
Enjoy a ride on the Fichtelberg Cable Car to the mountain station at 1,208 m (3,963 feet) above sea level at any time of the year. The aerial cableway, opened in 1924, is a special landmark of the town of Oberwiesenthal. Two cars, each carrying up to 44 passengers, run to the top of the highest mountain in Central Germany up to 90 times a day. The difference in elevation is 303 meters (994 feet), and travel distance is 1.18 km (0.73 miles). Leaving the valley or mountain station, respectively, normally every 15 minutes, it takes each car only about 3½ minutes to run up or down the Fichtelberg mountain. So, enjoy the fantastic view of the scenic Ore Mountains during a ride!

Route
Anlage der Fichtelberg Schwebebahn
Lage
Die Fichtelberg Schwebebahn liegt südwestlich von Annaberg-Buchholz am Fichtelberg im Kurort Oberwiesenthal, in unmittelbarer Nähe der Grenze zu Tschechien. Die Seilbahn verläuft von der Talstation auf 905,5 m über NN bis zur Bergstation auf 1208,9 m über NN, überwindet dabei also einen Höhenunterschied von 303 m.
Anfahrt mit Bus & Bahn
Zu erreichen ist die Seilbahn von Chemnitz aus mit den RegionalBahnen der Erzgebirgsbahn (KBS517), ab Cranzahl weiter mit den Zügen der schmalspurigen, mit Dampfloks betriebenen Fichtelbergbahn. Alternativ bietet die Buslinie 210 durchgehende Fahrverbindungen von Chemnitz bis Oberwiesenthal. Auskünfte zu den Fahrzeiten der Züge und Busse erhalten Sie online beim Verkehrsverbund Mittelsachsen (VMS).
Anfahrt mit dem Auto
Zur Anreise mit dem Auto empfiehlt sich die Nutzung der B95, die von Chemnitz (Anschluss Autobahn A4 und 72) direkt nach Kurort Oberwiesenthal verläuft.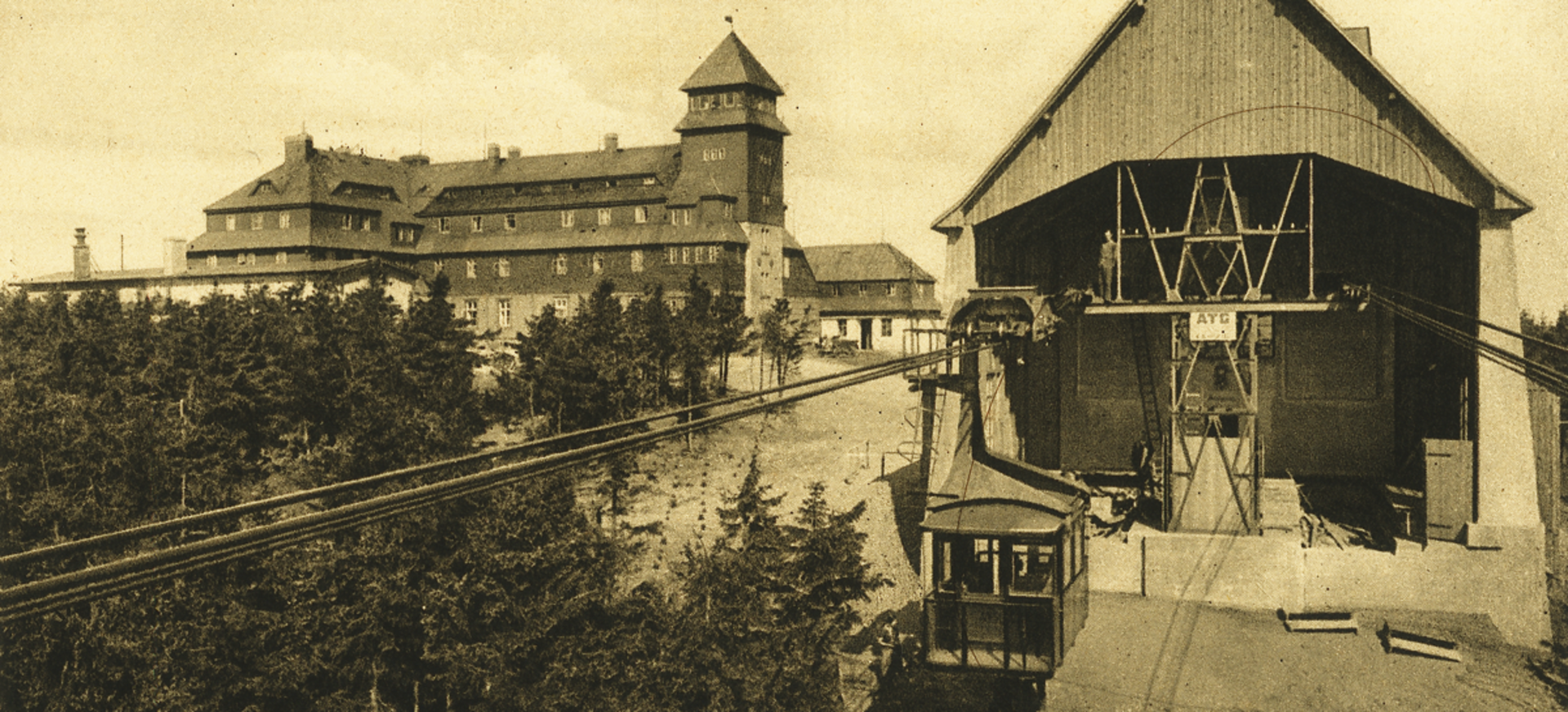 Historie
Historie der Fichtelberg Schwebebahn
Mit dem Eröffnungsjahr 1924 ist die Fichtelberg Schwebebahn zugleich Deutschlands älteste Seilschwebebahn. Ihre wechselvolle Geschichte ist stets von Höhen und Tiefen gezeichnet gewesen. Anno 1897 wurde das romantische Bergstädtchen Oberwiesenthal mit der Schmalspurbahn an das sächsische Eisenbahnnetz angeschlossen. Bereits damals kamen Ideen auf, den nahen Fichtelberg mittels einer Seilbahn zu erschließen, doch es sollte noch bis 1. September 1924 dauern, ehe die Bauarbeiten dafür begannen. In vier Monaten Bauzeit wurde die Anlage errichtet und am 29. Dezember konnte die Seilschwebebahn ihren öffentlichen Fahrbetrieb aufnehmen.
In der Anfangszeit besaß die Anlage noch eine Reihe von Schwächen, deren Behebung zahlreiche technische Veränderungen am Seilbahnsystem zur Folge hatte. Die Kabinen wurden 1940 erneuert, doch 1948 mußte der Betrieb aufgrund des desolaten technischen Zustandes der Anlage vorerst eingestellt werden. 1961-62 und 1985 fanden umfangreiche Rekonstruktionen statt, bei denen dann die letzten Originalteile ersetzt wurden. 1989 wurde der bisherige Beförderungsrekord mit 880.000 Personen binnen Jahresfrist erreicht.
fares:
Auszug aus der Tariftabelle.
Einfache Bergfahrt
Normal
7,00 €
Kinder 6 - 12 Jahre
5,50 €
Azubis, Schüler, Studenten,
Senioren ab 63 Jahre, Schwerb. ab 50%
6,50 €
Familienkarte
2 Erw./ 2 Kinder
21,00 €
Berg- und Talfahrt
Normal
9,00 €
Kinder 6 - 12 Jahre
7,00 €
Azubis, Schüler, Studenten,
Senioren ab 63 Jahre, Schwerb. ab 50%
8,50 €
Familienkarte
2 Erw./ 2 Kinder
26,00 €