Description
Bergen auf Rügen-Lauterbach Mole line
RB 26 (regional train) from Bergen auf Rügen to Lauterbach Mole

In the 19th century, the first railway on Rügen, Germany's largest island, ran from Altefähr to Sassnitz and was mainly used for travelling to Sweden. Passengers, however, still had to change to the ferries in Altefähr and Sassnitz. Therefore, the famous Königslinie (the King's line) was built. It was first operated as a mail steamer line from Sassnitz to Trelleborg and later, in the early 20th century, as a train ferry service. The official opening date was in 1909 when the first train was operated in the presence of the King of Sweden and the German Emperor. Thanks to its new rail connection, the island of Rügen soon developed into a tourist destination, with even further branch lines having been built.

The first one of those branch lines connected the Königslinie with the town of residence of the aristocratic family of Putbus and the first seaside resort of the island near Lauterbach on the Rügischer Bodden bay. In 2009, exactly 100 years after the Königslinie had been completed, this traditional railway line started to be operated by the PRESS as a regional and local rail passenger transport service (SPNV). This service perfectly complements and extends the existing railway service of the Rügen Narrow-Gauge Railway, nicknamed Rasender Roland (Dashing Roland). The unique coexistence of the two railways is owed not only to the fact that they belong to the same operator, but also, and above all, that they both use the famous three-rail track between Putbus and Lauterbach Mole.

The Press seeks to offer a high-quality, modern and up to date local transport service, including targeted marketing promotions and attractive offers to attract prospective passengers. The RB 26 railway line is an integral part of the local public transport (ÖPNV) network of Mecklenburg-Western Pomerania, connecting the region around Putbus – a particular tourist attraction – with Bergen in the centre of Rügen. In Putbus, there is a direct connection to the Rasender Roland narrow-gauge railway, which is one of the tourist attractions on the island of Rügen and a direct rail connection to the famous Baltic sea spa towns of Binz, Sellin, Baabe and Gören.

On Rügen, the main office of the PRESS is their train station in Putbus. Its renovation, restoration and remodelling resulted in a modern and contemporary service centre with customer office, ticket sales and other additional facilities. By having thus created a further tourist centre on the island, we have made our contribution to the further development of the region around Putbus.
The two routes are similar also in that, particularly for tourists, they run on regular riding days, using historic vehicles. For additional special rides on historic vehicles, we use our own steam or diesel locomotives and traditional carriages. Furthermore, Putbus station is available to interested railway associations arriving on their trains not only as an attractive destination but also as a supply station for their steam locomotives. Operating historic vehicles during regional events along the route helps raise regional and national public awareness of the railway line.
We invite you to join us for a ride or come to our railway station festival held in May every year.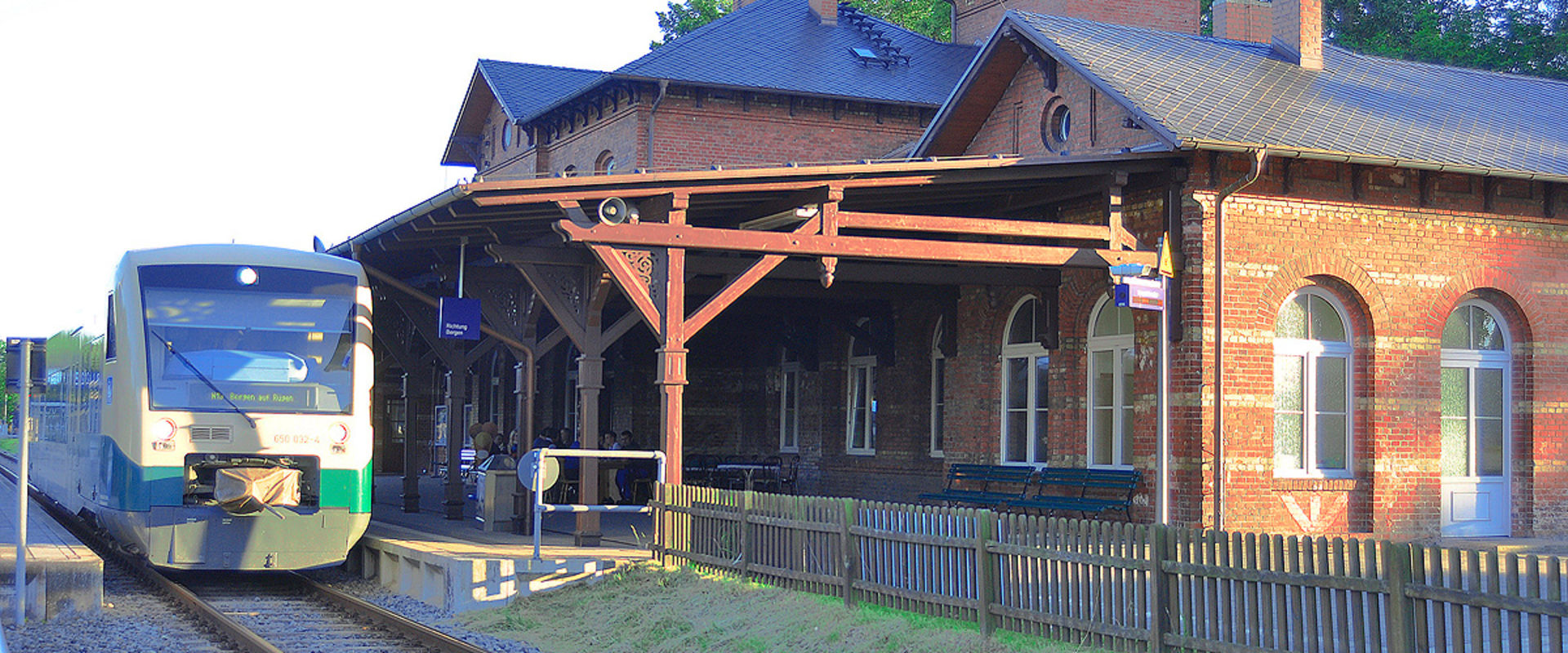 Route
Bahnstrecke Bergen auf Rügen - Lauterbach Mole
Lage
Die Nahverkehrsbahn fährt auf der größten deutschen Insel Rügen. Die Bahnstrecke führt von Bergen auf Rügen bis nach Lauterbach Mole über die ehemaligen Fürstenresidenz Putbus.
Anfahrt mit Bus & Bahn
Zu erreichen ist die Rügensche BäderBahn mit dem Fernverkehr der DB aus vielen Teilen Deutschlands. Sie bietet bequeme umsteigefreie Verbindungen von den Ballungsräumen Rhein/Ruhr, Rhein/Main, Berlin, Hamburg sowie aus Mittel- und Süddeutschland nach Stralsund, bis Bergen auf Rügen.
Es fahren regelmäßig direkte Fernreisebuse von Berlin, Dresden und Westsachsen auf die Insel Rügen.
Anfahrt mit dem Auto
Die Anreise mit dem Auto führt über die A20, Abfahrt Stralsund/Insel-Rügen, die B96n über den berühmten Rügendamm direkt auf das Straßennetz der Insel Rügen.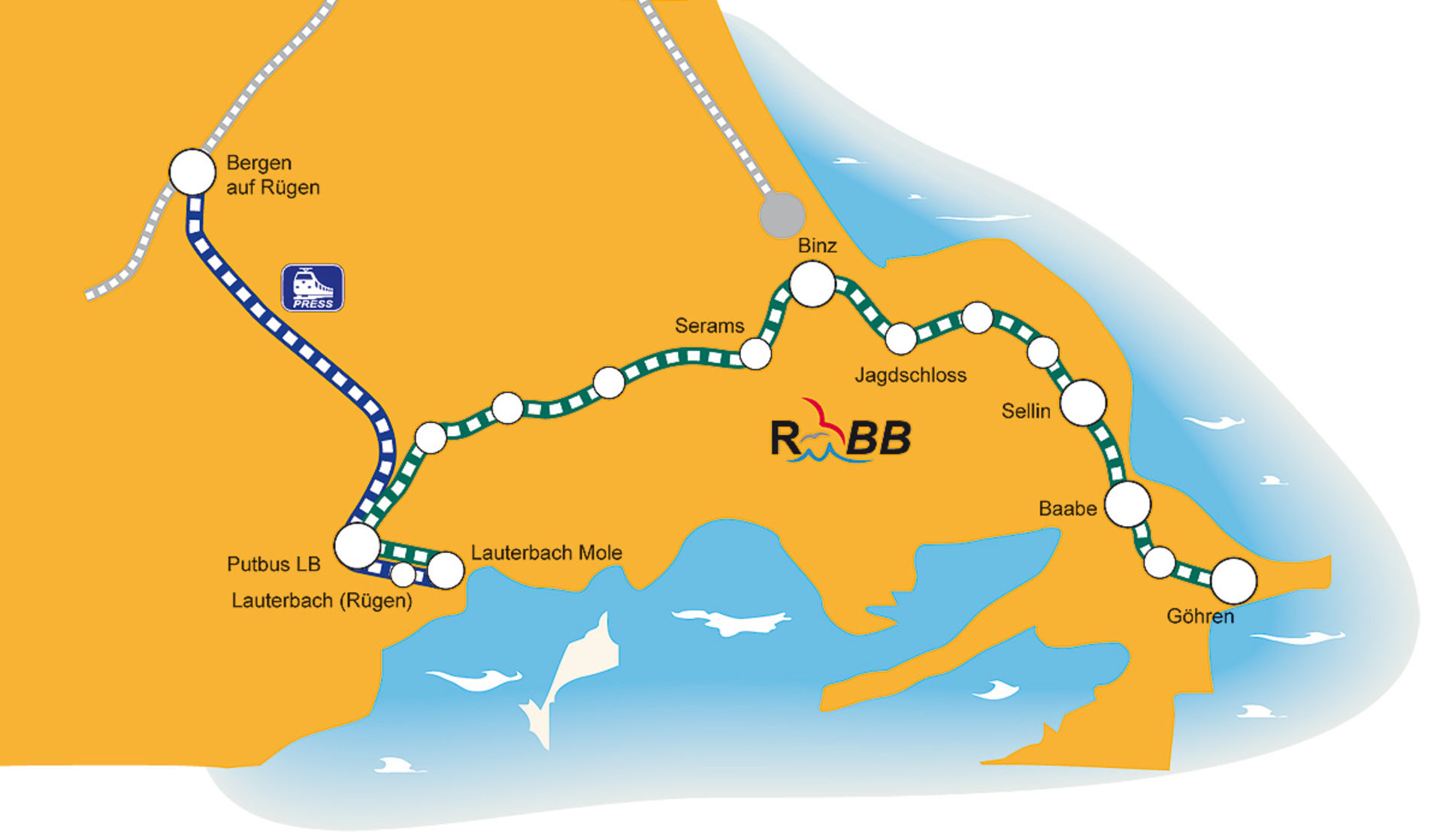 Fahrzeuge
Fahrzeuge PRESS Bergen auf Rügen - Lauterbach Mole
Die Auswahl der Fahrzeuge mit einem attraktiven und zeitgemäßen, äußerem und innerem Erscheinungsbild erfolgte unter den Kriterien, eines einstöckigen Nahverkehrstriebwagens in Dieseltraktion, mit einer Höchstgeschwindigkeit mindestens 80 km/h, geringer Einstiegshöhe, einer Mindestzahl von 50 vollwertigen Sitzplätzen, barrierefreier Zugang zum und Bewegung im Fahrzeug, hoher Grad an Einsehbarkeit des Fahrgastraumes für Fahrgäste und Triebfahrzeugführer, Ausstattung mit einem Fahrgastinformationssystem und Klimatisierung des Fahrgastraumes.
Triebwagen Regio-Shuttle RS1 650 032-4
Aufgrund der Kriterien wurde der Stadler Regio-Shuttle RS1, der erste in Deutschland weit verbreitete Nahverkehrsdieseltriebwagen neuer Generation mit den charakteristischen trapezförmigen Fensterbänder ausgewählt. Darüber hinaus zeichnet sich der RS1 auch durch den geringere Treibstoffverbrauch aus. Die Regio-Shuttle-Triebwagen wurden seit 1996 durch ADtranz Henningsdorf hergestellt, sind bereits auf vielen Strecken in gesamt Deutschland im Einsatz und erfreuen sich bei den Fahrgästen großer Beliebtheit.
Baureihe 650 (DB AG)
Bauart B'B'
Diesel Triebwagen, ab 1996
Hersteller Stadler Rail AG (bis 2001 Adtranz), 497 Stück
Leistung der 2 Fahrmotoren 2 × 257 kW (MAN)
Höchstgeschwindigkeit 120 km/h
Zugsicherung Sifa, PZB90
Sitzplätze 71–101
Stehplätze 83–94
Einsatz historischer Fahrzeuge
Die Leichtverbrennungstriebwagen (LVT) der Baureihe 171.0 als Motorwagen mit einer Leistung von rund 180 PS und die zugehörigen 171.8 als Beiwagen wurden zwischen 1962 und 1969 beim VEB Waggonbau Bautzen in Serie gefertigt. Die bei der Deutschen Reichsbahn in Dienst gestellten LVT erhielten schnell die Spitznamen Ferkeltaxi oder - wegen der blutroten Lackierung - Blutblase. Zum Bestand der PRESS gehören ein Triebwagen sowie ein dazu passender Steuerwagen.
772 345-95 (Triebwagen)
172 (Steuerwagen)
Baureihe DR VT 2.09 / 171/172 / DB 771/772
Bauart 1A
Diesel Triebwagen, 1957 Baumuster 1962 - 1969
Hersteller VEB Waggonbau Bautzen, Triebwagen 151, Steuerwagen 72
Leistung 132 kW
Höchstgeschwindigkeit 90 km/h
Sitzplätze 54
Sonderfahrten
Die Sonderfahrten zu bestimmten Anlässen oder einfach nur als Reiseziel sind ein Teil des Programmes der PRESS. Zuerst bietet sie als Betreiber der Strecke mit ihren eigenen historischen Fahrzeugen, wie Strecken-Diesellokomotive der Deutschen Reichsbahn, einer Schnellzug-Dampflokomotive, einer Dampflok für Nahverkehr und geeignetem historischem Wagenmaterial jährlich einige Fahrten aus dem Bundesgebiet nach Putbus an. Bitte beachte Sie dazu die Veranstaltungshinweise hier oder auf den Seiten der Preßnitztalbahn.
Desweiteren macht die Preßnitztalbahn Veranstaltern von Eisenbahntouren und Eisenbahnvereine Angebote, um externe Sonderzüge auf die Insel zu holen. Für Sonderfahrten werden attraktive Paketangebote zusammen mit der Rügenschen BäderBahn und z.B. die Unterstützung bei der Versorgung von Dampflokomotiven angeboten. Auch dazu finden Sie Veranstaltungshinweise hier oder auf den Veranstaltungsseiten.
Fahrpreise:
Auszug aus der Tariftabelle.
Der Tarif wird nach Tarifkilometer fällig.
Erwachs
Ermäß
Bergen
auf Rügen
0
Putbus
10
2,60 €
1,30 €
Lauterbach (Rügen)
12
3,80 €
1,50 €
Lauterbach Mole
13
3,80 €
1,50 €
| | | | |
| --- | --- | --- | --- |
| | | Erwachs | Ermäß |
| Putbus | 10 | | |
| Lauterbach Mole | 13 | 1,90 € | 0,75 € |
Sondertarife
Wochenkarte, Zehner-Karte, Monatskarte
Kombiticket Bergen & Bodden