Description
Schönberg – Mühltroff – Schleiz West
Continue your journey to the so-called Thuringian Sea. ...
The Schönberg (Vogtland region) – Schleiz branch line has been connecting Saxony and Thuringia since 1887. Regular passenger traffic was offered until 2006. In cooperation between the Wisentatalbahn railway support association and Deutsche Regionaleisenbahn (the private railway company in Germany), the entire route reopened as a public passenger railway on 3rd December 2011. Since then, excursion trains, for example the historic railcars (LVT) of Eisenbahnnostalgie Vogtland, have been operating on the scenic route through the Wisenta valley. Today, the Oberland cycle path on the former narrow gauge route to the town of Saalburg leads to the Bleiloch dam. The Oberland omnibus service provides connections from Schleiz West Station to the Wisentatalbahn railway for passengers going to Burgk Castle and Saalburg at the "Thuringian Sea".

Timetable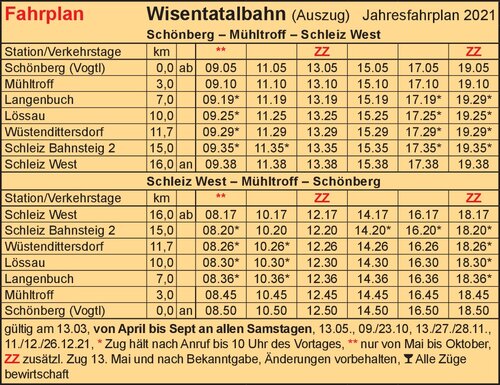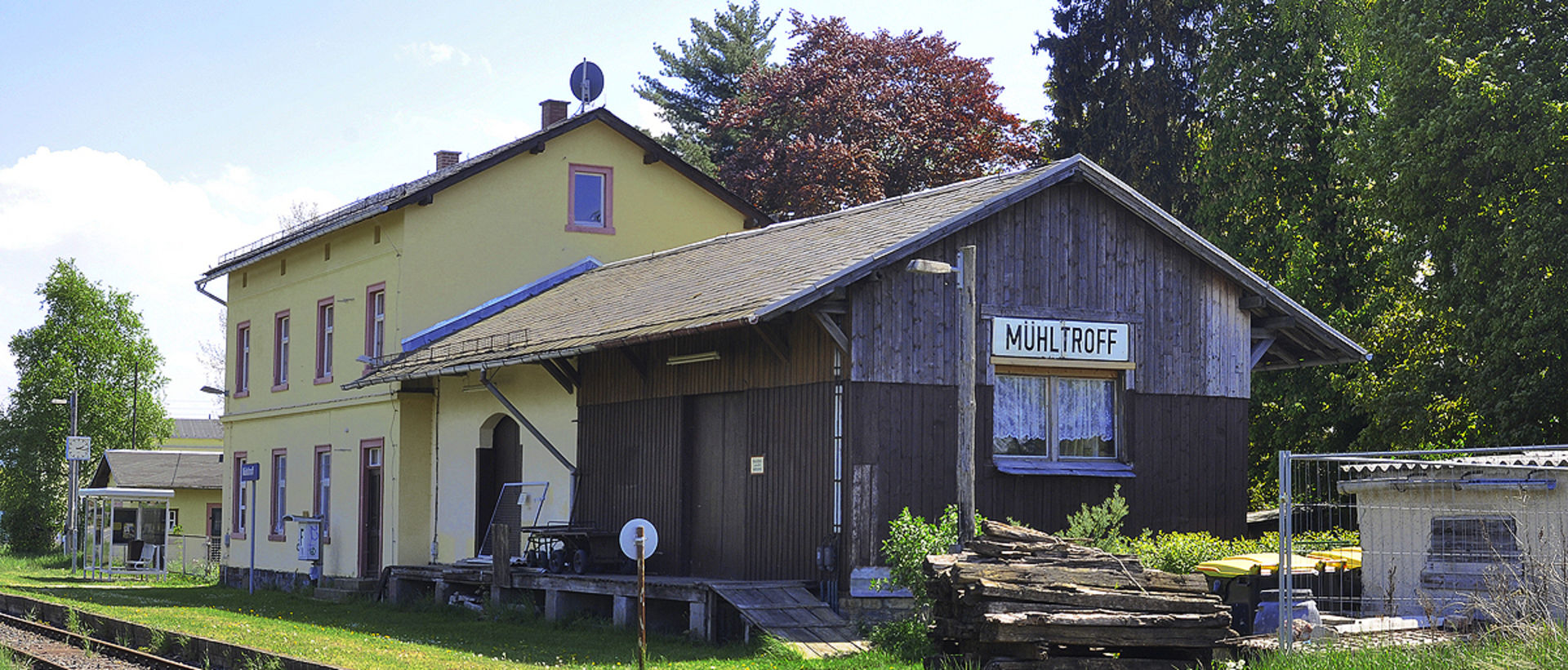 Route
Bahnstrecke Wisentatalbahn
Lage
Die Wisentatalbahn verbindet Sachsen und Thüringen, sie nimmt dabei ihren Ausgang im Bahnhof von Schönberg (Vogtl) westlich von Plauen.
Anfahrt mit Bus & Bahn
Von sächsischer Seite aus erreichen Sie die Wisentatalbahn bequem mit den Zügen der Vogtlandbahn im Bahnhof Mehltheuer. Hier haben Sie Anschluß von und nach nach Plauen, Zwickau und Adorf.
Von Thüringen aus erreichen Sie Bahn mit der Erfurter Bahn von und nach Hof, Gera und Leipzig. Auskünfte zu den Fahrzeiten der Züge und Busse erhalten Sie online beim Verkehrsverbund Vogtland (VVV).
Anfahrt mit dem Auto
Für die Anreise mit dem Pkw empfiehlt sich die Fahrt über die Autobahn A4 bis zur Abfahrt Plauen Ost, weiter auf der B173 und B282 nach Waldfrieden, dort nach links auf die Straße nach Schönberg (S318) einbiegen.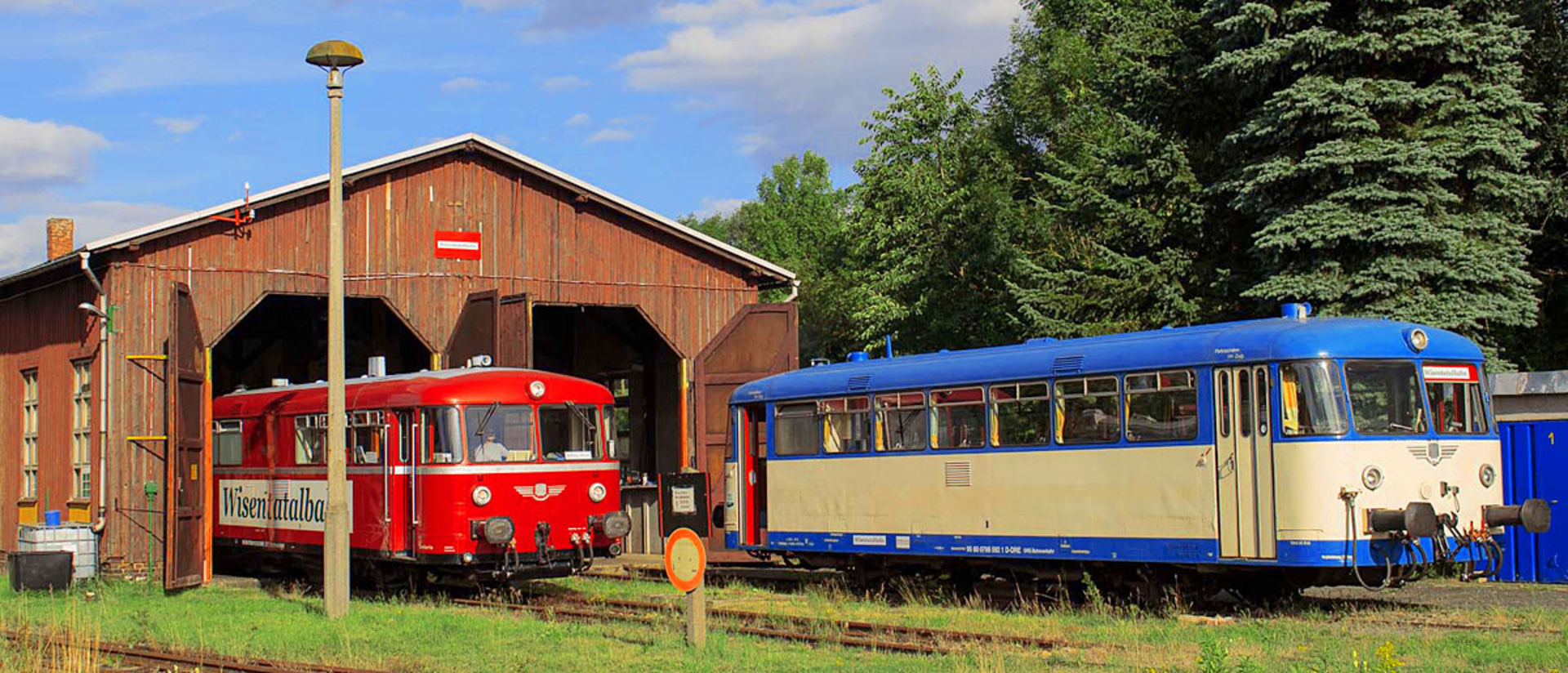 Fahrzeuge
Fahrzeuge Wisentatalbahn
Die Wisentatalbahn widmet sich unter anderem dem Fahrbetrieb und der Fahrzeugpflege historischer Triebwagen. Wir nutzten seit 2014 unseren eigenen VT 3.07 (ex AKN,ex DB-VT 98) und ab April 2016 auch den VS 998 01 der DRE (ex DKB,ex DB-VS 98). Diese beiden Vertreter des Uerdinger Schienenbuszuges sind umgebaut bzw. modernisiert worden und garantieren eine angenehme Reise. In allen Zügen gibt es Imbiß und Getränke. Fahrkarten gibt es während der Fahrt beim Schaffner.
Triebwagen
VT 3.07 (ex AKN,ex DB-VT 98)
Bauart B, Achsformel A1A1
Uerdinger Schienenbus 1950-1958, einschließlich aller Lizenzbauten 3000 Stück,
Höchstgeschwindigkeit 90 km/h, 2 Büssing-U-10-Motoren zu je 150 PS, Sitzplätze 56+2
Steuerwagen VS 998 01

Der 2. Triebwagen ist ebenfalls Motorwagen der Uerdinger Schienenomnibuszuges, wurde von WMD 1958 erbaut, fuhr nach dem Einsatz bei der DB bei Priatbahnen und wurde modernisiert. Er befindet sich in Hauptuntersuchung und wird ab kommendem Spätherbst am Eisenbahnbetrieb der Wisentatalbahn teilnehmen.
Historie
Historie der Wisentatalbahn
Die Verbindung von Schönberg nach Schleiz wurde als normalspurige Nebenbahn am 20. Juni 1887 eröffnet. Ausgehend von Schleiz führte seit 1930 die Schleizer Kleinbahn AG den Betrieb auf der verlängerten Strecke nach Saalburg am Ufer der Bleilochtalsperre, dem "Thüringer Meer".
Ab 1996 fuhren die Nahverkehrszüge bis Schleiz West durch, und der Streckenabschnitt bis Saalburg wurde eingestellt. Der Personenverkehr zwischen Schönberg(Vogtl) und Schleiz West wurde zum 9. Dezember 2006 abbestellt.
Im Jahre 2010 begann die abschnittsweie Wiederinbetriebnahme der Wisentatalbahn. Heute bietet der Förderverein Wisentatalbahn nahezu ganzjährig und regelmäßig Ausflügszüge mit historischen Triebwagen, befördert Fahrradtouristen zum Oberlandradweg und ermöglicht den Anschluß an die Omnibusse der Kombus GmbH zum Thüringer Meer.