Description
Schönheide-Mitte – Neuheide – Stützengrün-Neulehn
Departure at the brush factory ...
The first, longest and steepest narrow gauge railway in Saxony used to run from Wilkau-Haßlau near Zwickau to Carlsfeld via Kirchberg, Rothenkirchen, Stützengrün and Schönheide. The route led through the Eastern Vogtland and Western Ore Mountains. Yet in 1977, the last section of the line was closed. Not wanting to see this railway shut down for ever, several railway enthusiasts founded the Museumsbahn Schönheide railway association in 1991. The association rebuilt the 4 km (2.49 mi.) stretch between Stützengrün and Schönheide and operates it as a museum railway today.

The following three IV K steam locomotives can be found at Schönheide station: nos. 99 516, 99 582 and 99 585. The first two are operable and run along the foot of Kuhberg and Fuchsstein mountains at several weekends of the year. The Museumsbahn Schönheide association, in cooperation with the FHWE association, has been organising a great railway event - the WCd narrow gauge festival - once a year since 2006.

In addition, a branch of the Schönheide registry office is located in one of the historic passenger coaches of the museum railway. Since 2007, you can officially marry here!
Timetable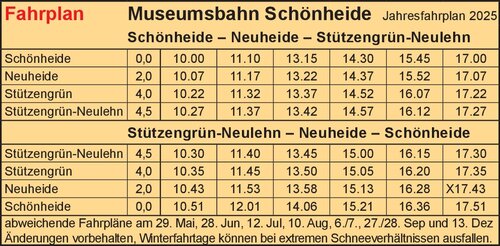 Impressions

Route
Bahnstrecke Museumsbahn Schönheide
Lage
Die Museumsbahn Schönheide befindet sich im Westerzgebirge zwischen Aue und Plauen im Vogtland.
Anreise mit dem Auto
Zu erreichen ist sie mit dem Pkw über die B169 von Rodewisch oder Schneeberg aus oder über die B283 aus Richtung Aue.
Streckenverlauf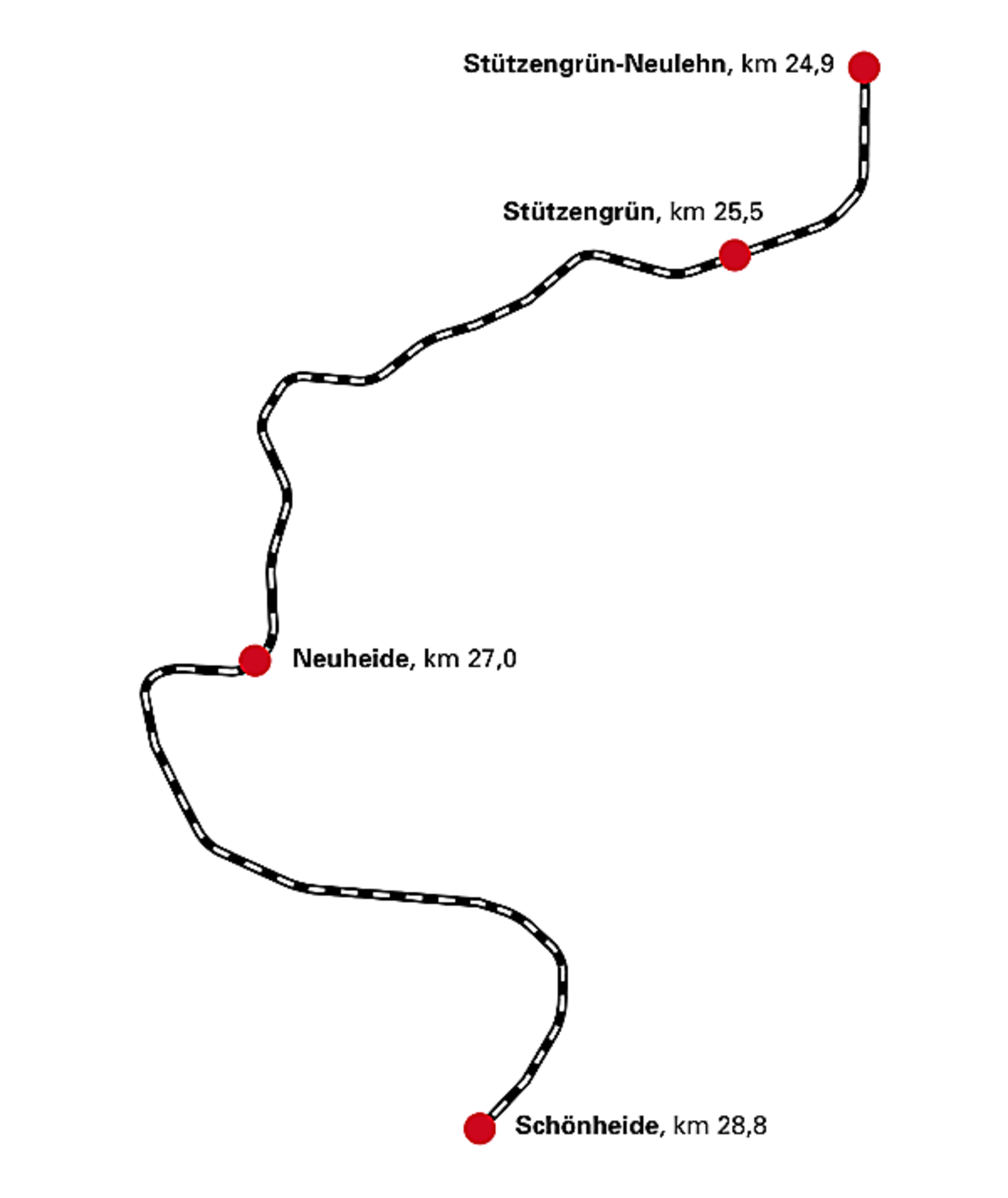 Fahrzeuge
Fahrzeuge Museumsbahn Schönheide
Dampflokomotiven
Sächsische IV K
Die meistgebaute Lokomotivgattung der sächsischen Schmalspurbahnen ist die sächsische IV K (sprich: viere K). Zwischen 1892 und 1921 verließen nicht weniger als 96 Exemplare dieser Bauart die Lokomotivfabrik vorm. Richard Hartmann in Chemnitz. Einst waren sie daher auf allen 750mm-spurigen Schmalspurbahnen in Sachsen von Carlsfeld bis Zittau und darüber hinaus beispielsweise auf der Insel Rügen anzutreffen. Die Naßdampfloks mit dem charakteristischen 4-Zylinder-Verbundtriebwerk erreichen eine Leistung von rund 210 PS. Weitere technische Daten sind die Fahrzeuglänge von 9.000 mm und die Dienstmasse von max. 29,3 t. Insgesamt sind 22 Exemplare dieser Lokomotivtype erhalten geblieben.
Baureihe 99.51-60
Bauart B'B' n4v
IV K - Schmalspurbahnlokomotive , 1892-1921, Sächsische Maschinenfabrik vorm. Richard Hartmann, Chemnitz, ca. 210 PS
Hersteller Sächsische Maschinenfabrik vorm. Richard Hartmann, Chemnitz
99 516 1891
99 582 1912
99 585 1912, nicht betriebsfähig
Diesellokomotiven
Typ V10c, Schmalspurdiesellokomotive des Typenprogramms des VEB Lokomotivbau Karl Marx Babelsberg, 1957 - 1975, über 500 gebaute Fahrzeuge,Spurweiten von 600 bis 762 mm
VEB Lokomotivbau "Karl Marx" Babelsberg
199 051 1964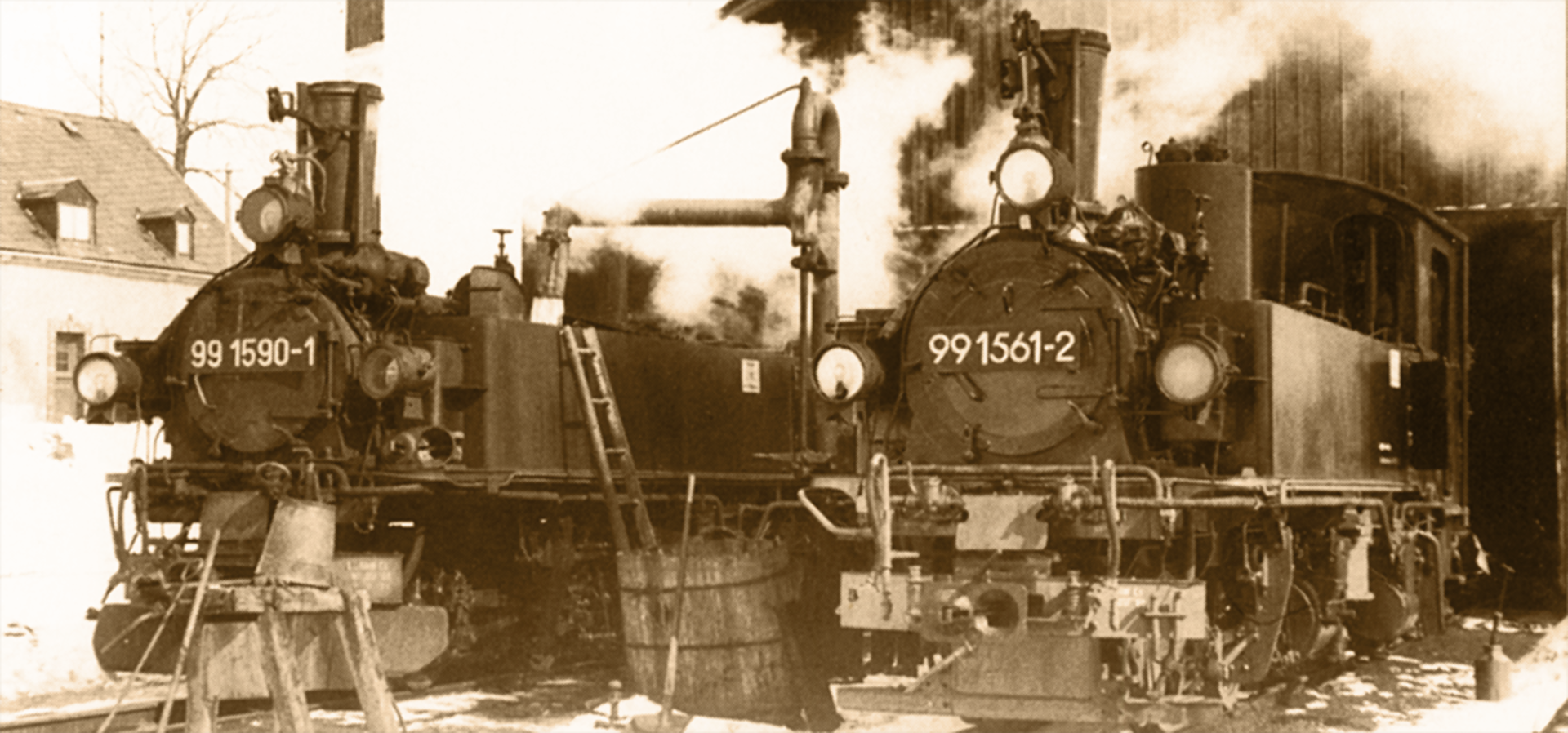 Historie
Historie Museumsbahn Schönheide
Um die Ortschaften in ungünstigen topografischen Lagen abseits der bereits bestehenden Hauptbahnen besser erschließen zu können, forcierte die Sächsische Regierung ab 1880 den Bau schmalspuriger Eisenbahnen, die sich dem Gelände besser anpaßten und so einen deutlich geringeren Bauaufwand erwarten ließen. Am 18. Oktober 1881 begann die Geschichte der sächsischen Schmalspurbahnen mit Eröffnung der ersten Teilstrecke von Wilkau nach Kirchberg. In weiteren Bauabschnitten erreichte der Bahnbau 1893 Schönheide, wobei hierfür bei Stützengrün zwei beachtenswerte Gerüstpfeilerviadukte entstanden, die für den Betrachter so garnicht in das Bild einer "einfach trassierten Bimmelbahn" passen wollten. Ein weiteres großes Viadukt entstand bei Wilzschhaus, 1897 war schließlich die Gesamtstrecke der sogenannten "WCd-Linie" mit der Eröffnung des Abschnittes Wilzschhaus - Carlsfeld vollendet. Der zunehmende Grad der Motorisierung der Bevölkerung forderte 1967 auch an der "WCd-Linie" seinen Tribut, als die Teilstrecke nach Carlsfeld stillgelegt und abgebaut wurde. Nach der 1978 beendeten Stillegung der restlichen Streckenabschnitte sollte die Geschichte der ältesten Schmalspurbahn Sachsens jedoch noch nicht zuende sein...
Operating times:
Die Museumsbahn Schönheide fährt zu
ausgesuchten Terminen
.
Termine 2020
| | |
| --- | --- |
| - | Januar 20 |
| 16. / 23. | Februar 20 |
| 21. / 22. | März 20 |
| 10. - 13. | April 20 |
| 09. / 10. | Mai 20 |
| 28. | Juni 20 |
| 18. | Juli 20 |
| 08. / 30. | August 20 |
| 12. / 13. | September 20 |
| 17. / 18. | Oktober 20 |
| 15. | November 20 |
| 05. / 06. / 13. | Dezember 20 |
| - | Januar 2021 |