Description
Schwarzenberg – Markersbach – Annaberg-Buchholz
Stunning views are guaranteed! ...
The 26.7-km- or 16.6-mile-long route offers wonderful views of the upper Ore Mountains. These scenic rides on historic railcars or the steam train of Schwarzenberg Railway Museum are offered on six weekends of the year. The route leads to stunning heights and over large bridges traversing gorgeous valleys. In every train, a guide will provide suggestions regarding excursions as well as interesting information about the surrounding nature or the history of the train route. So enjoy the unique views of the Ore Mountains! We look forward to welcoming you aboard one of the trains of the Erzgebirgische Aussichtsbahn railway.

Timetable
Impressions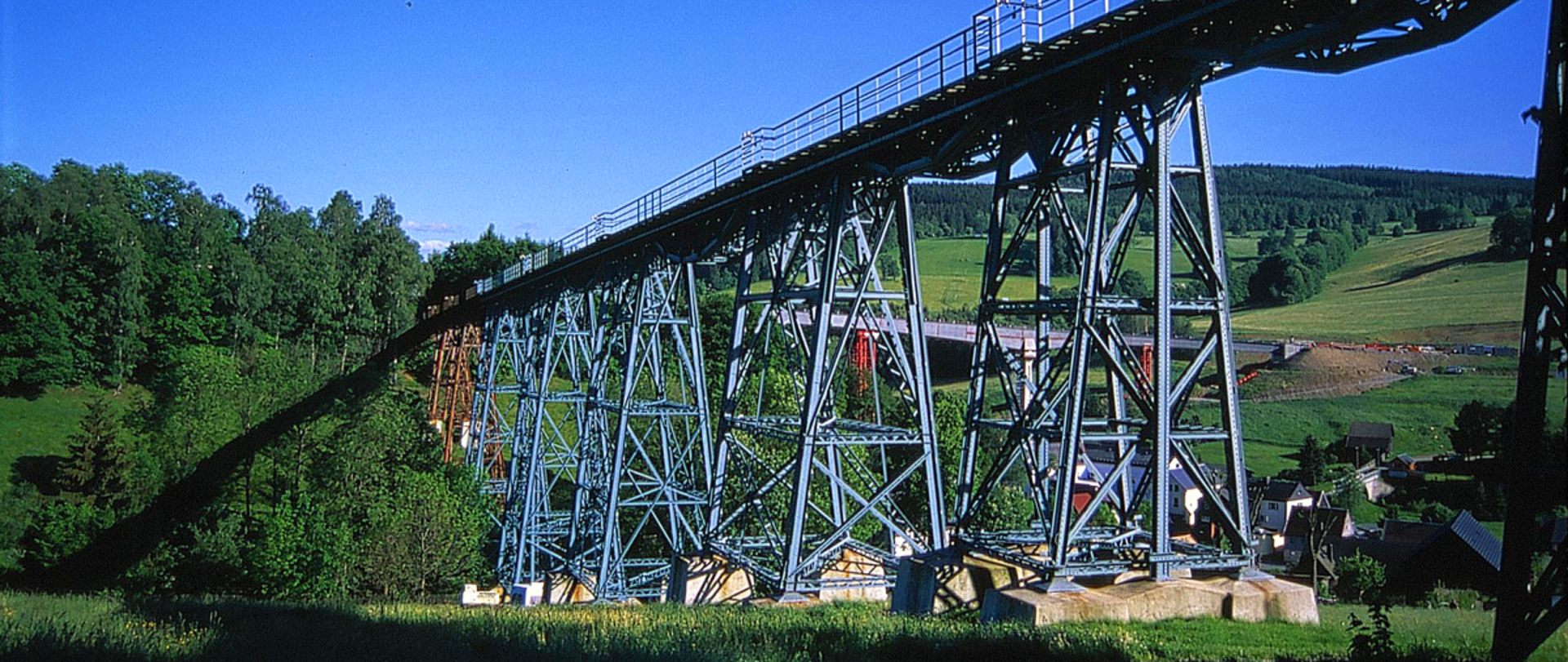 Route
Bahnstrecke Erzgebirgische Aussichtsbahn
Lage
Die Erzgebirgische Aussichtsbahn verläuft auf dem Erzgebirgskamm von Annaberg-Buchholz über Walthersdorf, Schlettau, Scheibenberg, Markersbach, Raschhau nach Schwarzenberg. Einen umfangreichen Reiseführer zur Erzgebirgischen Aussichtsbahn können Sie vor Ort käuflich erwerben oder als PDF >hier direkt herunterladen.
Anfahrt mit Bus & Bahn
Zur Anreise mit der Bahn bieten sich die von Zwickau nach Johanngeorgenstadt oder die von Chemnitz nach Cranzahl/Vejprty (Weipert) fahrenden Züge der DB Erzgebirgsbahn an. Diese haben an den Endbahnhöfen der Erzgebirgischen Aussichtsbahn in Schwarzenberg beziehungsweise Annaberg-Buchholz Anschlüsse zu den Sonderzügen.
Anfahrt mit dem Auto
Folgen Sie der Autobahn A72 von Chemnitz oder Hof kommend bis zur Abfahrt Hartenstein. Von dort führt der Weg weiter Richtung Hartenstein, anschließend auf der S255 und B101über Aue und Lauter nach Schwarzenberg. In Schwarzenberg biegen Sie nach rechts von der B101 in die Grünhainer Straße ab und gelangen nach wenigen Metern diekt zum Bahnhof.
Zur Anreise nach Annaberg-Bucholz fahren Sie über die A 72 Abfahrt Chemnitz-Süd und die B95.
Streckenverlauf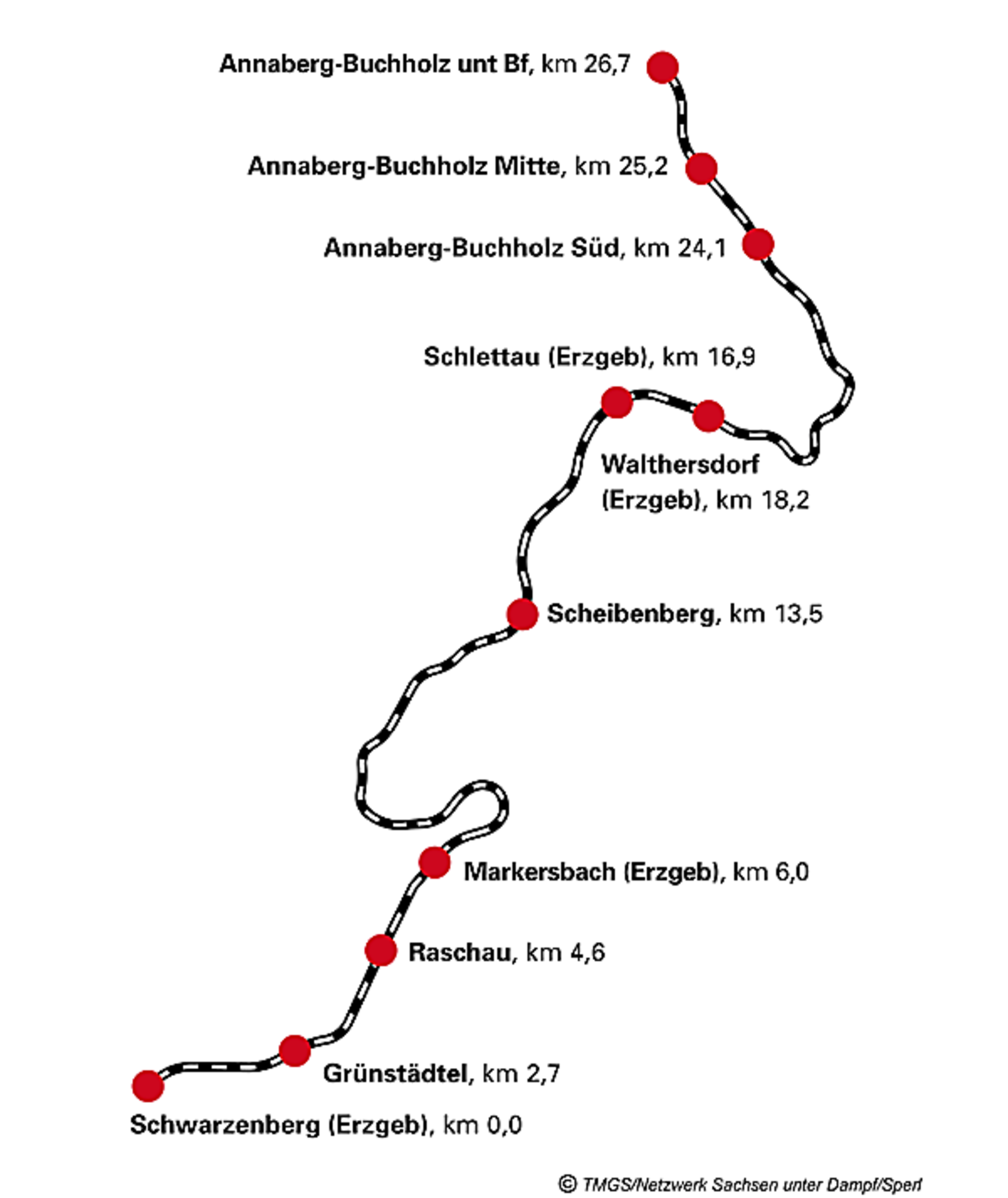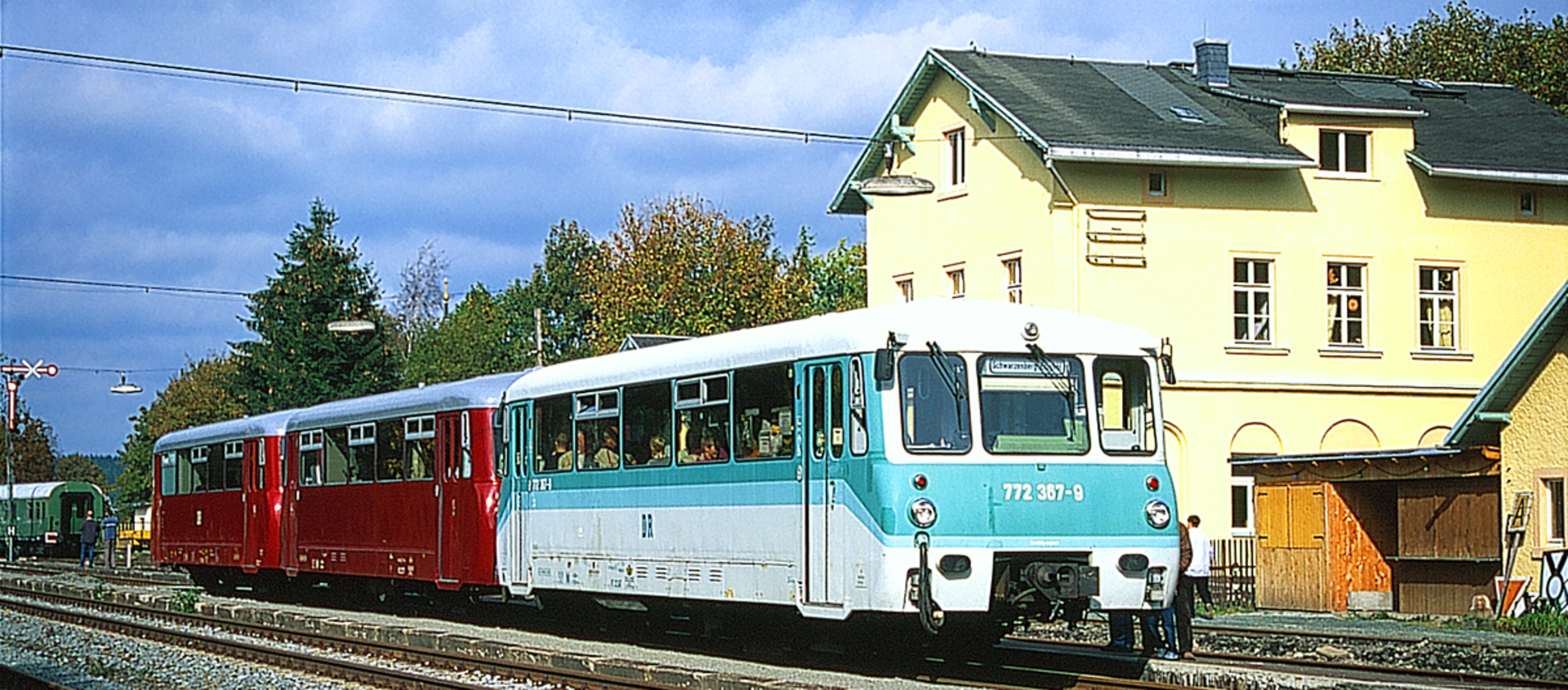 Fahrzeuge
Fahrzeuge Erzgebirgische Aussichtsbahn
---
Triebwagen
Die Leichtverbrennungstriebwagen (LVT) der Baureihe 171.0 als Motorwagen mit einer Leistung von rund 180 PS und die zugehörigen 171.8 als Beiwagen wurden zwischen 1962 und 1969 beim VEB Waggonbau Bautzen in Serie gefertigt. Die bei der Deutschen Reichsbahn in Dienst gestellten LVT erhielten schnell die Spitznamen Ferkeltaxi oder - wegen der blutroten Lackierung - Blutblase.
Die Erzgebirgische Aussichtsbahn fährt mit den Fahrzeugen der "Eisenbahnnostalgie im Vogtland". Zum Bestand von "Eisenbahnnostalgie im Vogtland" gehören vier Triebwagen sowie ein dazu passender Steuerwagen.
771 056-9 (Triebwagen)
772 155-8 (Triebwagen)
772 312-5 (Triebwagen)
772 367-9 (Triebwagen)
972 771-0 (Steuerwagen)
Museumszug Eisenbahnmuseum Schwarzenberg
Der Museumszug besteht zur Zeit aus 3 historischen Reisezugwagen der Baujahre 1955 bis 1976, ergänzt durch einen Buffetwagen der ehemaligen MITROPA.

Gezogen wird unser Zug hauptsächlich von Dampflokomotiven, aber auch Diesel- und Elektrolokomotiven gehörten schon zu den Zugpferden.

Dampflokomotive der Eisenbahnfreunde Schwarzenberg 50 3616-5
Baureihe 50.35
Güterzuglok für den Einsatz im schweren Güterzug- und Personenzugdienst Bauart 1´E h2
Rekolokomotive der Deutschen Reichsbahn, 1958-1962, ca. 208 Stück, ca. 1500 PS
Dampflokomotive 50 3616-5
Hersteller Schichau, Elbing mit der Betriebsnummer 3415 Baujahr 1940
Rekonstruktion im RAW Stendal 1960
z-Stellung 25.12.1991 in Chemnitz-Hilbersdorf
Verkauf an VSE 01.01.1993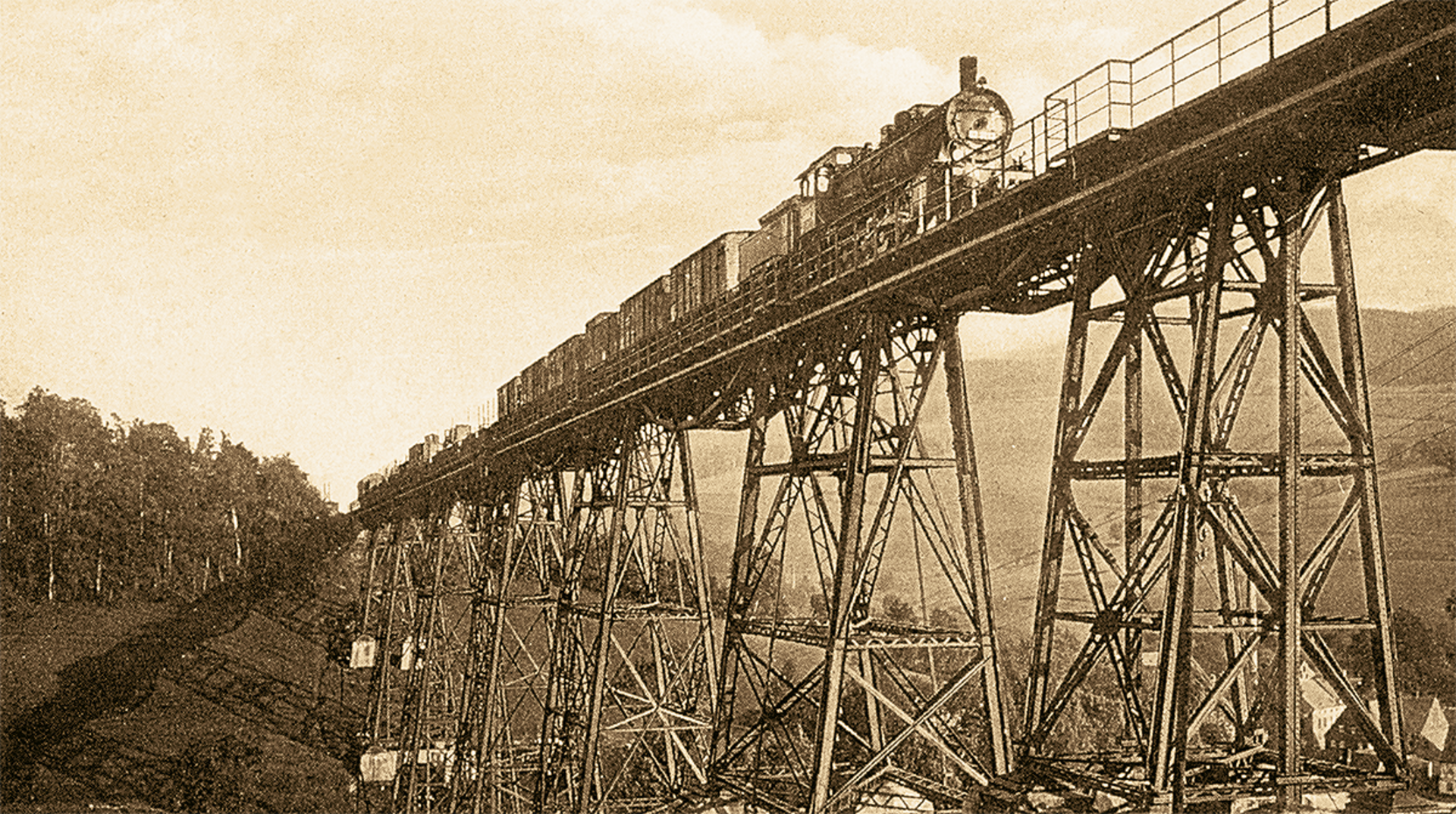 Historie
Historie der Erzgebirgischen Aussichtsbahn
Bereits 1858 fuhr erstmals ein Zug nach Schwarzenberg, acht Jahre später erhielt auch Buchholz durch das Zschopautal Anschluss an das sächsische Eisenbahnnetz. Nach langjährigen Bemühungen der Gemeinden im oberen Erzgebirge hatte die sächsische Regierung 1886 den Beschluss gefasst, eine normalspurige Eisenbahnstrecke von Buchholz über Schlettau und Scheibenberg nach Schwarzenberg zu errichten. In der Flur des 1935 nach Markersbach eingemeindeten Mittweida/Erzg. mußte zur Überquerung eines Seitentales der Mittweida ein 236,5 m langer Gerüstpfeilerviadukt errichtet werden, der zur Zeit seines Baues mit der filigranen Fachwerkkonstruktion für Aufsehen sorgte.
Die Eröffnung der "BSg-Linie" fand in zwei Abschnitten statt: Am 1. Juli 1889 wurde der Abschnitt Schwarzenberg – Grünstädtel eingeweiht, am gleichen Tag nahm auch die im Anschluss von Grünstädtel nach Oberrittersgrün führende Schmalspurbahn den Betrieb auf. Am 30. November 1889 wurde auch die Teilstrecke Grünstädtel – Buchholz zeitgleich mit der in Walthersdorf abzweigenden Stichbahn nach Crottendorf dem Verkehr übergeben. Das Güterverkehrsaufkommen entwickelte sich gut, hingegen erlangte der Personenverkehr nie besondere Bedeutung. Mit der als "Obererzgebirgische Aussichtsbahn" bekannten Verbindung Zwönitz – Scheibenberg wurde schließlich 1900 das Eisenbahnnetz im oberen Erzgebirge vervollständigt.
Die Verbindung nach Zwönitz wurde bereits 1945 wieder stillgelegt, das gleiche Schicksal traf 1971 die Bahn nach Oberrittersgrün. In kurzer Abfolge endeten dann 1994 der verbliebene Güterverkehr, am 30. Dezember 1996 der Personenverkehr nach Crottendorf und schließlich fuhr am 27. September 1997 der letzte reguläre Personenzug zwischen Annaberg-Buchholz und Schwarzenberg. Dank großem Engagements der Kommunen sowie der DB RegioNetz Erzgebirgsbahn konnte eine Stillegung der "BSg-Linie" verhindert werden, so das bis heute regelmäßig Sonderzüge die Erzgebirgische Aussichtsbahn befahren und grandiose Aussichten vom Zugfenster ermöglichen.
Operating times:
| | |
| --- | --- |
| 02./03.05.20 | Saisonstart mit der Mit Dampf ins Frühjahr |
| 13./14.06.20 | 500 Jahre Annaberger KÄT |
| 15./16.08.20 | Mit der EAB zum 27. Schwarzenberger Altstadt- und Edelweißfest |
| 19./20.09.20 | Wanderlust trifft Räucherkerze |
| 17./18.10.20 | Mit Dampf in die Herbstferien |
| 29.10.20 | Erzgebirgsbahn Licht'lfahrt |
Fahrpreise:
Auszug aus der Tariftabelle.
Preisstufe
1
2
3
Einzelfahrkarte
Normal
5,00 €
9,00 €
12,50 €
Einzelfahrkarte
ermäßigt Kind
2,50 €
4,50 €
7,00 €
Gruppenkarte
Normal
4,50 €
8,00 €
11,00 €
Gruppenkarte ermäßigt Kind
2,00 €
4,00 €
5,50 €
| | |
| --- | --- |
| Tageskarten ein Tag, beliebig viele Fahrten | |
| Normal | 22,00 € |
| Ermäßigt | 11,00 € |
| Familie | 44,00 € |
| Dampfzuschlag Einzelfahrt | 7,00 € |
| Dampfzuschlag Hin- und Rückfahrt | 9,00 € |