history
The former railway
The line (trains of narrow gauge wagon carrier trucks hauling standard gauge wagons) from Unterer Bahnhof railway station in Reichenbach to Oberheinsdorf was usually just called the "Rollbock" (wagon carrier truck) by the locals. It was one of the few meter-gauge lines in the Kingdom of Saxony.
In 1902, three unique Fairlie articulated steam locomotives, several freight cars, and 48 wagon carrier trucks were put into service to operate on the 5.5 km (3.4 mile) line. The distinctive center-cab steam locomotives with a double smokestack were hauling jacked-up standard gauge freight cars through narrow curves and into factory yards.
From 1909 to 1957, a moderate passenger rail service was provided on the Rollbockbahn line, too, with freight cars converted into passenger cars; while, however, freight service remained the main part until 1962 when, eventually, service was discontinued.
Of the two steam locomotives still in service after World War II, one was scrapped in 1963, while the other one became the property of Dresden's Transport Museum for its unusual design.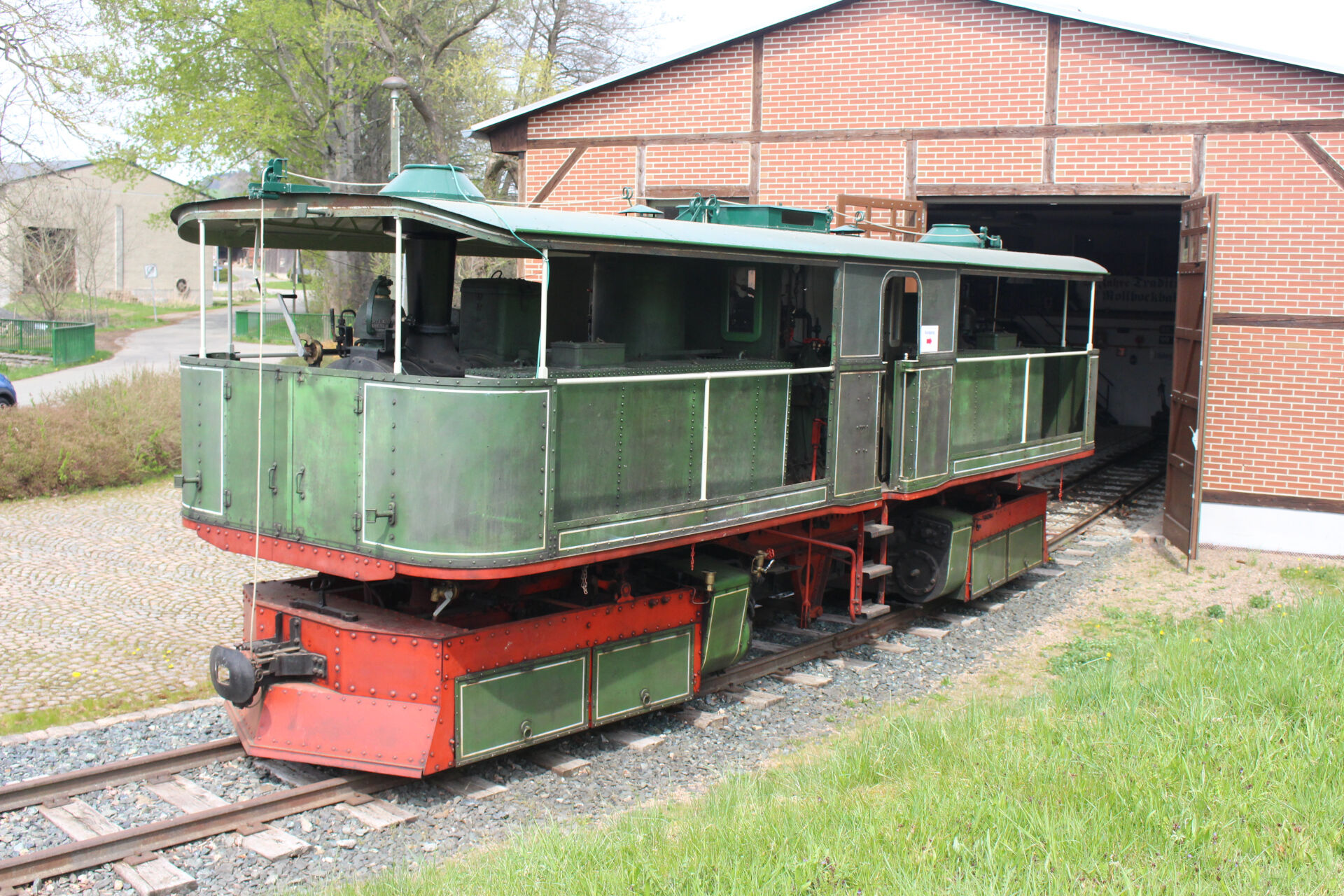 traditional railway association
In 1997, the traditional Rollbockbahn e.V. association was founded in the municipality of Heinsdorfergrund to preserve the last material witnesses of the former narrow gauge railway for posterity. In order to achieve this, the association built a two-stand locomotive shed on the premises of the former terminus in Oberheinsdorf. The original steam locomotive as well as the last preserved wagon carrier truck from Reichenbach were given to the association by Dresden Transport Museum as a loan. Railway enthusiasts, in turn, collected smaller railway memorabilia, maps and photographs. Above all, they have contributed a great deal of knowledge about the unique railway. In the outdoor space, visitors can also admire an original Rollbockbahn passenger car found in Saxony-Anhalt as a carriage body, which the association had lovingly restored. In addition, there is a standard-gauge freight car with flat roof on a newly built carrier truck pit with a wagon carrier truck originating from the Harz Mountains. The museum housing the steam locomotive can be visited on selected days, while the outdoor area located in front of the community center is open year-round.
Location
The traditional association is located in the municipality of Heinsdorfergrund southeast of Reichenbach in the district of Oberheinsdorf next to the community center.