Description
Adorf (Vogtland)
Einziges noch intakte Bahnbetriebswerk des Vogtlandes
Im Zuge des Bahnhofsumbaus zu Beginn des vorigen Jahrhunderts entstand außerhalb des eigentlichen Bahnhofgeländes ein 15ständiger Halbrund-Lokschuppen mit einer 20m-Drehscheibe und etlichen Verwaltungs- und Nebengebäuden. Fertigstellung war im Juni 1909.
Da das Bahnbetriebswerk Adorf weit und breit die einzige Stelle ist, wo Dampflokomotiven Wasser aufnehmen, entschlackt und gedreht werden können, machen regelmäßig historische Sonderzüge hier Station. Der Eisenbahnverein hat sich zur Grundlage gelegt, die 1994 stillgelegte Strecke mit dem Bahnbetriebswerk und dem rollenden Material zu erhalten. Das ehemaligen Bahnbetriebswerkes Adorf hatte in den 90er Jahren etwa 180 Angestellte.
Der Verein, der nach der Schließung 1995 gegründet wurde, hat Fahrzeugen der ehemaligen deutschen Reichsbahn übernommen und möchte diese in großer Zahl erhalten. Somit erhält und pflegt er neben den baulichen Anlagen und vielen eigenen Fahrzeugen die 86 607 des Verkehrsmuseums Dresden. Auf dem großen Gelände und im offenen Ringschuppen sind zahlreiche Kleinfahrzeuge, Dieselloks, Rangierloks, Wagen etc. zu finden. Das allein ist schon ein Besuch wert, aber auch das originelle und vielseitige Museum.
Location
Bahnbetriebswerk Adorf (Vogtl)
Location

The Adorf (Vogtl) depot is located directly behind the station and is accessible via the access to the station.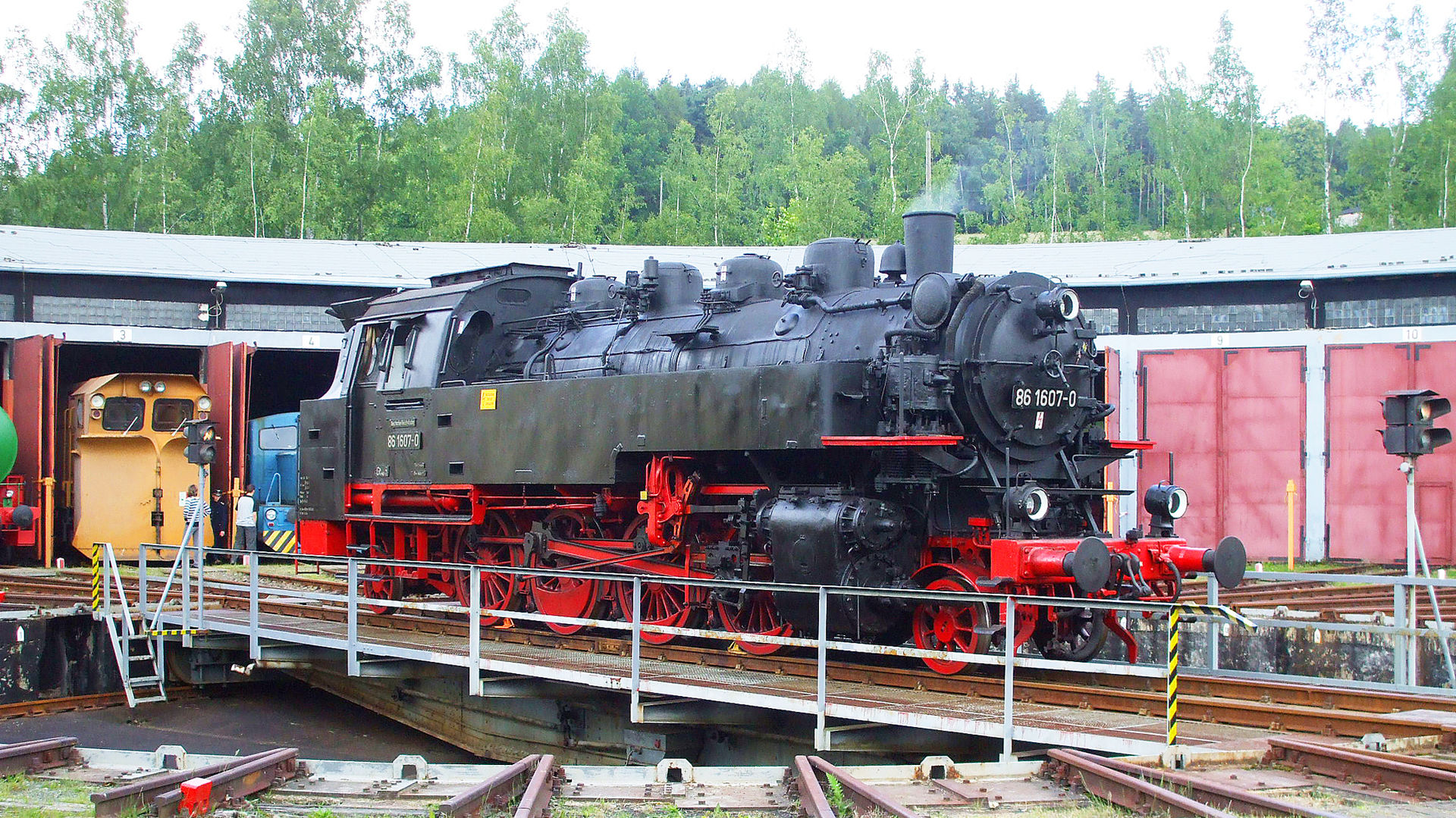 Vehicles
Vehicles Bahnbetriebswerk Adorf (Vogtl)
Steam locomotives
BR 86 607
Tenderlokomotive für den Einsatz im Güterzug- und Personenzugdienst
Baureihe 86
Bauart 1'D1' h2t
Ttenderlokomotive der Deutschen Reichsbahn, 776 Stück, ca. 1030 PS
Hersteller Borsig Lokomotivwerke GmbH
86 607, Baujahr 1942, Seriennummer 15280,
ELNA 1 Nr. 3
ELNA / Engerer Lokomotiv-Normen-Ausschuß, Lokomotivtyp für Klein- und Privatbahnen
Bauart C
Kleinbahnlokomotive der Privatbahnen, ca. 1030 PS
Hersteller Hanomag
Elna, Baujahr 1931, Seriennummer 10672

Railcar
LVT der DR-Baureihe 771/772
Bauart 1A
Trieb- und Steuerwagenwagen, 180 PS
Hersteller VEB Waggonbau Bautzen
1962–1969,
Special vehicles
Schienentrabi
Kontrollfahrzeug für Bahnmeistereien der Deutschen Reichbahn Gleiskraftrad (GKR)
Antrieb (Motor, Getriebe und Achsen) Trabant P50 eingestetzt
Elektrik handelsübliche Teile des Automobilbaues.
Wenden mit Hand durch mechanische und später hydraulische Wendeeinrichtungen
Von den etwa 100 gebauten Schienentrabi's gibt es heute noch 9 museal erhaltene und betriebene Fahrzeuge.

Lokachse
Radsatz von Dampflok der Sächsischen Gattung XIII H (Preußische G 12) auf der Freifläche als typisches Bw-Symbol
Sächsische Staatsbahn 1221 | Deutsche Reichsbahn 58 437 | +03.89