Description
Bad Schandau – Kirnitzschtal – Lichtenhainer Wasserfall
A tram journey in the national park …
Operating only one tram line, the RVSOE is Germany's smallest tramway company and the only one that enters a national park. Since 1898, the Kirnitzschtalbahn tramway has been carrying hikers, tourists and spa guests to their destinations in the wild, romantic Kirnitzschtal valley, along the bizarre rock formations of the Elbe Sandstone Mountains to the Lichtenhain waterfall. Along the route, a number of restaurants await their guests.

The motor trams, which are already about 50 years old, are admired not only by tramway enthusiasts but also by visitors to the Saxon Switzerland, who love to take a slow, peaceful ride on this tram with daily service.

Route
Kirnitzsch Valley Railway
Location
The Kirnitzsch Valley Railway starts at the Stadtpark in Bad Schandau and leads on the 1000mm track through the Kirnitzschtal to the Lichtenhain waterfall.
Getting there by bus & train
It can be reached by S-Bahn or EuroCity to Bad Schandau station. Continue by ferry to Elbkai Bad Schandau and after about 10 minutes on foot through the city. Then the starting point of the railway is reached at the Stadtpark.
How to get there by car
More information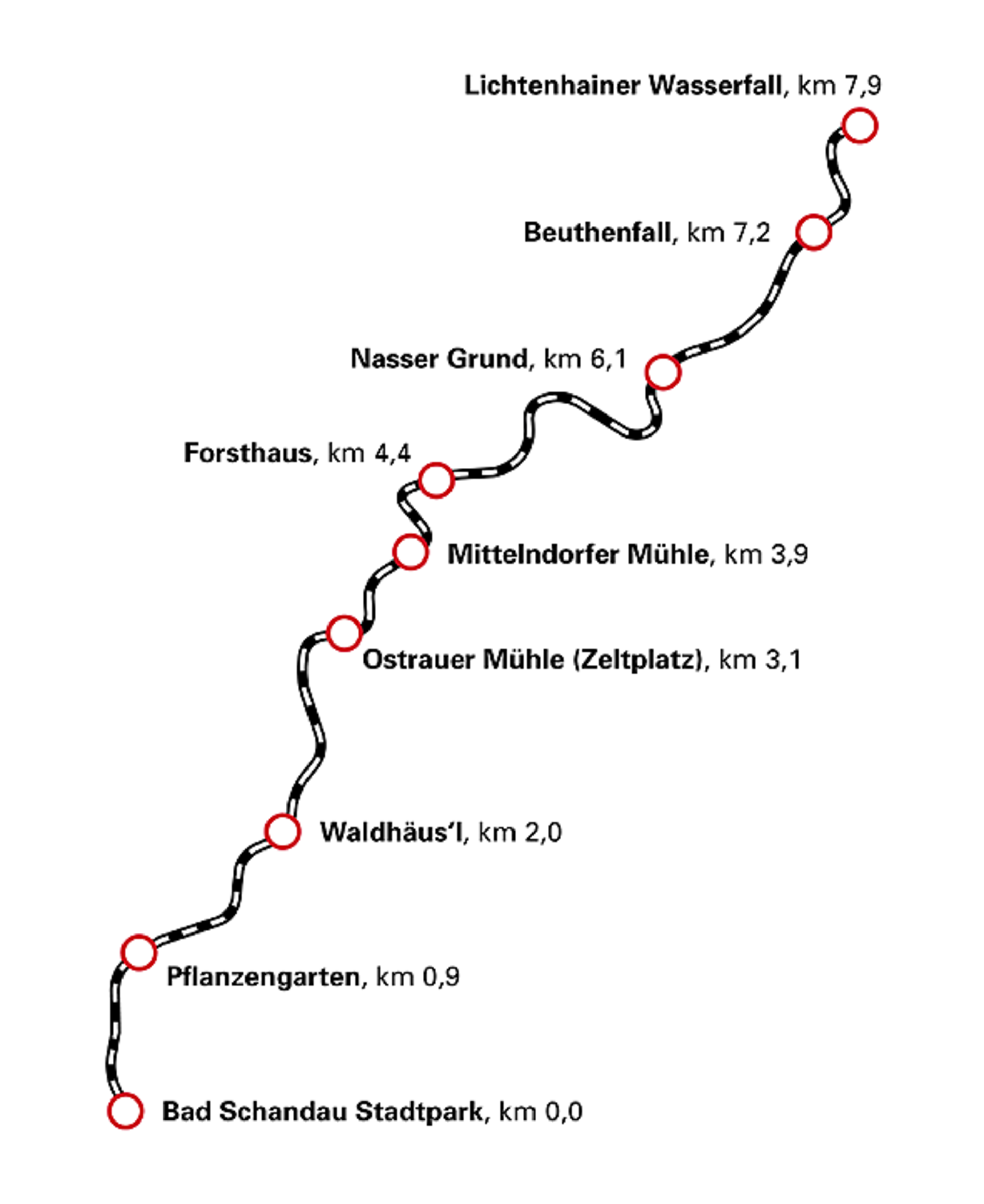 Vehicles
Vehicles Kirnitzschtalbahn (tram)
Railcars
8 shares
Tw 1 (Typ "Gotha", Baujahr 1957, übernommen aus Plauen)
Tw 2 (Typ "Gotha", Baujahr 1957, übernommen aus Plauen)
Tw 3 (Typ "Gotha", Baujahr 1958, übernommen aus Plauen)
Tw 4 (Typ "Gotha", Baujahr 1960, übernommen aus Zwickau)
Tw 5 (Typ "MAN", Baujahr 1928, Wagen für Traditionsverkehr)
Tw 6 (Typ "Gotha", Baujahr 1959, übernommen aus Jena)
Tw 8 (Typ "Erfurt", Baujahr 1939, Wagen für Traditionsverkehr)
Tw 9 (Typ "Busch/Bautzen", Baujahr 1925, Wagen für Traditionsverkehr)
Sidecars
8 shares
Bw 12 (Typ "MAN", Baujahr 1928, Wagen für Traditionsverkehr)
Bw 21 (Typ "Gotha", Baujahr 1963, übernommen aus Leipzig)
Bw 22 (Typ "Gotha", Baujahr 1963, übernommen aus Leipzig)
Bw 23 (Typ "Gotha", Baujahr 1963, übernommen aus Leipzig)
Bw 24 (Typ "Gotha", Baujahr 1963, übernommen aus Leipzig)
Bw 25 (Typ "Gotha", Baujahr 1966, übernommen aus Zwickau)
Bw 26 (Typ "Gotha", Baujahr 1968, übernommen aus Zwickau)
Bw 27 (Typ "Gotha", Baujahr 1967, übernommen aus Jena)