Dresden 1900
You will be surprised at what you will find at our restaurant, the Dresden 1900.
Enjoy the charm and aura of Dresden around 1900 when stepping back in time to the era between
Gründerzeit
(founders' period) and Art Nouveau. Experience Saxon inventions, such as
Radeberger Pilsner
beer and the
Dresdner Verkehrsbetriebe
(municipal transport company), while our conductors are serving homemade Saxon delicacies.
The
Dresden 1900
restaurant is accessed through the historic tavern (
Schankhaus
). Facet-cut lamps providing warm lighting and green Art Nouveau tiles create a warm, cozy atmosphere perfect for exploring the history of Dresden.
History becomes alive at our restaurant.
Stroll along
Wallstrasse
street while passing 100-year-old tram benches and Dresden's inventions: for example, Melitta Bentz' coffee filters or the beer mat, which once conquered the world. Each of the façades of the town houses on
Wallstrasse
will provide a distinct view of the time around 1900.
Just stay in
Wallstrasse
for a while to enjoy the view of
Postplatz square around 1900
. There you will find the next highlight: the beautifully restored
Helene. Built in 1898, it is the oldest preserved electric railcar in Dresden
. Would you like to dine in this magnificent rail vehicle with 120 years of transport history? Even during GDR times, the so-called
Line No. 6
had been a famous cult bar for 30 years, run by Karl-Heinz Bellmann.
The
Line No. 6 memorial corner
features Bellmann's legendary cap collection and extracts from the tram's former celebrity board. Meet Karl-Heinz Bellmann, for example, on Wednesdays, during our
sächs past sächs
event.
From the
Gambrinus lounge
, you can then get a glimpse into our sunbathed marketplace kitchen where delicacies from hearty Saxon and contemporary German cuisine are prepared for our guests.
For celebrations and anniversaries.
On the right side, you can see the
Stadtwaldschlösschen
(little city forest castle), one of the most famous restaurants at Postplatz square back then. The
Stadtwaldschlösschen
provides seats for up to 100 guests again today. You will love the many Art Nouveau details and original paintings and exhibits presenting the history of trams in Dresden and of Radeberger Brewery. It is the perfect setting for celebrating, among others; youth initiation ceremonies, golden wedding anniversaries or company parties. Our guests can choose between a set menu or buffet. For your entertainment, we will present a varied cultural program, which can be arranged according to your wishes.
For groups.
For groups of 20 to 200 persons, there is a choice of different two to three course meals starting from € 20.50 per person.
A particular highlight awaits its guests behind the tram:
Omas Güsche
(grandma's kitchen).
Together with our chef, up to 30 guests can use a wooden spoon or wear an apron to conjure up hearty Saxon dishes just like from grandma's kitchen.
For kids.
Right next to the kitchen, the
Murmelbahn
(marble run) activity area can be found – a perfect place for playful kids. Here, they can spend time building, playing together and making things. This way, the whole family can enjoy a wonderful and relaxed excursion, with the kids being amazed at the
Dresden 1900
.
We highly recommend our brunch as well. Children aged 7-12 eat for half price and children under 7 eat for free at the
Dresden 1900
.
All advantages at a glance:
family-friendly
child-friendly
fully accessible
offers for tourist parties, tour operators and bus trips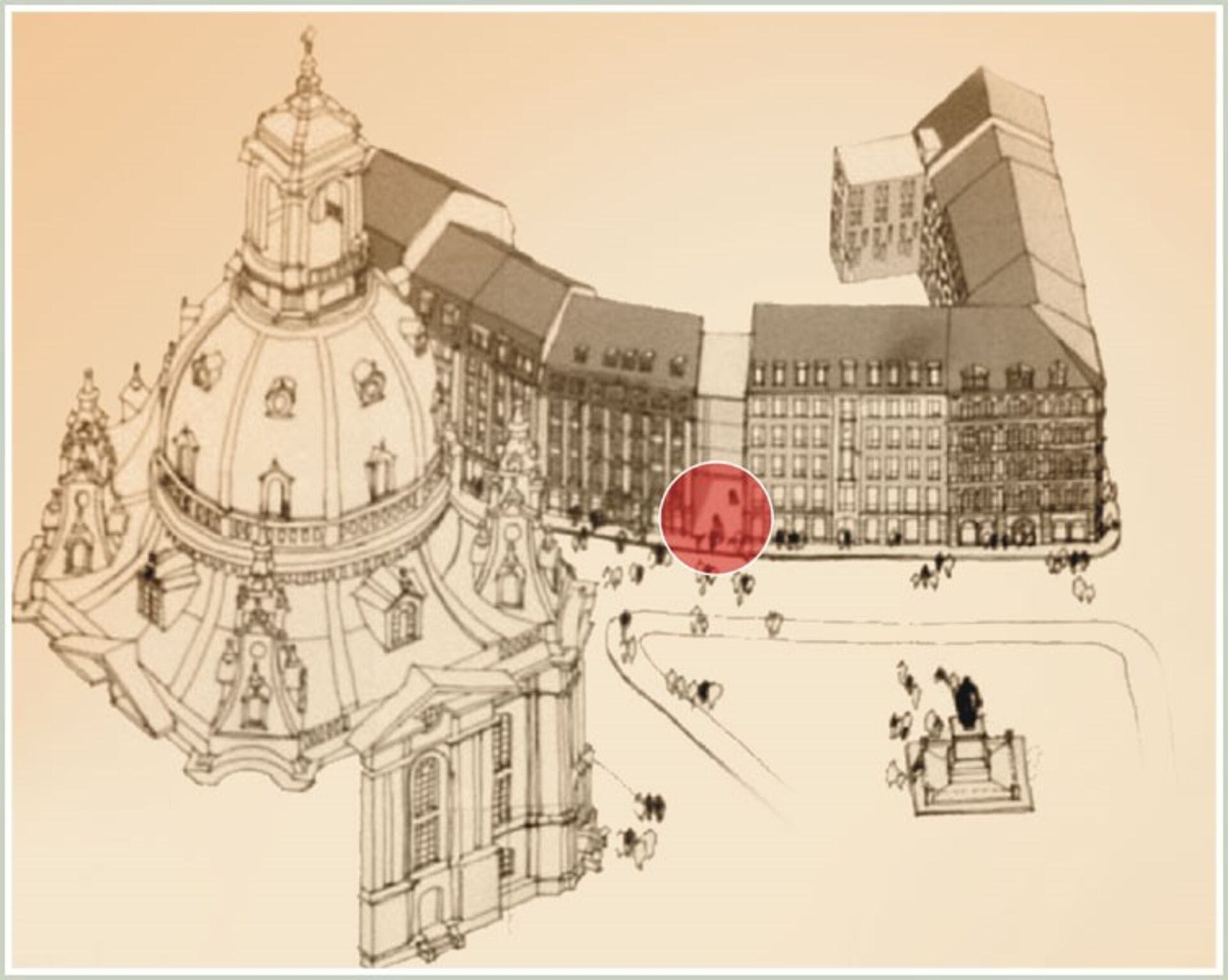 Location
How to get to the Dresden 1900
The restaurant is located in the old town right next to the
Frauenkirche
(Church of our Lady) at Neumarkt square. Relax in our beer garden with a cold beer and a gorgeous view of the rebuilt buildings around you.
Getting to our restaurant by public transport
If you arrive by tram (routes No. 1, 2 or 4), get off at
Altmarkt
tram stop. You can also go by tram routes No. 1, 2, 3, 4, 7, or 12 or by bus route No. 62 or 68 to
Pirnaischer Platz
stop, from where you can walk or take another tram to
Altmarkt
.
Driving directions
Take highway A14/A4 and take the Altstadt exit. Follow the B6 federal highway in the direction of "Stadtmitte" (downtown). At the intersection with
Weisseritzstrasse
street, turn left, following
Devrientstraße
street. Then turn left at
Am Bernhardt-von-Lindenau
square, heading to
Terrassenufer
street. Follow
Terrassenufer
street and turn right at
Hasenberg
street. Then, turn right into
Akademiestrasse
street. At the intersection with
Rampische Strasse
street, you will find the
Schiessgasse
parking lot on your left. There is also an underground parking lot on
Rampische Strasse
street with the entrance at
Neumarkt
square.
Getting to the restaurant by paddle steamer (Saxon Paddle Steamer Fleet)
Get off at Terrassenufer mooring and walk on
Münzgasse
street in the direction of
Frauenkirche
. You will find the DRESDEN 1900 restaurant after turning to the left (around the church).