Description
TradiÄ�ní železnice Radebeul
Journey into the past on narrow tracks ...
Already over 40 years ago, historical vehicles dating from the beginnings of Saxon narrow gauge railways started to be preserved. This was the basis for the creation of the still popular Radebeul traditional train. All special excursions on the charming Lößnitzgrundbahn railway will take you to attractive tourist destinations. Trains run past the vinyards in Radebeul, through the wild romantic Lößnitzgrund valley to Moritzburg with the world-famous baroque castle - August the Strong's pleasure palace and hunting lodge - or to the final stop in Radeburg, the birth place of Heinrich Zille.

Before you start your journey into the past of Saxon narrow gauge railways on the traditional train or take a ride on one of the steam trains running daily, we recommend you visit the museum train in the open space of Radebeul Ost station. This train is preserved and maintained by the "Radebeuler Traditionsbahner" (association of traditional railwaymen). Highlights among the numerous special excursions on the steam-driven traditional train include the carnival parades in Radeburg, the annually recurring Karl May festival or fishing dry the ponds in Moritzburg.
Timetable

Route
Bahnstrecke der Traditionsbahn Radebeul
Lage
Die Lößnitzgrundbahn nimmt ihren Ausgang in Radebeul, nordwestlich vor den Toren Dresdens gelegen. Die Bahnlinie verläuft in ständiger Steigung durch den Lößnitzgrund, überquert anschließend den Dippelsdorfer Teich und führt dann über Moritzburg bis Radeburg.
Anfahrt mit Bus & Bahn
Die Lößnitzgrundbahn ist bequem mit der Dresdner S-Bahn zu erreichen, dabei besteht in Radebeul Ost günstiger Anschluss. Weiterhin gelangt man auch mit der Dresdner Straßenbahnlinie 4 direkt zur Bahnstation Weißes Roß, wenn man an der Haltestelle Landesbühnen aussteigt. Auskünfte zu den Fahrzeiten der Züge, Straßenbahnen und Busse erhalten Sie online beim Verkehrsverbund Oberelbe (VVO).
Anfahrt mit dem Auto
Per Auto ist die Lößnitzgrundbahn gut angebunden über die A4 (Radebeul) beziehungsweise A13 (Radeburg).
Streckenverlauf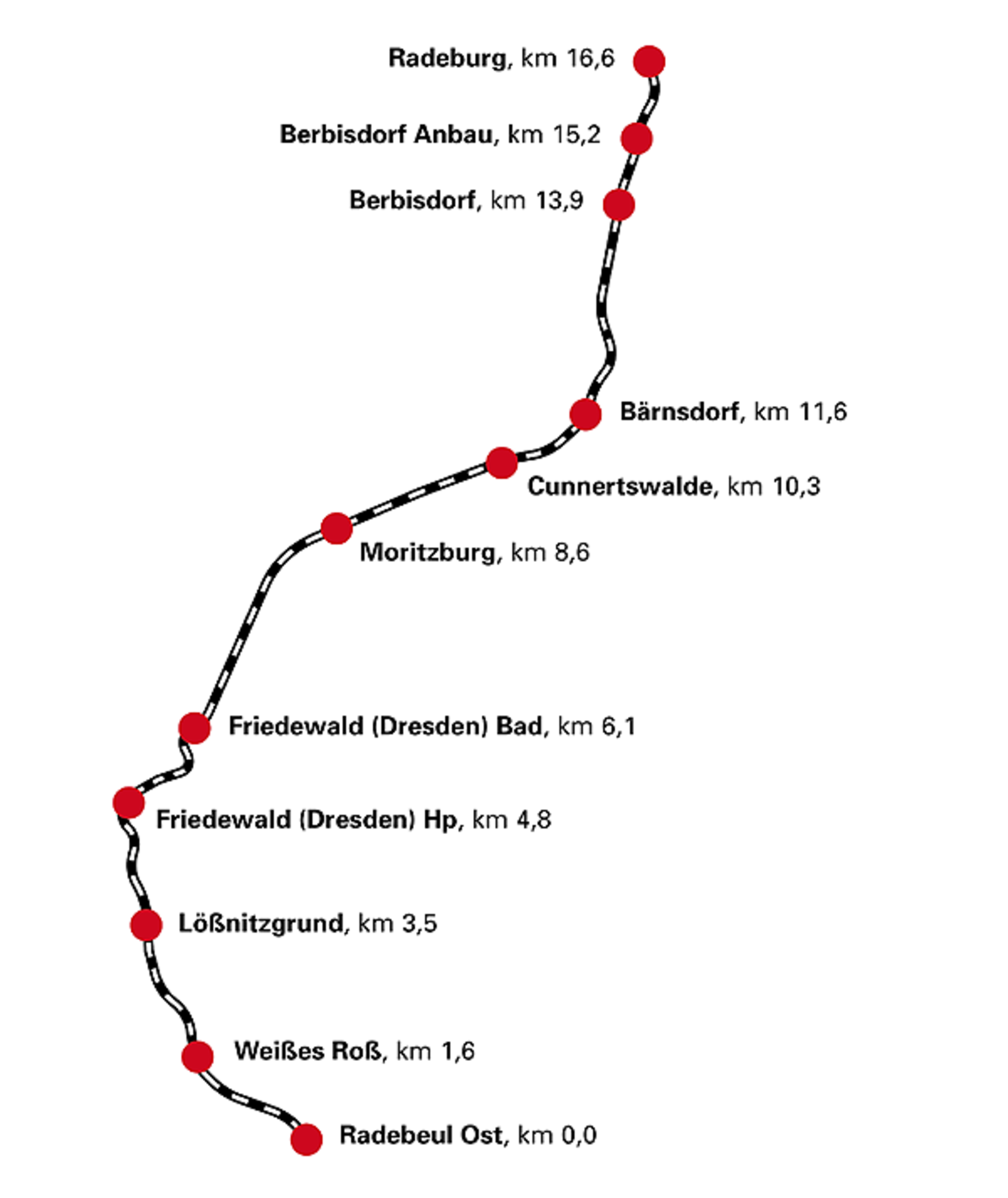 Fahrzeuge
Fahrzeuge Traditionsbahn Radebeul
Dampflokomotiven
Sächsische IV K
Die meistgebaute Lokomotivgattung der sächsischen Schmalspurbahnen ist die sächsische IV K (sprich: viere K). Zwischen 1892 und 1921 verließen nicht weniger als 96 Exemplare dieser Bauart die Lokomotivfabrik vorm. Richard Hartmann in Chemnitz. Einst waren sie daher auf allen 750mm-spurigen Schmalspurbahnen in Sachsen von Carlsfeld bis Zittau und darüber hinaus beispielsweise auf der Insel Rügen anzutreffen. Die Naßdampfloks mit dem charakteristischen 4-Zylinder-Verbundtriebwerk erreichen eine Leistung von rund 210 PS. Weitere technische Daten sind die Fahrzeuglänge von 9.000 mm und die Dienstmasse von max. 29,3 t. Insgesamt sind 22 Exemplare dieser Lokomotivtype erhalten geblieben, davon gehören zwei Stück zum Bestand der Traditionsbahn Radebeul.
99 539 (als IV K 132), Baujahr 1899/1963, SMF/2381
99 586 (als IV K 176), Baujahr 1913/1964, SMF/3606
Sächsische Schmalspurbahn Einheits- und Neubaulokomotiven
Seit über 30 Jahren bewältigen die Einheits- und Neubaudampfloks der ehemaligen Deutschen Reichsbahn Gesellschaft beziehungsweise Deutschen Reichsbahn nahezu allein den Verkehr auf den verbliebenen sächsischen Schmalspurbahnen. Zur Bewältigung des gestiegenen Frachtaufkommens wurden zwischen 1928 und 1933 insgesamt 32 dieser schmalspurigen Einheitsloks beschafft. Da sich die Konstruktion bewährte und nach dem Krieg auch bei den Schmalspurbahnen Lokomotivmangel herrschte, baute die Deutsche Reichsbahn in den Jahren 1952 bis 1956 nochmals 24 Lokomotiven nach, die äußerlich den Einheitsloks sehr ähnlich sind. Mit einer Leistung von rund 600 PS gehören beide Typen zu den stärksten deutschen Schmalspurloks.
Baureihe: 99.77-79
VII K - Neubaulok , 1952-1957, Lokomotivbau "Karl-Marx" Babelsberg ca. 600 PS
Hersteller Lokomotivbau "Karl-Marx" Babelsberg
99 791 1957, nicht betriebsfähig
Diesellokomotiven
Für den Betrieb auf schmalspurigen Industrie- und Anschlussbahnen entwickelte der Lokomotivbau Karl Marx in Potsdam-Babelsberg Ende der 1950er Jahre aus der Kleinlokbarart Ns4 die neue Type V10C, von der 1959 die ersten Exemplare ausgeliefert wurden. Mit 102 PS und bis zu 24 km/h Höchstgeschwindigkeit waren die Maschinen eher für leichte Aufgaben im Zug- oder Rangierdienst vorgesehen, die variable Ausführung der Spurweite ermöglichte Einsätze auf Bahnen mit 600mm- bis 1067mm-Spur. Diese Flexibilität in der Spurweite machte die Loks zum Exportschlager, insgesamt 498 Stück wurden bis 1975 hergestellt.
Lok 1 Typ V10C, Baujahr 1967, LKM/250426, früher DKK Kühlschrankwerk
Wagen
Der Wagenpark umfasst historische Personen-, Zugführer- und Güterwagen aus allen Epochen. Hervorzuheben sind darunter drei original erhaltene vierachsiche Oberlichtwagen von den Königlich Sächsischen Staatseisenbahnen der Baujahre 1899 bis 1901 sowie ein zweiachsiger Zugführerwagen von 1896.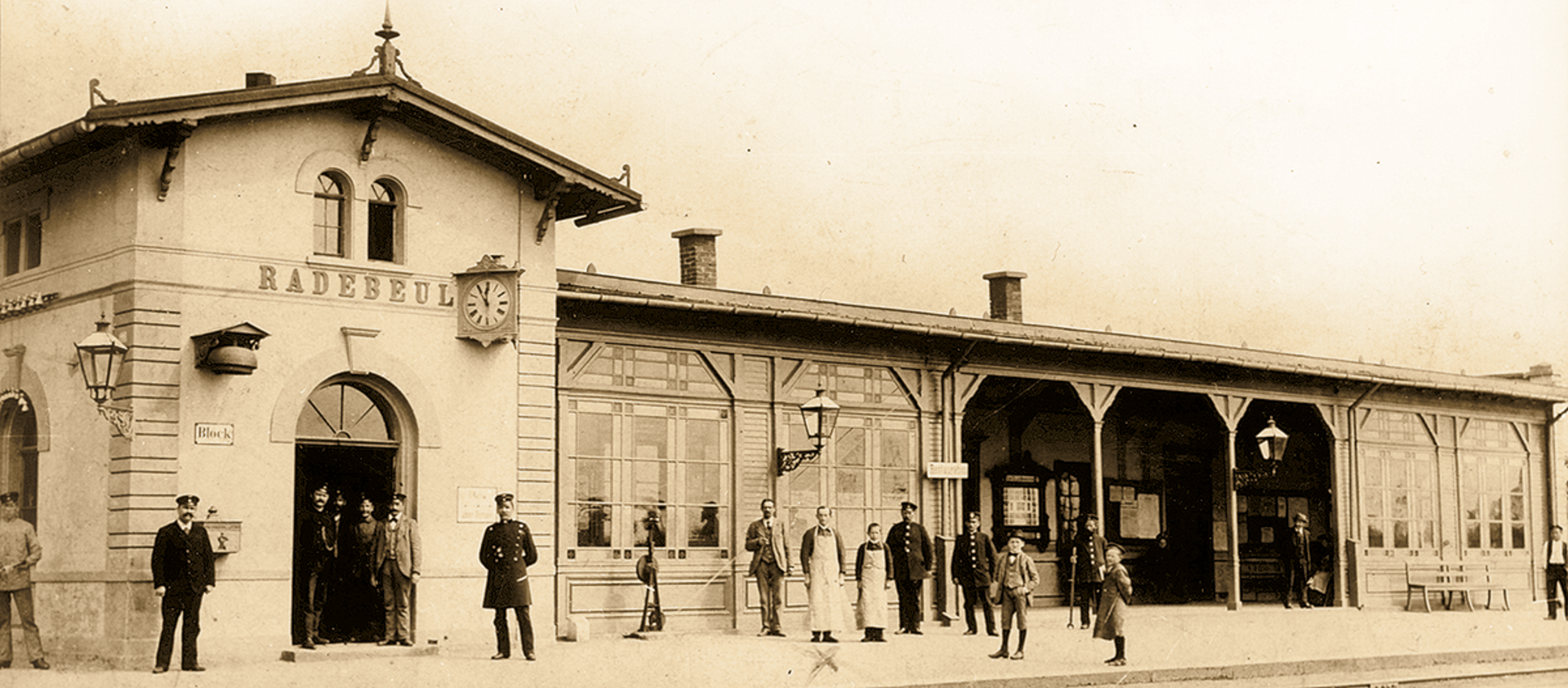 Historie
Historie Traditionsbahn Radebeul
Als vierte schmalspurige Eisenbahn in Sachsen entstand die Verbindung von Radebeul über Moritzburg nach Radeburg, nachdem sich die Pläne einer normalspurigen Eisenbahnlinie von Dresden über Radeburg nach Ortrand zerschlagen hatten. Bereits im Oktober 1883 wurden die Bauarbeiten aufgenommen, weniger als ein Jahr später konnte am 16. September 1884 feierlich die Strecke eröffnet werden.
Schon bald entwickelte sich der Ausflugsverkehr der Stadtbevölkerung Dresdens in das Moritzburger Teichgebiet zu einem wichtigen Standbein der Bahn, die ursprünglich vorrangig der Anbindung der Radeburger und Moritzburger Region an das Elbtal und Dresden diente. Den Güterverkehr bestimmten neben landwirtschaftlichen Erzeugnissen vor allem umfangreiche Kohletransporte, beispielsweise zum Elektrizitätswerk im Lößnitzgrund. Ein wichtiger Güterverkehrskunde war auch das Radeburger Schamottewerke, dieses verfügte ab 1901 über die mit 2,1 km längste Anschlussbahn an einer sächsischen Schmalspurstrecke.
Die beiden Weltkriege überstand die kleine Bahn ohne größere Schäden, um 1955 war der Höhepunkt im Personenverkehr mit bis zu 28 Zügen täglich erreicht. Wenig später bedrohte die zunehmende Verkehrsverlagerung auf die Straße die Bahn in ihrer Existenz, sie zählte nun zu den stillzulegenden Eisenbahnstrecken. Doch das zunehmende Interesse am Touristikverkehr und die erfolgreichen ersten Traditionsfahrten führten 1975 dazu, die Bahn als "Technisches Denkmal" zu erhalten. Der "Traditionsbetrieb" zu besonderen Anlässen ist seither die Hauptaufgabe der Traditionsbahner und wird mit originalgetreu restaurierten Wagen der Königlich Sächsischen Staatseisenbahnen und der Deutsche Reichsbahn Gesellschaft durchgeführt.