Description
Radebeul-Ost – Moritzburg – Radeburg
At full steam through the Saxon Elbland
At the gates of Dresden, this railway has been puffing from Radebeul Ost station via Moritzburg to Radebeul. The Lößnitzgrundbahn railway, nicknamed "Lößnitzdackel" (Lößnitz Dachshund), carries passengers through a fascinating landscape. After starting at Radebeul Ost station, the narrow gauge railway goes through Radebeul and reaches the railway and tram crossing at "Weises Roß" flag stop. From there, the railway weaves through the vineyards of Hoflößnitz palace into Lößnitzgrund valley, a popular local recreation area. Linked to this is a special offer of the Lößnitzgrundbahn: "wine drinking pleasure on narrow gauge trains." During this three-hour program, you can enjoy fine wine, real treats and, of course, the narrow gauge railway.

Shortly after the new route was opened, many summer visitors discovered the area around the Lößnitzbach stream, leading to the development of passenger and goods traffic on the entire route. Passing the "Lößnitzgrund" and "Friedewald" stops where you have the option to get on or off the train, the journey will continue up to the "Dippelsdorfer Teiche" ponds, situated in the Moritzburg woodland and pond landscape. From "Friedewald Bad" station, the narrow gauge railway crosses the pond via a 210-metre-long dam before arriving in Moritzburg. Located within a short walking distance of the station, August the Strong's famous hunting lodge and pleasure palace offers unique treasures within a castle of gorgeous architecture. The "Fasanenschlösschen" pavilion (Little Pheasant Castle) and the adjacent lighthouse are further silent testimonials of the myth of August the Strong. Then continue your trip in the direction of "Endhaltepunkt Radeburg" (final stop). The woodland and pond landscape is followed by a charming agricultural area. Shortly afterwards, the Lößnitzgrundbahn arrives at the final stop in the little town of Radeburg, where Heinrich Zille was born. Also the locomotive depot of the "Traditionsbahn Radebeul e.V." traditional railway society is located there. The Saxon IV K 176 locomotive is normally parked in Radeburg until the traditional railwaymen's next riding day. Besides providing a safe shed for the engine, the engine shed also serves as a good place for repairing the steam locomotive. The volunteer work performed by the traditional railway society mainly involves organising and carrying out special excursions on the route between Radebeul Ost and Radeburg stations. In addition to the annually recurring special excursions to the Karl May and Narrow Gauge Festivals, fixed-date theme tours such as "Dixie, Steam and Dachshund" or the "Osterhasenexpress" (Easter Bunny Train) are offered on certain weekends. Thanks to the close cooperation between Lößnitzgrundbahn and Traditionsbahn Radebeul e.V., passengers can choose from numerous special steam railway experiences throughout the year.
Timetable
Impressions

Route
Railroad Lößnitzgrundbahn
Location
The Lößnitzgrundbahn has its origin in Radebeul, northwest from Dresden located. The railway line runs in constant slope through the Lößnitzgrund, then crossed the pond and then Dippelsdorfer via Moritzburg to Radeburg.
Arrival by bus and train
The Lößnitzgrundbahn is easily accessible with the Dresden S-Bahn, it is in Radebeul Ost cheap access. Furthermore, you can also access the Dresden tram line 4 directly to the train station White horse if you get off at the stop regional theaters. Information on the timetables of trains, trams and buses is available online at the Upper Elbe Transport Association (VVO).
Arrival by Car
By car the Lößnitzgrundbahn is well connected to the A4 (Radebeul) and A13 (Radeburg).

Railroad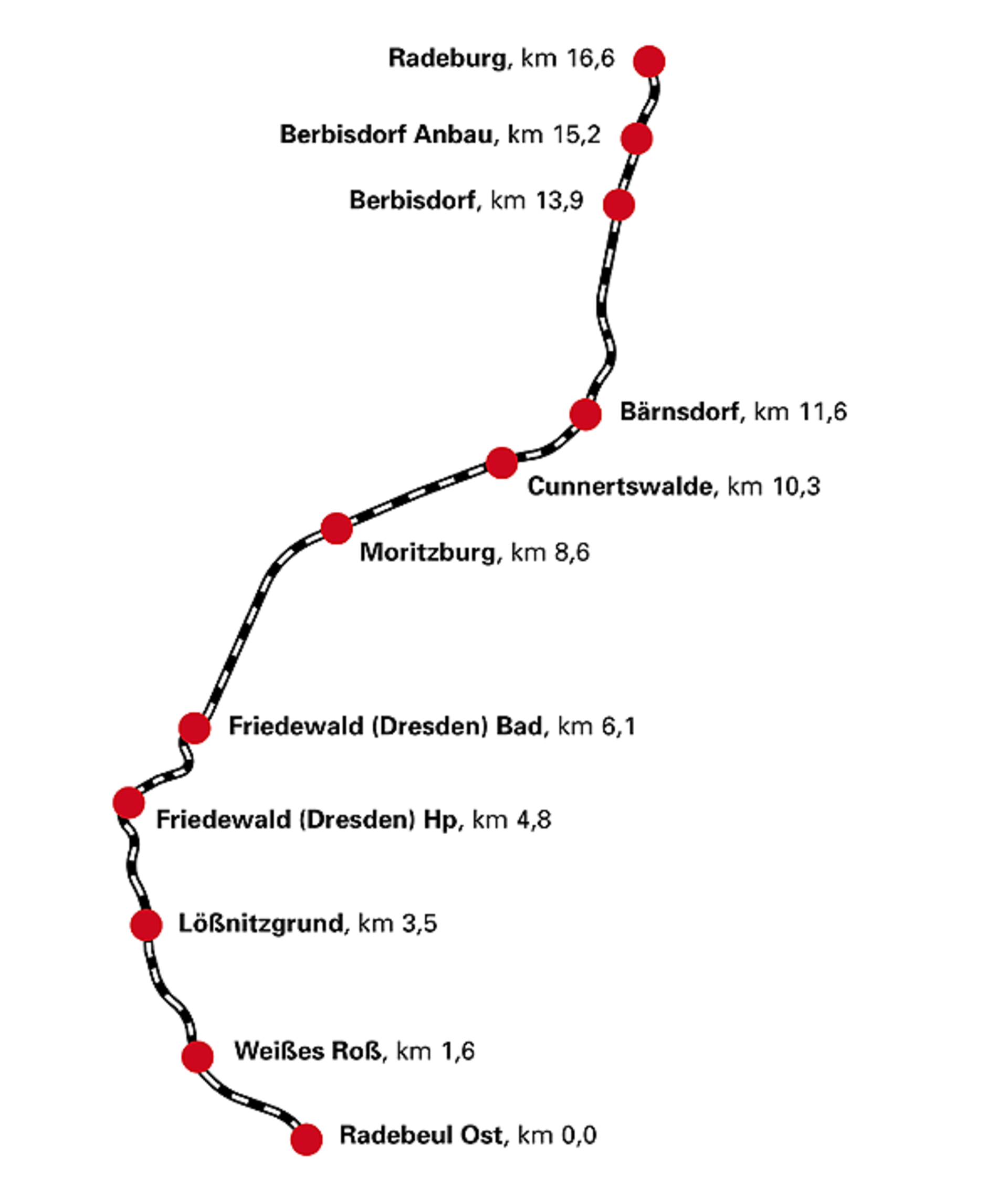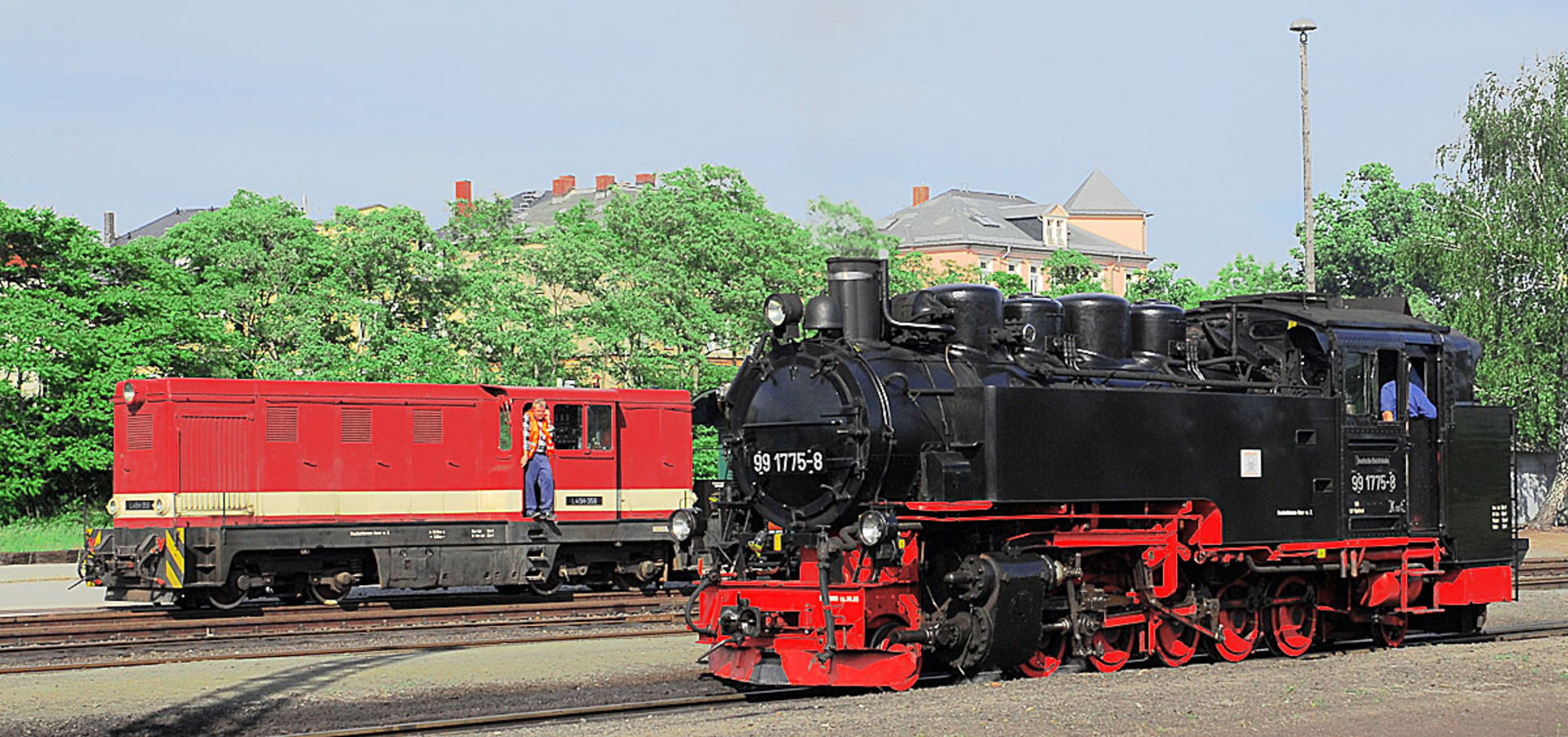 Fahrzeuge
Fahrzeuge Lößnitzgrundbahn
Lokomotiven
Die meistgebaute Lokomotivgattung der sächsischen Schmalspurbahnen ist die sächsische IV K (sprich: viere K). Zwischen 1892 und 1921 verließen nicht weniger als 96 Exemplare dieser Bauart die Lokomotivfabrik vorm. Richard Hartmann in Chemnitz. Einst waren sie daher auf allen 750mm-spurigen Schmalspurbahnen in Sachsen von Carlsfeld bis Zittau und darüber hinaus beispielsweise auf der Insel Rügen anzutreffen. Die Naßdampfloks mit dem charakteristischen 4-Zylinder-Verbundtriebwerk erreichen eine Leistung von rund 210 PS. Weitere technische Daten sind die Fahrzeuglänge von 9.000 mm und die Dienstmasse von max. 29,3 t. Insgesamt sind 22 Exemplare dieser Lokomotivtype erhalten geblieben. Zum Bestand der Lößnitzgrundbahn gehört eine Lokomotive dieses Typs.
99 1608-1 Baujahr 1921, SMF/4521, Einsatz nur im Sonderzugverkehr
Ursprünglich für die Heeresfeldbahn entwickelt, wurden die später als sächsische VI K bekannten Loks erst nach Ende des Ersten Weltkrieges fertiggestellt und im Jahr 1919 von den Sächsischen Staatseisenbahnen gekauft. Von diesen Loks ist nur 99 651 in Steinheim an der Murr als Denkmallok erhalten geblieben. Da nach 1920 dringend leistungsfähigere Lokomotiven auf den Schmalspurbahnen benötigt wurden, entschloss sich die Deutschen Reichsbahn zum Nachbau von 47 Loks nach dem Muster der sächsischen VI K. Von diesen zwischen 1923 und 1927 fertiggestellten Loks sind drei Exemplare erhalten geblieben, darunter eine Lok bei der Lößnitzgrundbahn.
99 1713-9 Baujahr 1927, SMF/4670, in Aufarbeitung

Seit rund 40 Jahren bewältigen die Einheits- und Neubaudampfloks der ehemaligen Deutschen Reichsbahn Gesellschaft beziehungsweise Deutschen Reichsbahn nahezu allein den Verkehr auf den verbliebenen sächsischen Schmalspurbahnen. Aufgrund des gestiegenen Frachtaufkommens wurden zwischen 1928 und 1933 insgesamt 32 dieser schmalspurigen Einheitsloks beschafft. Da sich die Konstruktion bewährte und nach dem Krieg auch bei den Schmalspurbahnen Lokomotivmangel herrschte, baute die Deutsche Reichsbahn in den Jahren 1952 bis 1956 nochmals 24 Lokomotiven nach, die äußerlich den Einheitsloks sehr ähnlich sind. Mit einer Leistung von rund 600 PS gehören beide Typen zu den stärksten deutschen Schmalspurloks. Zum Bestand der Fichtelbergbahn gehören insgesamt sieben Exemplare beider Typen.
Einheitslok – Baureihe 99.73-76
99 1747-7 Baujahr 1933, Schwartzkopff/9536, Leihgabe an IG Dampflok Nossen
99 1761-8 Baujahr 1933, Schwartzkopff/10152
99 1762-6 Baujahr 1933, Schwartzkopff/10153
Neubaulok – Baureihe 99.77-79
99 1775-8 Baujahr 1953, LKM Babelsberg/32014, nicht einsatzfähig
99 1777-4 Baujahr 1953, LKM Babelsberg/32016
99 1778-2 Baujahr 1953, LKM Babelsberg/32017, nicht einsatzfähig, Leihgabe IG Dampflok Nossen
99 1779-0 Baujahr 1953, LKM Babelsberg/32018, nicht einsatzfähig
99 1789-8 Baujahr 1957, LKM Babelsberg/132030, nicht einsatzfähig
Diesellokomotiven
Von 1964 bis 1987 bauten die FAUR-Werke "23. August" in Bukarest (frühere Malaxa-Werke) über 330 Stück der als L35H/L45H bezeichneten 4-achsigen Schmalspurloks für verschiedene Spurweiten zwischen 740 und 1067mm. Diese Lokomotiven fanden neben dem Herstellungsland Rumänien auch in anderen osteuropäischen Ländern Verwendung. Bis 2008 erwarb die Sächsische Dampfeisenbahngesellschaft gebraucht insgesamt drei dieser 450 PS starken Lokomotiven, wovon ein Exemplar auf der Lößnitzgrundbahn stationiert ist.
L45H-358 Baujahr 1969, Werk "23. August" Bukarest, Fabriknummer 20850, ca. 450 PS
Wagen
5 Personenwagen 2. Klasse KB Altbau,
1 Personenwagen 2. Klasse KB Aussichtswagen
1 Personenwagen 2. Klasse KC Aussichtswagen
10 Personenwagen 2. Klasse KB Modernisiert
1 Personenwagen 2. Klasse KB Modernisiert, nicht einsatzfähig
2 Personenwagen 2. Klasse KB Rekonstruiert
1 Personenwagen 2. Klasse KB Einheitswagen
1 Packwagen KD Rekonstruiert, Fahrradwagen
3 Packwagen KD Rekonstruiert
1 Personenwagen 2. Klasse KB Modernisiert, Saugluftbremse
5 Personenwagen 2. Klasse KB Altbau, Saugluftbremse
3 Packwagen KD Modernisiert, Saugluftbremse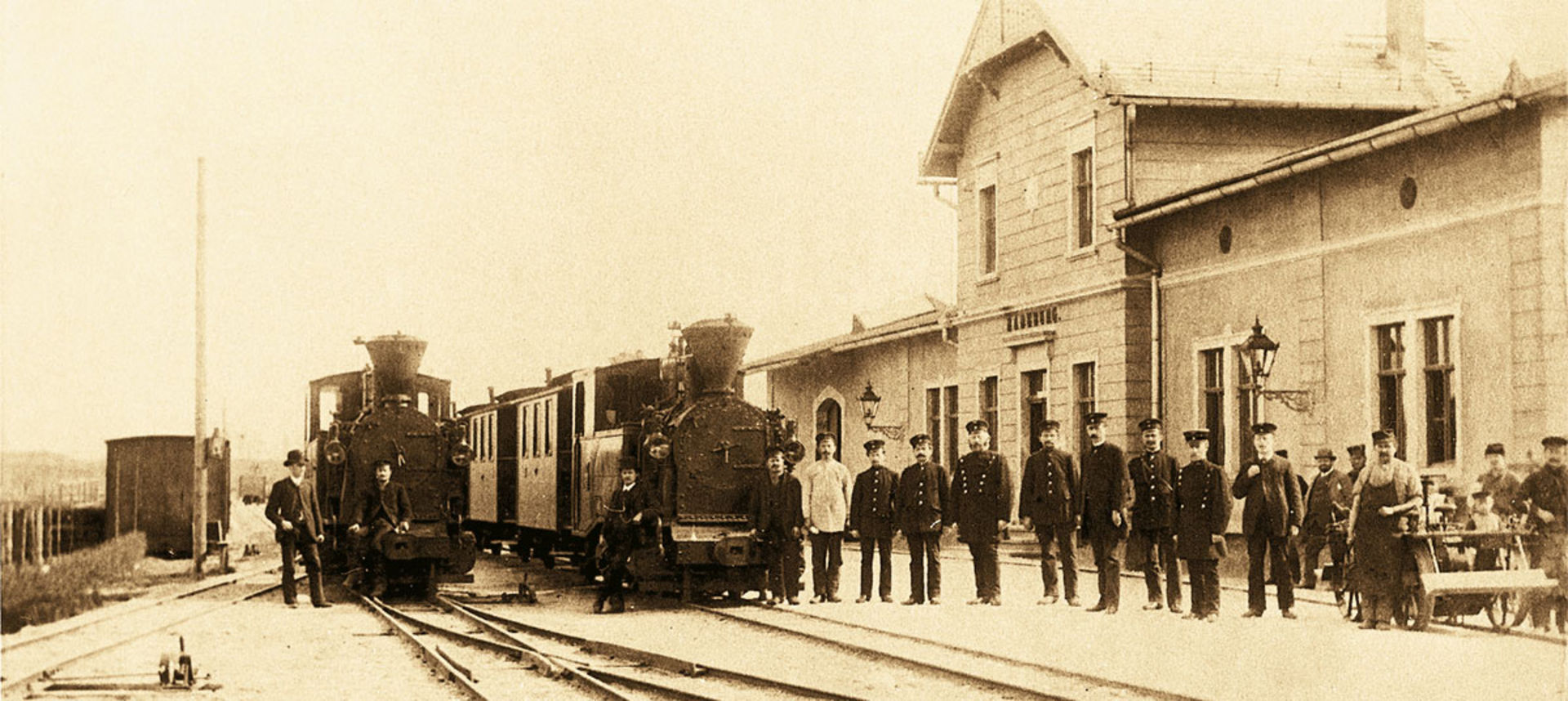 Historie
Historie der Lößnitzgrundbahn
Als vierte schmalspurige Eisenbahn in Sachsen entstand die Verbindung von Radebeul über Moritzburg nach Radeburg, nachdem sich die Pläne einer normalspurigen Eisenbahnlinie von Dresden über Radeburg nach Ortrand zerschlagen hatten. Bereits im Oktober 1883 wurden die Bauarbeiten aufgenommen, weniger als ein Jahr später konnte am 16. September 1884 feierlich die Strecke eröffnet werden.
Schon bald entwickelte sich der Ausflugsverkehr der Stadtbevölkerung Dresdens in das Moritzburger Teichgebiet zu einem wichtigen Standbein der Bahn, die ursprünglich vorrangig der Anbindung der Radeburger und Moritzburger Region an das Elbtal und Dresden diente. Den Güterverkehr bestimmten neben landwirtschaftlichen Erzeugnissen vor allem umfangreiche Kohletransporte, beispielsweise zum Elektrizitätswerk im Lößnitzgrund. Ein wichtiger Güterverkehrskunde war auch das Radeburger Schamottewerke, dieses verfügte ab 1901 über die mit 2,1 km längste Anschlussbahn auf einer sächsischen Schmalspurstrecke.
Die beiden Weltkriege überstand die kleine Bahn ohne größere Schäden, um 1955 war der Höhepunkt im Personenverkehr mit bis zu 28 Zügen täglich erreicht. Wenig später bedrohte die zunehmende Verkehrsverlagerung auf die Straße die Bahn in ihrer Existenz, sie zählte nun zu den stillzulegenden Eisenbahnstrecken. Doch das zunehmende Interesse am Touristikverkehr und die erfolgreichen ersten Traditionsfahrten führten 1975 dazu, die Bahn als "Technisches Denkmal" zu erhalten. Nach verschiedenen Unternehmen führt nun die Sächsische Dampfeisenbahngesellschaft den Betrieb und hat mit umfangreichen Investitionen in Fahrzeuge und Gleise den Betrieb für die kommenden Jahre gesichert.
Fares:
Auszug aus der Tariftabelle
Radebeul - Moritzburg
Einfach Hin-/Rückfahrt
Erwachsene
7,10 €
13,30 €
Kinder
6 - 15 Jahre
3,60 €
6,70 €
Familienkarte
16,00 €
30,00 €
Einzelfahrten Radebeul - Moritzburg
5er Karte Erwachsene
5 Einzelfahrten
20,00 €
5er Karte Kinder 6 - 14 J.
5 Einzelfahrten
10,00 €
Radebeul - Radeburg
Einfach Hin-/Rückfahrt
Erwachsene
7,90 €
15,00 €
Kinder
6 - 15 Jahre
4,00 €
7,60 €
Familienkarte
18,00 €
33,00 €
Einzelfahrten Radebeul - Radeburg
5er Karte Erwachsene personengebunden
5 Einzelfahrten
24,50 €
5er Karte Kinder 6 - 14 J.
personengebunden
5 Einzelfahrten
12,20 €
weitere Tarife
Tageskarte Erwachsene
18,00 €
Tageskarte Kinder
6 - 15 Jahre
9,00 €
Familienkarte (2 Erwachsene bis 4 Kinder)
39,00 €