Description
Meuselwitz - Regis Breitingen
With the coal railway from the mines to the lakelands
It wasn't until recently that the region between Leipzig and Altenburg was mentioned in any guidebook. The area south of Leipzig all the way to the bordering district of Altenburg, however, has been the heart of the brown coal and energy industry for a long time. In as early as 1382, lignite was already mined here, however, it wasn't until the first industrialisation in Central Germany and the energy policies of the GDR that brought about radical coal mining policies, huge mines, briquette factories and air pollution. Even breathing was difficult here, not to mention the scarred landscape.
This has changed substantially since 1994, when rehabilitation work in the region began to change the panorama dramatically. The former mining landscape south of Leipzig has been turned into Neuseenland, a huge lake district that was created through extensive ecological restoration measures. In the upcoming years and decades, a total of 18 lakes with an area of approx. 70 square km that are connected via canals will be created where nowadays the remains of open-cast mines are still present.
There are museums that remind of the long mining tradition in the region, as well as old mining equipment and the preservation of Leipzig's coal railways. In order to preserve these railcars as a museum and traditional railway, former miners, entrepreneurs, politicians and interested citizens, as all as municipalities got together for this cause at the former Borna-Meuselwitz coal field. Along the track with an unusual gauge width of 900mm, traditional locomotives with rebuilt wagons chug along between the Thuringian town of Meuselwitz and Saxony's Regis-Breitingen, passing through attractive post-mining landscapes between Kammerforst and Auenholz.
The starting point of your journey is the Kulturbahnhof (cultural station) in Meuselwitz, which is home to a technical museum with a large outdoor area, a lot of technical equipment, mining exhibits, documents and historic trains. The exhibits depict the more than 100-year old history of brown coal mining in the region. The model railway at the station shows lignite mining in the Espenhain region, and the route of the German National Railway from Meuselwitz to Altenburg is illustrated.
Many events turned into tradition here, such as the excursions on Ascension Day, the big model railway exhibition, family day at the coal railway, as well as the station and miners' festival. The coal railway, however, gained popularity far beyond its home region through its annual Western Days event!
Route
Bahnstrecke Kohlebahnen

Lage
Die Bahnstrecke der Kohlebahnen führt von der Stadt Meuselwitz im Landkreises Altenburger Land (Thüringen) nach Regis-Breitingen im Landkreis Leipzig (Sachsen).
Der Kulturbahnhof, das Freigelände, das Museum und die Modellbahn liegt in der Stadt Meuselwitz im nordöstlichsten Zipfel des Landkreises Altenburger Land an der Grenze zu den Bundesländern Sachsen und Sachsen-Anhalt am südlichen Ende des Leipziger Tieflandbeckens.
Anfahrt mit Bus & Bahn
Der Kulturbahnhof der Kohlebahn in Meuselwitz ist mit der Bahn nicht erreichbar.
Mit der Regionalbahn RB 130 Leipzig – Gaschwitz – Altenburg – Zwickau erreichen Sie Regis-Breitingen.
Anreisemöglichkeit per Bus ab Altenburg Bahnhof mit den Linien 352, 403, 404, 405, 406, 408, 409, 410, 412, 413 und 416. An den Wochenden verkehren allerdings nur wenige der genannten Buslinien mit sehr gedehnten Taktzeiten und teilweise mit Kleinbussen
Anfahrt mit dem Auto
Per Auto ist der Kulturbahnhof der Kohlebahn erreichbar über die A9 oder A4.
Über die A4, Ausfahrt 61 Schmölln Richtung Crimmitschau, über L1361 nach Schmölln, L1361 Ausschilderung nach Meuselwitz, auf der L1361 bleiben. Die Kohlebahnen sind ausgeschildert.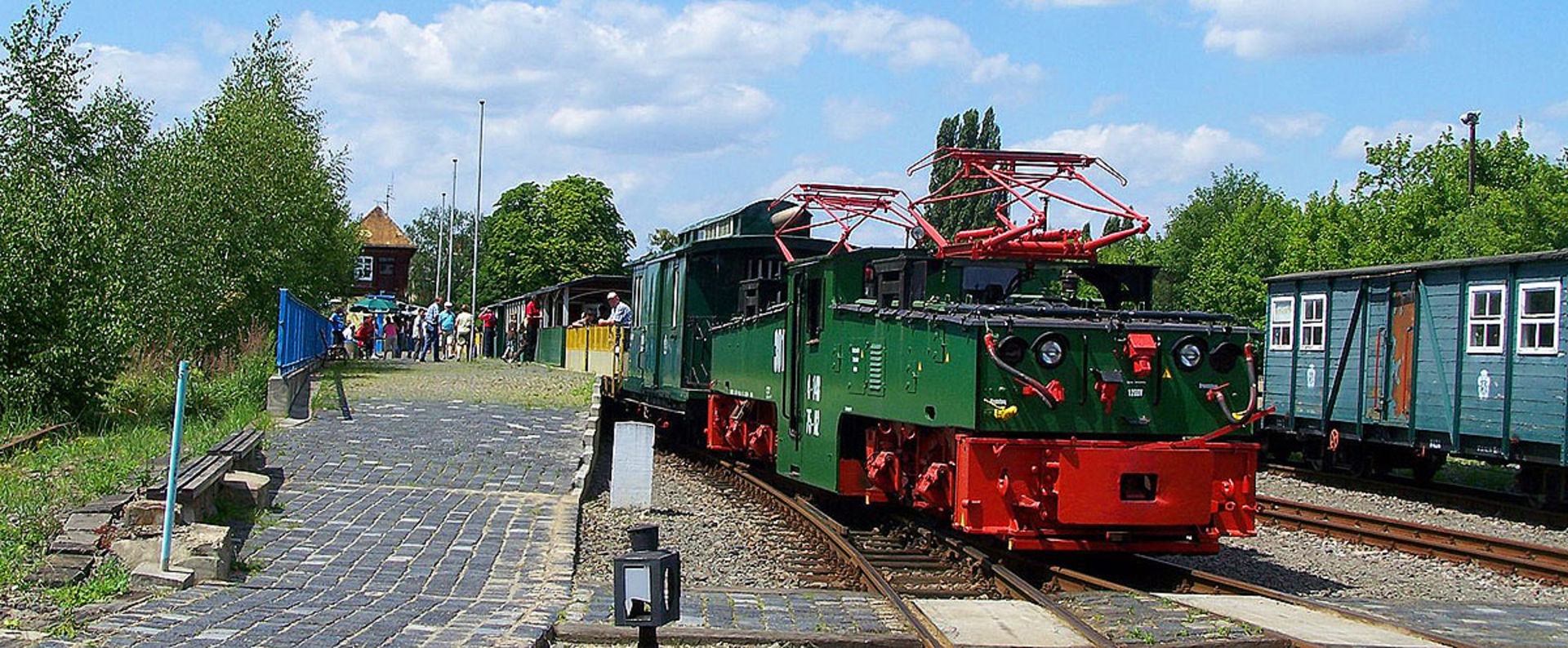 Fahrzeuge
Fahrzeuge Kohlebahnen

Elektro - Lokomotive
EL 3
elektrische Grubenlok
Bo'Bo', Spurweite 900 mm,
Baujahr 1953, VEB "Hans Beimler" Hennigsdorf
aus dem ehem. Tagebau Haselbach
Diesellokomotive
V10C
schmalspurige Diesellokomotive mit Innenrahmen
VEB Lokomotivbau Karl Marx Babelsberg (LKM), ab Baujahr 1965, 17 Tonnen | maxim. 25 Kmh | 102 PS
Ehem. Rangierlok auf kl. Bahnhöfen und Anschlussbahnen (diese BKW Regis)
Wagen
Generatorwagen
zur Versorgung der EL3
Tanzboden
ein beheizbarer Wagen 20 Sitzplätze für Tanz, Trauungen oder Seminare, umgebauter ehemaliger Mannschaftswagen
4 Offene-Wagen
40 Sitzplätzen auch für Rollstuhlfahrer geeignet
Aufbau aus einem Plattewagen
2 Sächsische Personenw.
1 Wagen beheizt, 38 Sitzplätze, Baujahr ca. 1910, Umgespurt auf 900 mm
Fahrrad-Wagen
Panorama-Wagen
überdachter offener Wagen
Salonwagen
ein Wagen in Betrieb mit 21 Sitzplätzen, Rustikaler "Luxus" zum Feiern mit Heizung, Küche und WC im Wagen
Umbau aus einen ehemaligen Mannschaftswagen
Speisewagen
mit Heizung 52 Sitzplätze, mit Salonwagen für Gruppen bis zu 70 Personen