Description
Leipzig Auensee
... Going around Auensee Lake in steam
The Parkeisenbahn Auensee in Leipzig was opened in 1951. The railway is a 15 in (381 mm) gauge miniature railway and thus one of the smallest public railways in Germany. Except for the train drivers, the railway is operated by children and teenagers. Eight coaches provide space for up to 130 passengers during a ten-minute train ride around Auensee Lake - a traditional recreation area in the northwest of Leipzig. Both our battery-powered locomotive and a miniature steam locomotive built in 1925 are great attractions for railway enthusiasts.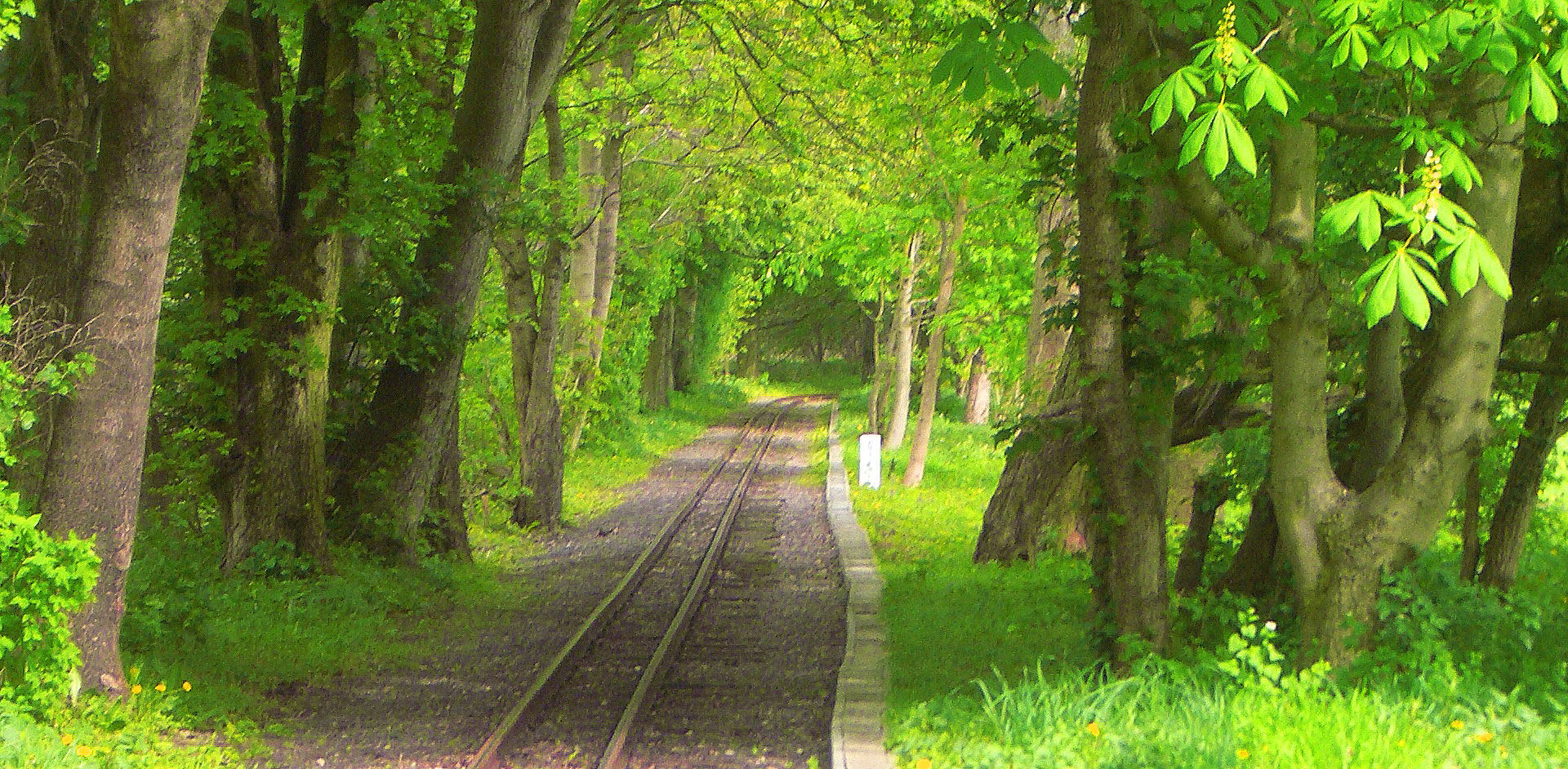 Route
Railroad Track Park Railway Auensee Leipzig
Location
The park railway Auensee Leipzig can be found in a recreation area on the northwest Auensee Leipzig.

Arrival by bus and train mit Bus & Bahn
To achieve the Auensee the park train station from the S-Bahn stop Leipzig - truth from a short walk along the Linkelstrasse past on shepherd's house on the bridge builder. In addition, the Auensee and thus the breakpoints of the park train several tram and bus stops of the LVB is easily accessible.

Arrival by Car
From the A4, exit Radefeld (15b), in the direction of Leipzig. At the next traffic lights turn right and shortly afterwards turn right towards Linkelstrasse. Cross the tram tracks and follow the main road, which after a right turn to the manor road and after a left curve to Gustav-Esche-road. Immediately after the start of the Gustav-Esche-road is on the left side of Auensee.
Fahrzeuge
Rolling Stock Park Railway Auensee Leipzig
Die Parkeisenbahn Auensee Leipzig fährt auf der Spurweite von 381 mm.
Steam locomotives 03 002
"Liliput"-Lokomotiven von Krauss & Co AG München, an deutsche Schnellzuglokomotiven angelehnte Bauweise im Maßstab von 1 : 3,33; ca. 22 Kilowatt
Hersteller Krauss & Co AG München
03 002 Baujahr 1925 Fabrikationsnummern 8352
Elektro locomotives
Akkulokomotive "1" Umbau aus Feldbahndiesellok Typ NS 1b, (600 mm Spur, Baujahr 1958) der Muskauer Waldeisenbahn
Hersteller Deutsche Bahn AG, Werk Halle/Saale
Umbau 1995
Personenswagen
Wagen Personenwagen Nr. 5-12
Hersteller RAW Dresden, Baujahr 1988/1989
Versorgungswagen
Versorgungswagen Nr.13
Hersteller RAW Dresden, Baujahr 1988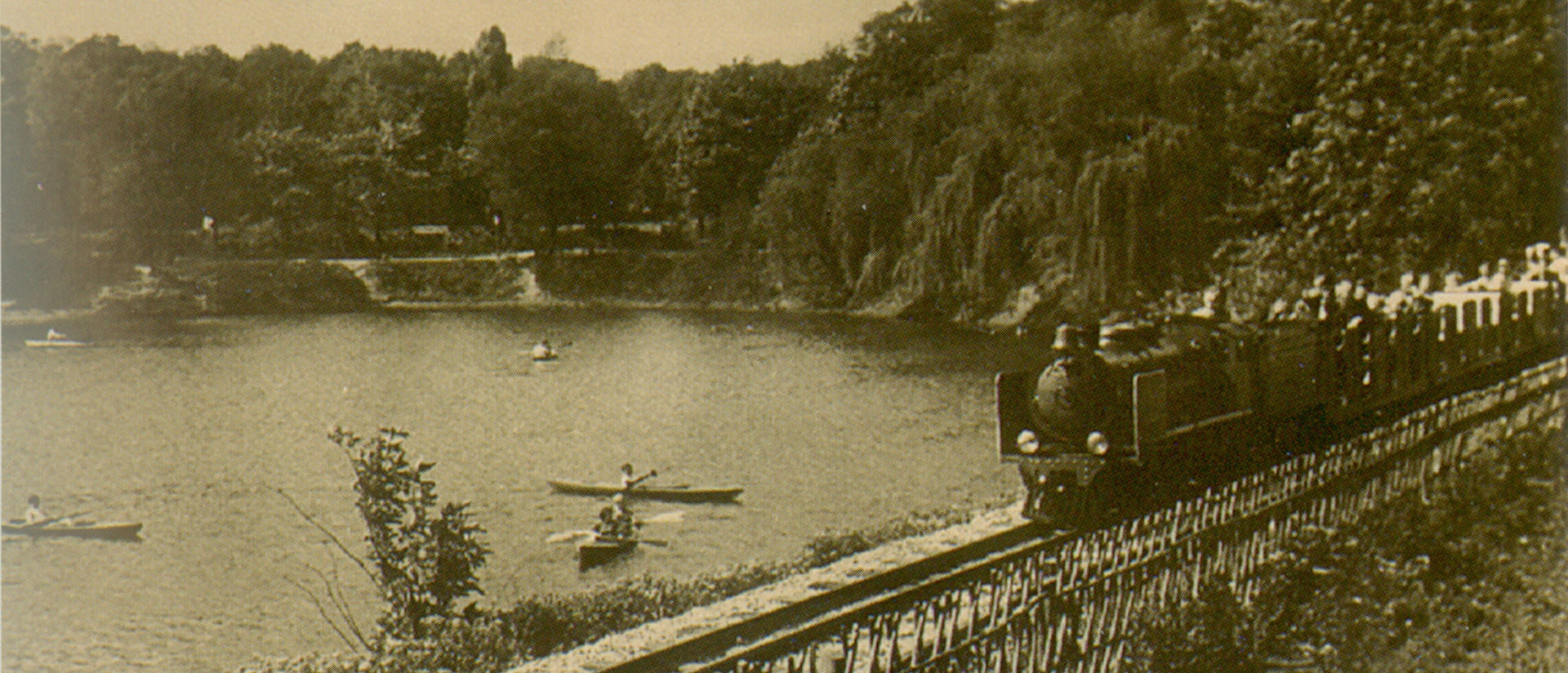 Historie
History Park Railway Auensee Leipzig
Die Parkeisenbahn Auensee Leipzig nahm am 5.August 1951 ihren Betrieb auf. Grundlage des Betriebes war damals eine der drei ehemals der Fa. Brangsch gehörenden Liliputlokomotive (Baujahr 1925) und vier offene Personenwagen ebenfalls Baujahr 1925
Vier Weichen, eine Gleissperre im Bahnhofsbereich und zwei Lichtsignale wurden von einem Gleisbildstellwerk, Bauart SIB Babelsberg, elektrisch gesteuert. Drei der fünf Wegübergänge an der 1,9 km langen Strecke waren durch Schranken gesichert.
An dem Fahrzeugbestand hat sich viele Jahre nichts geändert. Erst 1988/89 wurden im ehemaligen RAW Dresden acht offene vierachsige Personenwagen mit Mittelpufferkupplung und Druckluftbremse, Typ Dresden, für die Bahn gebaut. Sie erhielten die Nummern 5-12. Der Wagen Nr.13 wurde ein Versorgungswagen mit zwei Batteriesätzen á 24V und 2x455 Ah, drei Hauptluftbehältern, einem Elektroantriebsmotor für den Kompressor und einem elektrischen Steuergerät. Dieses Fahrzeug dient zur Lufterzeugung der gesamten Bremsanlage (Dampflok und Wagenzug).
Der Lok- und Wagenschuppen wurde aus- bzw. mit einem Anbau vergrößert, damit nun auch alle 8 Wagen einschließlich Versorgungswagen einen festen und abgeschlossenen Schuppen hatten. Auch ein zweiter Lokschuppen kam damals schon hinzu. Dadurch mußte natürlich die gesamte Gleisanlage umgebaut und vergrößert werden , es waren nun 7 elektrisch angetriebene Weichen und eine doppelte Gleissperre. Die alten Wagen 1-4, noch aus den Jahren 1925, wurden teilweise als an die Parkeisenbahn Dresden abgegeben bzw. verschrottet.
Die Martenssche Einheitslokomotive im Maßstab 1:3,33 wurde, im Jahr 1965, in ihrem Äußeren durch den Anbau von kleinen Witteleitblechen, einem schwarzen Anstrich und dem Wegfall der Bahnräumer einer 03 der DR angeglichen. Ihre Achsanordnung (2C1) mit der mittig angeordneten Treibachse (spurkranzlos) und dem seitenverschiebbaren vorderen Drehgestell gestatten das Befahren von Gleisbögen mit 20m Radius. Die Schleppachse, ein Deichselgestell mit außen liegenden Lagern, ist ausschwingbar. Der Kessel ruht auf einem Barrenrahmen. Ein besonderer Blechrahmen umfaßt die Feuerbüchse zwischen der letzten Kuppelachse und der Schleppachse. In dem maßstäblich verkleinert gestalteten Führerhaus sind alle für den Betrieb einer Dampflokomotive erforderlichen Armaturen angebracht. Der Lokführer hat seinen Platz auf dem vierachsigen Tender und schaut über das Führerhausdach hinweg. Eine Dampfbremse für die Lok und eine Handbremse für den Tender ergänzen die Einrichtungen.
Bei der Parkeisenbahn Auensee Leipzig hat sich seit der Gründung unseres Fördervereins 1994 und unter Schirmherrschaft des städtischen Betriebes für Beschäftigungsförderung (bfb) einiges geändert. Am 26.Mai 1995 kam ein zweites Triebfahrzeug zur Bahn. Auf dem Fahrgestell einer 600mm Feldbahn - Diesellokomotive Typ NS 1b (Baujahr 1958, LKM Babelsberg), 1994 von der Muskauer Waldeisenbahn übernommen, wurde in der Werkstatt der Deutschen Bahn AG, Werk Halle/Saale, eine zweiachsige Akku - Lok der Achsfolge B aufgebaut. Dieses kleine Fahrzeug ist z.Zt. die letzte gebaute Lok in 381mm Spurweite. Die Kraftübertragung erfolgt mechanisch durch Ketten. Die Kapazität beträgt 400 Ah. Der Fahrmotor Typ GLK 104 hat eine Leistung von 8 kW bei 80V Spannung. Der Achsabstand beträgt 0,71 m und die Höchstgeschwindigkeit 13,5 km/h. Die Lok kann einen Radius von 25m befahren.
Nach Schaffung sicherungstechnischer Voraussetzungen kann ein Zweizugbetrieb stattfinden. Das seit Bestehen der Bahn vorhandene Gleisbildstellwerk wurde im Mai 1990 durch ein neues Gleisbildstellwerk ersetzt und erfüllt erst dann seinen Sinn und Zweck ,wenn an der ehemaligen Jugendherberge, dem jetzigen "Hp. Elsteraue" die mit gleichem Namen entstehende Blockstelle, gebaut ist.
Timetables:
Die Parkeisenbahn Auensee Leipzig fährt vom
19. April
bis
31. Oktober 2019
.
Fahrzeiten
Montag
Ruhetag
Dienstag - Samstag
14.00-17.45 Uhr
Sonntag
gesetzl. Feiertage

10.00-13.00 Uhr
14.00-17.45 Uhr
In den Ferien des Freistaates Sachsen.
Montag - Freitag
10.00-13.00 Uhr
14.00-17.45 Uhr
Samstag
14.00-17.45 Uhr
Sonntag / Feiertage
10.00-13.00 Uhr
14.00-17.45 Uhr
Sonderfahrzeiten sind auf Bestellung jeder Zeit möglich.
Bei ungünstiger Witterung findet kein Fahrbetrieb statt.