Description
Dresden Hbf. – Freital-Birkigt – Dresden-Gittersee – Possendorf
Having gone steeply uphill since 1857 ...
Opened in 1857, the so-called Windbergbahn or Saxon Semmeringbahn is Germany's oldest mountain railway. With extremely narrow curves and great height differences, it winds its way through Plauenscher Grund Valley near Dresden to the current final stop in Dresden-Gittersee. So, just enjoy the stunning beauty of the region during a ride on the Windberg railway. It is thanks to the association's great efforts that, after 18 years, a section of the route could be reopened in 2012. After your journey, you will have the possibility to visit the railway museum located in the station building in Dresden-Gittersee and explore the removed section of tracks to Possendorf (south of Dresden) including the reconstructed station buildings.
Route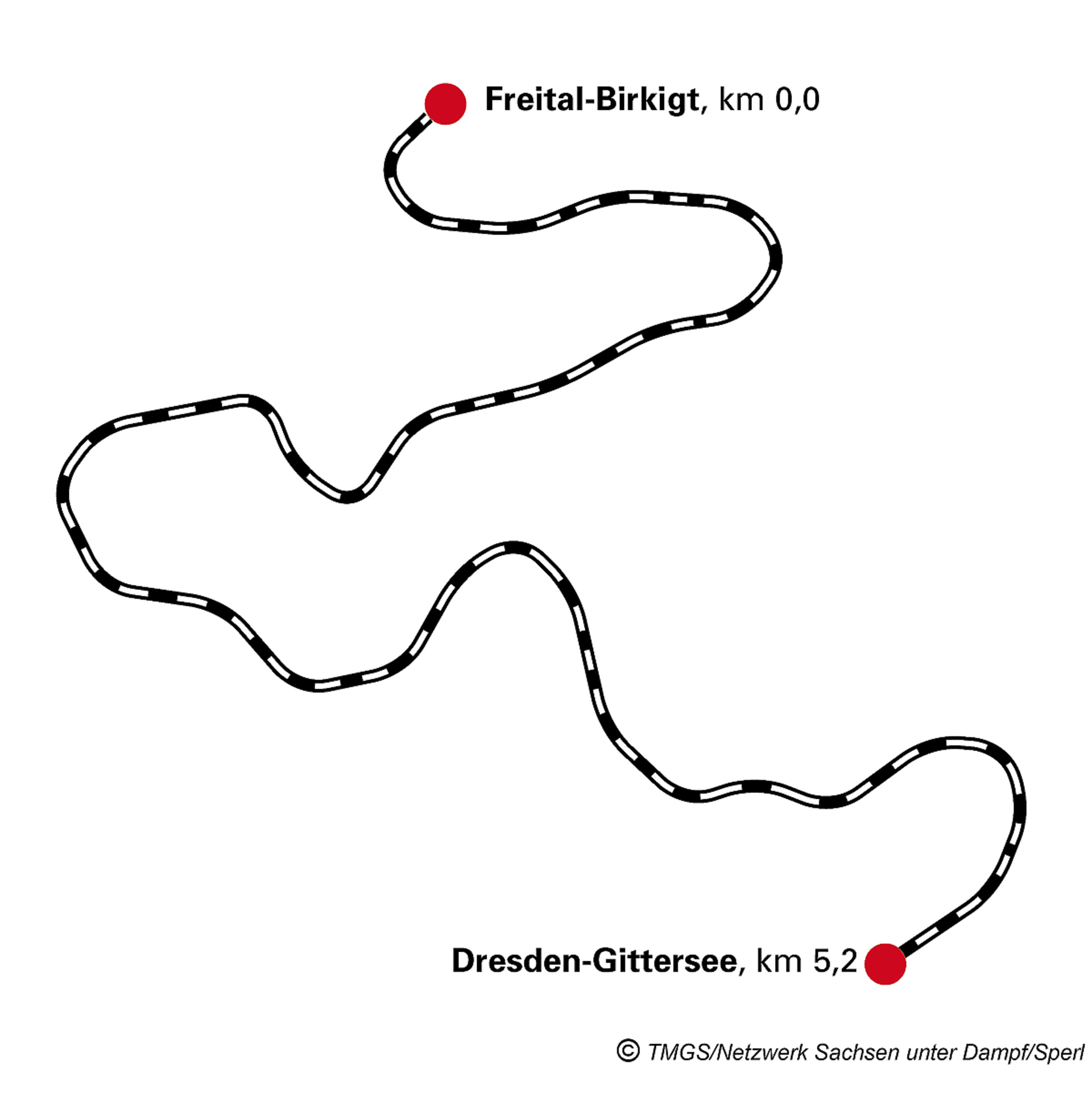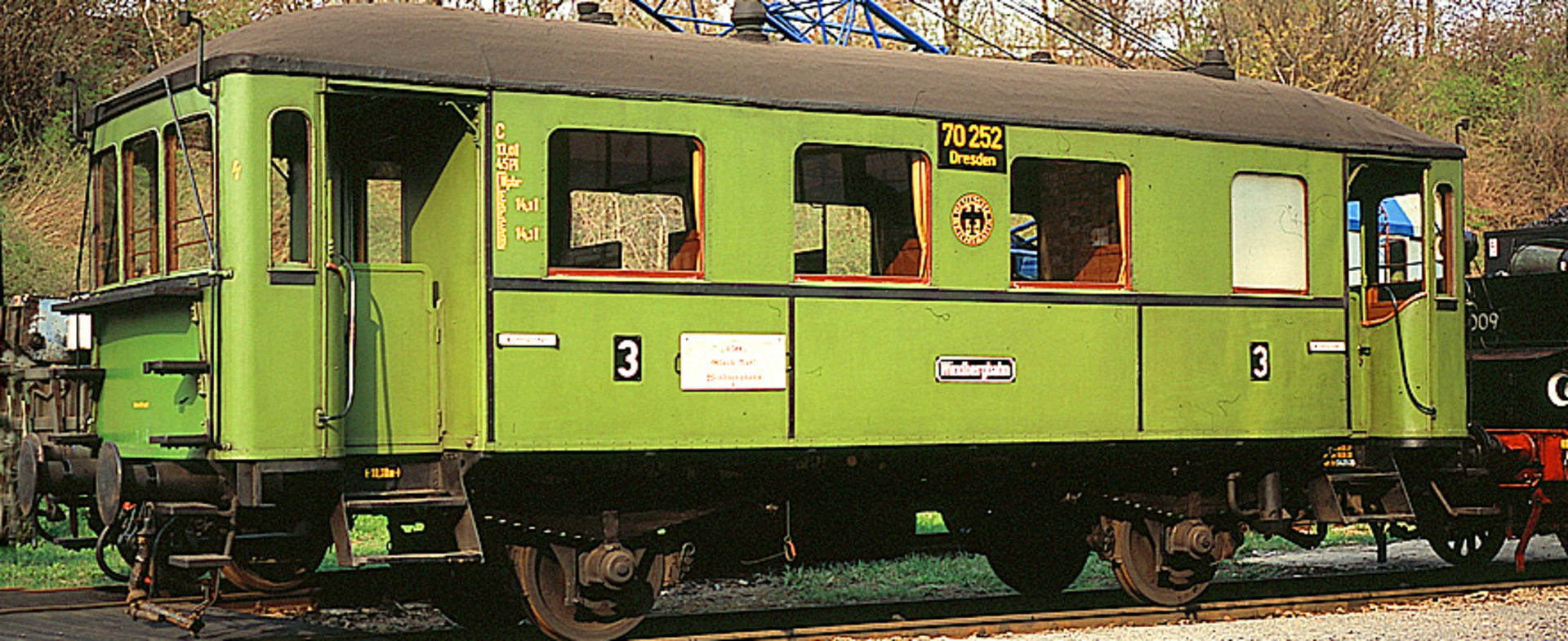 Fahrzeuge
Fahrzeuge der Windbergbahn – Sächsische Semmeringbahn®
Personenwagen
Da die eingesetzten Personenwagen mit ihren schmalen Fenstern bei den Ausflüglern nicht sehr beliebt waren, gingen die Reisendenzahlen leicht zurück. Daraufhin ließen die Königlich Sächsischen Staatseisenbahnen in Bautzen vier völlig neuartige Personenwagen bauen und nahmen diese am 1. Mai 1912 (Fahrplanwechsel) feierlich in Betrieb. Die sogenannten Windbergwagen oder Aussichtswagen der Gattung C Sa 12 (140a) waren an die besonderen Verhältnisse angepaßt. Sie besaßen Lenkachsen mit 4,50 m Achsstand, Westinghouse-Druckluftbremse, Dampfheizung, Gasbeleuchtung, Großraumabteil und auffallend breite Fenster (s. technische Daten). Die Wagenbühnen (Perrons) waren überdacht. An den geschlossenen Stirnseiten befanden sich Sitzbänke. Mit den Meyer-Loks 980 bildeten die Aussichtswagen jahrelang das typische Bild der Personenzüge auf der Windbergbahn
Wagengattung C Sa 12 (140a)
Windberg-Aussichtswagen "Dresden 70 252" der Königlich Sächsischen Staatseisenbahnen, Baujahr 1911, Hersteller Maschinen- & Waggonbau Bautzen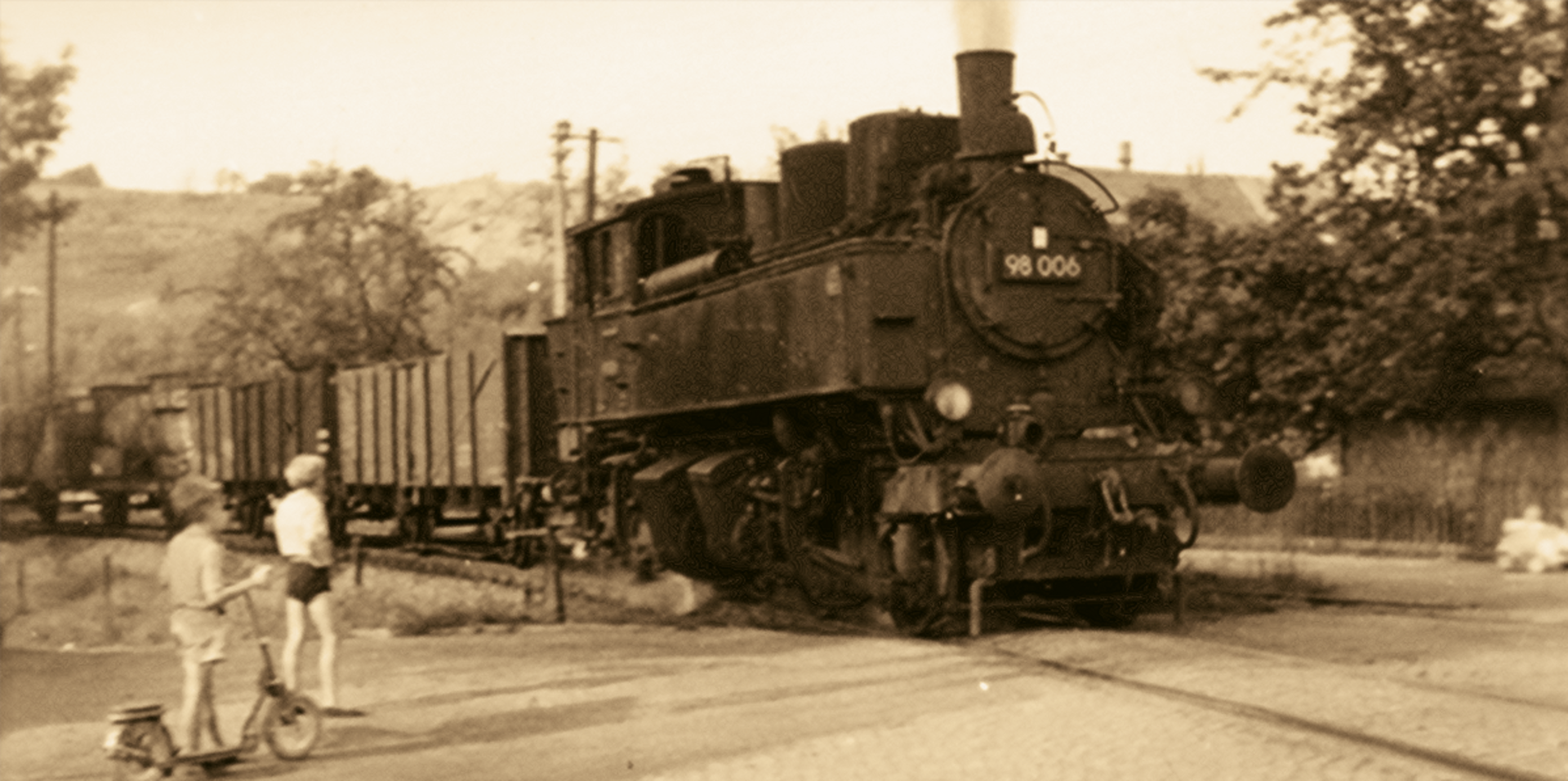 Historie
Historie Windbergbahn
Der Bau der zunächst – entsprechend ihrer vorrangigen Bestimmung – als "Hänichener Kohlenzweigbahn" bezeichneten Bahnlinie begann im April 1856 durch die Albertbahn-Aktiengesellschaft. Bei einer persönlichen Befahrung bis Hänichen am 15. April 1857 bezeichnete der sächsische König Johann in Begeisterung über die spektakuläre Streckenführung die neue Eisenbahn als "Sächsische Semmeringbahn". Die in der Tat herrlichen Ausblicke dieser ersten deutschen Gebirgsbahn veranlassten die Bahngesellschaft dann erstmals am 10. Mai 1857, spezielle "Aussichtsfahrten" für die Öffentlichkeit anzubieten, wobei – in Ermangelung geeigneter Wagen – die Beförderung der Ausflügler in mit grünen Zweigen dekorierten Kohlewagen stattfand. Nach reichlich 14 Jahren wurden diese Fahrten aus Gründen der Sicherheit vom neuen Eigentümer, den Königlich Sächsischen Staatseisenbahnen (K. Sächs. Sts. E. B.), unterbunden.
Mit dem Rückgang des Kohlenabbaus befürchteten die Gemeinden Hänichen und Rippien sowie das angrenzende Possendorf eine starke Abwanderung der Bevölkerung. Um dies zu verhindern, wurde 1891 bei der Landesregierung eine Petition eingereicht mit dem Ziel, die Bahn für öffentlichen Personen- und Güterverkehr zu öffnen und bis Possendorf zu verlängern. Am 30. September 1908 wurde schließlich die 1,1 km messende Verlängerung bis Possendorf feierlich eröffnet. Von 1910 bis 1914 beschafften die K. Sächs. Sts. E. B. insgesamt 18 eigens für die anspruchsvoll trassierte Windbergbahn konstruierte Lokomotiven der Gattung I T V, die wegen ihrer auffälligen Bauform von der Bevölkerung bald den Spitznamen "Possendorfer Heddel" erhielten. Bereits 1912 lieferte die Waggonbaufabrik Bautzen die vier "Windberg-Aussichtswagen", die fortan das Bild der Bahn bis zur Einstellung des Reiseverkehrs prägten und mit ihren für damalige Verhältnisse großen Fenstern wesentlich zum Aufschwung im Ausflugsverkehr beitrugen.
Nach dem letzten Personenzug am 9. November 1957 diente die Bahn ausschließlich dem Güterverkehr. Die zur Gewinnung von Uranerz betriebene Erzwäsche in Dresden-Coschütz sorgte bis 1962 für erhebliches Transportaufkommen, ab 1963 wurde in Dresden-Gittersee als Nebenprodukt Erzkohle (Uranerz) abgebaut, das per Bahn abtransportiert werden mußte. Die bereits 50 Jahre alten und seit 1925 als Baureihe 98.0 bezeichneten Windbergloks waren zwischenzeitlich verschlissen und wurden bis 1967 vollständig durch Rangierloks vom Typ V60 D abgelöst. Im gleichen Jahr wurde die Strecke von Dresden-Gittersee bis Kleinnaundorf stillgelegt. Im Laufe der folgenden Jahre geriet die Bahn immer mehr in Vergessenheit, erst 1980 mit Gründung der AG 3/82 "Windbergbahn" im DMV begann mit Bergung des letzten "Windberg-Aussichtswagens" die gezielte Vereinsarbeit zur Bewahrung der inzwischen als Technisches Denkmal eingestuften Windbergbahn.