Description
RE 3 Dresden - Hof
RE 6 Leipzig Hbf - Chemnitz Hbf
RB 30 Dresden - Zwickau
RB 45 Chemnitz - Elsterwerda
RB 110 Leipzig Hbf - Döbeln

We at Mitteldeutsche Regiobahn provide railway service across Saxony. Operating a total of five lines, we connect the regional cities of Dresden, Chemnitz, Zwickau, Hof, Elsterwerda, Leipzig and Döbeln. We would be pleased to show you some of the many highlights along the Steam Railway Route. Among them is the Saxon railway museum in Chemnitz-Hilbersdorf. It is the largest steam locomotive depot in Europe still functional. Once you have arrived at the Freital Hainsberg train station, you may directly change to the Weisseritztalbahn railway, running daily full steam ahead to the Eastern Ore Mountains. Our RE 3 train takes you on the Dresden – Chemnitz – Hof route via the legendary Göltzsch Viaduct to Plauen, where you can visit the Syratal park railway. A must-see in Leipzig is Europe's biggest terminal station, and the Leipzig railway museum is also worth visiting.

Whatever your destination, we can take you there safely and on time, always committed to make our customers happy. Therefore, in each of our trains, a conductor will take care of your concerns and assist you in buying tickets, finding connections or getting on and off the train.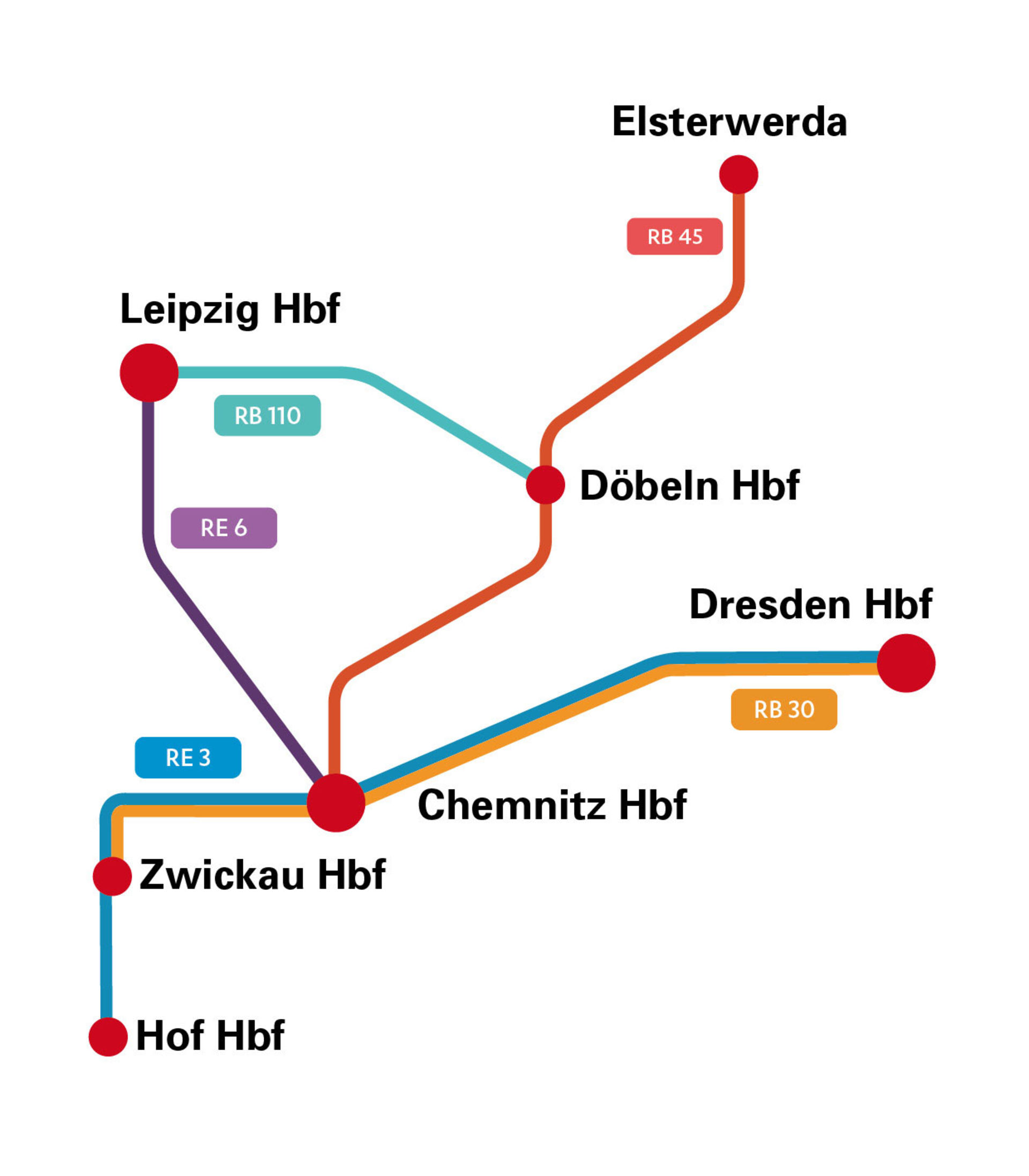 Tickets:
In den Zügen der Mitteldeutschen Regiobahn gelten die Tarife des jeweiligen Verkehrsverbundes: MDV, VBB, VMS, VVO, VVV und BEG.
Für Fahrten über die Verbundgrenzen hinaus gelten die Tarife der MRB (z.B. DOPPEL-DEAL oder Guten-Tag-Ticket) und der Deutschen Bahn, die weitgehend identisch sind. Inhaber einer BahnCard erhalten beim Ticketkauf in unseren Zügen Ermäßigung.
Fernverkehrsfahrten gelten unter anderem auch in der MRB.
Sachsen-Ticket Schönes-Wochenende-Ticket Quer-durchs-land-Ticket
Job-Tickets (außer Jobticket M)
MDV-, VMS, VVO- sowie sachsenweites Semesterticket
Rail&Fly-Ticket